Tags
Related Posts
Share This
John Connolly: 'Five Albums of the 80s that You Might Have Missed (But Shouldn't Have)
This week, we have something slightly different. John Connolly has opted to present five albums, from the 80s, that he considers lost gems.
1) CALENTURE by THE TRIFFIDS
They should have been huge, but somehow it never quite happened. This is their crowning moment, I think, an album of love and loss named after a delusion suffered by sailors who have been at sea for too long: they believe that the oceans are green fields, and throw themselves overboard and drown. It's also the only album I know that has a song about a preserved 10,000-year-old man trapped in a museum.
2) SPIRIT OF EDEN by TALK TALK
An album that lead to the band being sued for not fulfilling EMI's commercial expectations. (The case, thankfully, was thrown out of court.) Experimental, and largely improvised in an old church, it combines jazz, classical, rock and ambient to create a masterpiece. Post-rock starts here.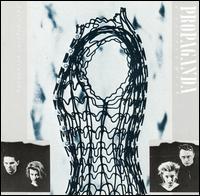 3) A SECRET WISH by PROPAGANDA
Some electronic-based music of the eighties has dated badly. This, like The Blue Nile (see below) still sounds somehow startling and new. Deeply Teutonic, with a nine-minute opening track based around a poem by Edgar Allan Poe, the existence of the ZTT label can be justified by this album alone. Pick up the deluxe reissue from a couple of years ago, with an extra disc of extended and alternative versions.
4) A WALK ACROSS THE ROOFTOPS by THE BLUE NILE
Funded by the Scotland's Linn Electronics to demonstrate the quality of their products, the debut from The Blue Nile sounds like no other album of the eighties, setting Paul Buchanan's soul vocals against minimalist washes of mostly electronic sounds. Their second album, HATS, is just as good, if not better. Both albums were reissued with bonus discs at the end of 2011.
5) STEVE MCQUEEN by PREFAB SPROUT
Retitled TWO WHEELS GOOD in the US because of objections from the McQueen estate, this is as good as eighties songwriting ever got – in fact, I'd argue that it's among the best albums of the last thirty years. So literate, witty, and heartbreakingly beautiful is it that even Paddy McAloon, the genius behind Prefab Sprout, never quite managed to replicate its brilliance again over an entire album.
John Connolly was born in Dublin, Ireland in 1968 and has, at various points in his life, worked as a journalist, a barman, a local government official, a waiter and a dogsbody at Harrods department store in London. He studied English in Trinity College, Dublin and journalism at Dublin City University, subsequently spending five years working as a freelance journalist for The Irish Times newspaper, to which he continues to contribute.
He has published eleven novels featuring P.I. Charlie Parker, the most recent of which is The Wrath of Angels, as well as one stand-alone (Bad Men). In 2009, John published The Gates, his first novel for young adults. A sequel was published in 2011 as Hell's Bells in the UK and The Infernals in the United States.
John is based in Dublin but divides his time between his native city and the United States, where the Charlie Parker mysteries are set. Like John on Facebook and follow him on Twitter.