Tags
Related Posts
Share This
Five Books That Changed My Life: Michael A. Black
Trying to whittle down the list of books that have influenced me throughout my life was an arduous task. For one thing, a lot of my friends are great writers who have influenced and helped me, and that list numbers a lot more than five. So how does one pare down a list of mentors without leaving someone feeling slighted? I tried to solve this dilemma by keeping it to those writers who inspired me before I became a published writer. Unfortunately, none of the writers on this list of five is still with us, but their work lives on. I'll list the books in the order in which I read them.
A KNIFE FOR THE TOFF by John Creasey.
When all the other kids were reading James Bond in high school, my dad handed me a copy of A Knife for the Toff, by John Creasey. It was a deftly written adventure featuring Richard Rollison, aka the Toff, which is London slang for aristocrat. The Toff wa not a secret agent, but an amateur sleuth with a penchant for justice. While the novel was not really all that remarkable, I did take notice that the author turned in a good, workman-like performance. Creasey was the prototype for the professional writer, penning an astonishing 600 novels in his lifetime under twenty-eight different pen names. The amazing thing is most of them were really good. He wrote everything from thrillers to sci-fi, with a few westerns thrown in for good measure. I read quite a few of Creasey's novels and came to appreciate his prolific professionalism. To me, he was like that journeyman boxer who works at his craft, never gets a big payday, never wins the championship, but always steps into the ring and gives his best.
FEAR CAY by Kenneth Robeson
I first became acquainted with the Doc Savage novels when Bantam Books reissued the old pulp stories in mass market paperback form and had renowned artist James Bama do many of the covers. It was the cover of Fear Cay that attracted my attention: two muscular men locked in physical combat on a beach with a couple of human skulls in the foreground. The teaser on the back of the book was equally tantalizing giving a brief summary of the Man of Bronze and his five aides, as well as asking "who was Dan Thunden, was he really one-hundred-thirty years old, and did he really have the secret of the fountain of youth?" I started reading the book and was half-way through it when a series of dates in the narrative sent me looking at the copyright date. Sure enough, the book had been originally written in 1934. I later discovered that Kenneth Robeson was a house name for numerous writers, the most prominent of whom was Lester Dent. This book opened up the world of the
old pulps and adventure for me and later led me to explore the genre with my own Doc Atlas stories.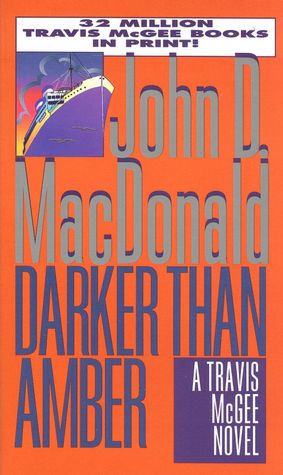 DARKER THAN AMBER by John D. Macdonald
I can't think of a better introduction to John D. MacDonald's Travis McGee series than Darker Than Amber. It was the first book of MacDonald's that I read, and I was immediately hooked. The opening line is one of the best examples of how to grab the reader by the throat and not let go: We were about to give up and call it a night when somebody dropped the girl off the bridge. McGee's fishing line gets inadvertently attached to the victim, Vangie, and Travis dives into the murky water to try and rescue her. Short of breath, he is on the verge of giving up when he feels her fingers caress his wrist and he manages to redouble his efforts and untwist the heavy wire that binds the girl to the deadly anchor. The story takes off from there. Besides introducing McGee's
lifelong friend and erudite economist, Myer, Darker Than Amber gave me a glimpse of just how good a writer of mysteries and thrillers could be. I've read virtually everything that MacDonald ever wrote, which was a substantial amount, and I consider him to be one of the best writers of the Twentieth Century (and any other century, too).
DELIVERANCE by James Dickey
James Dickey was a nationally recognized poet when his first novel, Deliverance, came out in 1970. A lot of academic pinheads racked their closed little minds trying to figure out why this revered modern poet would choose to write what they termed as a "male adventure novel" rather than something more literary. I read the novel and thought it was one of the best books I ever read. Dickey's story of four city dwelling businessmen who attempt to recapture some of their youth and exuberance by taking a canoe trip down the Cahulawassee River and run afoul of some vicious mountain folk is a magnificent thriller told with a poet's vision. His descriptions, imagery, and metaphors are enchanting. This book showed me what words can do. The writing is first rate and the structure of the novel is superlative. After finishing it, I went back and reread the first line, It unrolled slowly, forced to show its colors, curling and snapping back whenever one of us turned loose. I
realized Dickey had foreshadowed the entire novel, with all its impending savagery, in that single, opening line. Deliverance gets my vote as one of the best novels ever.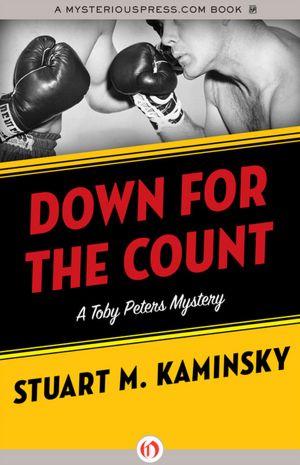 DOWN FOR THE COUNT by Stuart Kaminsky
This wasn't the first Toby Peters adventure I'd read. I remember finishing Bullet for a Star in one sitting years before while waiting for a dealership to repair some defects in my new car. But Down for the Count holds a special place in my heart. It was the first book I'd ever gotten signed by an author. Stuart Kaminsky was teaching at Northwestern at the time, and I brought the book to a class I was taking on screenwriting. After listening to his lecture in a big auditorium, I tentatively approached the podium with the book in my hand. Stuart looked down from the stage, apparently picked up on my reticence, and smiled. "Come on up," he said, and waved me forward. It was the beginning of a friendship that lasted from that moment until his death many years later. He gave me a lot of good instruction and advice on improving my writing. Although he subsequently left the Chicago area, I did run into him at various conferences through the years and even got
to work with him on one of his last projects. He edited On a Raven's Wing, an anthology celebrating the stories and life of Edgar Allen Poe. I felt honored to be a part of the anthology, and my dreams were realized when Stuart, one of my original mentors, e-mailed me back that he really liked my story, "The Golden Bug." It was the fulfillment of one of my dreams.
Michael
Michael A. Black is the author of 16 books, including two novels with television star Richard Belzer. Black has also written over 100 short stories and articles. His current books include The Incredible Adventures of Doc Atlas (co-written with Ray Lovato, Oak Tree Press), The Heist (re-released as an e-book, audio book, and trade paperback by Crossroad Press), and Sacrificial Offerings, the third novel in his police procedural series, (Five Star, September 2012). You can learn more about him from his website.