Tags
Related Posts
Share This
5 books/Albums that changed my life:Andrew Cotto
Unlike a lot of writers, I didn't grow up surrounded by books. I was not a voracious reader (or even a good student). I loved reckless adventure, playing sports and listening to music. The latter of these passions was greatly informed by my father's vocation as a musician. Though I never showed a real interest in learning to play music myself, it was albums that introduced me to my passion for the narrative art form, and have helped uncover and develop this passion over the years.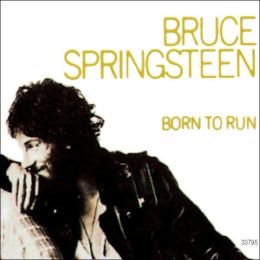 I was seven years old in the summer of 1975, but I had listened to a lot of music by then, mostly rock and roll. I wasn't into Bruce Springsteen at the time, but the Born to Run album cover caught my eye since it featured people, not the galactic and fantastic artwork of bands like Yes and Boston or the weird shit Zeppelin put on their album covers. Springsteen and Clarence Clemons looked cool on the cover to Born to Run, like real characters, and – best of all, upon listening to the album – there were characters within the songs. They had names: Wendy and Eddie and Rat; there was the barefoot girl and a gang called the Rangers; there were guys like Terry, the Big Man and Scooter. The songs that featured these characters were stories, like the B movie noir stuff I liked to watch in the middle of the night. There were themes to the songs, ideas with tangible meaning. I connected with the characters and wished them well in their search for love, escape, adventure and friendship. I didn't know it then, but, thanks to Born to Run, I was uncovering my desire to be a storyteller someday.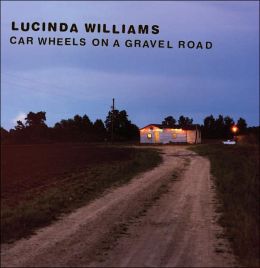 Over the years, I found myself more and more attracted to albums that had some sort of strong literary sensibility to them. They were not hard to find, and I could name a dozen of the top of my head, but the most significant one I next came across was more than 20 years after my search began. I love so many things about Car Wheels on a Gravel Road by Lucinda Williams, but the sense of setting is what impresses me more than anything else. This is an album rooted in the soil, clay, asphalt, swamps, concrete and barbed wire of the American South, especially the Delta. My goodness. You don't need all the names dropped to know it, but I love every time it happens since it feels like a road trip across an unrepentant Dixie: Lafayette and Baton Rouge, Lake Ponchatrain, Nacogdoches, Macon, Slidell, West Memphis. There's even three songs named after specific geographic locations: "Jackson," "Lake Charles" and "Greenville." Of course, these songs – and the others – are threaded with sensory details that pull you into the ambiance of each location. I strive for this in my writing – this need to transport the reader into the space inhabited by the characters – and have been largely inspired to do this by Ms. Williams' masterpiece from 1998.
I consider Bob Dylan's Love and Theft a brilliant collection of short stories put to music. I'm not a Dylan devotee, but I'm not sure that I've ever listened to a single album more than I have Love and Theft since it always inspires me with its thorough homage to the narrative art from. I immediately react to the lyricism and characterization. No writer inspires my phrasing like Dylan does on this album; no writer inspires my fascination with archetypal American characters like this does either. And just as I've been inspired in my writing by music, Dylan is clearly inspired in his music by writing. I nearly wrote the academic component of my MFA thesis on Dylan's literary influences in Love and Theft. I found literal references or obvious inspiration from Gatsby and Huck Finn, the stories of Flannery O'Connor and William Shakespeare, Civil War poets and noir characters. He uses similes and metaphor, irony and sarcasm (including my favorite line from the album courtesy of "Lonesome Day Blues": Samantha Brown lived in my house about four or five months (repeat). I swear I never slept with her…even once. Dylan does odes and Dylan does legends. And as amazing as the music is in Love and Theft, I consider it an accompaniment to a master storyteller at work. One who inspires my writing a great deal.
Of course, I eventually got around to reading books for inspiration as well. The first that really changed my life as a writer was Mystic River by Dennis Lehane. Yeah, I was a full-blown grown up when I discovered it (years after it came out and was made into a film). That's the point. I was an adult, just investing my time and energy into writing and the studying of the craft. I was in a summer colony at The New School, and my fellow participants were New School undergrads pursuing creative writing or non-credited recent grads prepping mainstream literary fiction for MFA applications. The liked Proust (whom I'd never heard of) and Nabokov (which I didn't pronounce correctly). The workshop instructor was a poet who sneered when I professed admiration for Hemingway. I was one of the oldest in the class and the least accomplished academically. They referred to my work as noir. The term "genre fiction" came up often in their critiques. I got the point: This was less-serious work. But I wanted to be a serious writer. I began to feel insecure. I began to lament my attempt at career change. And then a literary course instructor at the colony assigned Mystic River by Dennis Lehane. At the end of the week, he came in for a reading and conversation. Suddenly, noir was cool. Now, noir could be literary. My classmates immediately declared him my new hero, and he kind of was. Reading Mystic River (and the short story "Until Gwen" that was also assigned that week) made me believe that I could be a serious writer, regardless of genre. I ended up gaining acceptance in The New School's MFA program. My literary thesis, Outerborough Blues: A Brooklyn Mystery, was published last May to great acclaim as both genre and literary fiction. I'm not sure if it would have happened had I not been exposed to Mystic River by Dennis Lehane (BTW: I ditched the previously mentioned idea of writing about Love and Theft for my academic thesis after getting the opportunity to interview Lehane – see it here:http://goodmenproject.com/arts/a-conversation-with-dennis-lehane/).
With four down and only one to go, I must include The Great Gatsby. I was always more of a Hemingway man, but, upon rediscovery as a fledgling writer, The Great Gatsby blew me away and continues to be the novel I hold in the highest regard. For starters, it's noir. Gatsby is an outsider in the truest sense. His attempt to break down those walls is beyond fantastic. A real sense of dramatic tension exists throughout the novel. I'm particularly fond of the way Gatsby is ensconced in mystery at the beginning, a figure of mythic fascination, even at his very own parties. The way it plays out is classic tragedy. What brings me back to Gatsby again and again, though, is the narration of Nick Carraway. His observational skills are staggering and nothing excites me more as a reader (and a writer on the prowl) than the insightful eye of the brilliant narrator. It is made clear from the beginning that Nick is honest and non-judgmental, so he reveals character through behavior, both subtle and overt. His descriptions of appearance and presence are always evocative and effective (even with the inanimate character of Dr. T. J. Eckleburg). All that magic considered, it's the lyricism of the descriptive passages that fill me with wonder (and envy). All the details of physical environment, depicted through poetic phrasing, inspire me to strive for such perfection every time I sit down to write. As long as I'm a writer, I'll be regularly reading The Great Gatsby.
Andrew Cotto is a writer and teacher who lives in Brooklyn, NY. He is the author of two novels: The Domino Effect is a coming-of-age story about a kid from Queens with a damaged past and a complicated present at a boarding school in rural New Jersey; Outerborough Blues: A Brooklyn Mystery is an unconventional noir about a drifter seeking a missing person and a remedy to his family's curse in the dawn of urban gentrification.
You can also find Andrew on Facebook and Twitter.