Tags
Related Posts
Share This
Pauline Rowson: 5 Films From the 40s That Have Influenced My Writing
I've always considered that I was born in the wrong era not only because of my love of the Golden Age of Crime novels from such legendary authors as Josephine Tey, Hilda Lawrence, Anthony Berkeley and Michael Innesbut because I adore old black and white movies. American and British, comedy, romantic and drama I love them all but crime is my passion and there is nothing so exciting (for me) as watching some of the great crime/thriller movies of decades past, packed full with atmosphere, starring legendary actors and written by some of the best crime writers of all time.
Selecting five that have influenced me and my style of writing is almost impossible because there are so many great films to choose from.  So I thought that I would hone in on one particular era, the 1940s.
I'm a huge fan of Humphrey Bogart to the extent that I have a poster of him above my desk, and I'm also a great fan of Raymond Chandler. I never tire of reading his Philip Marlowe series so it is rather inevitable that I have chosen two of Marlowe's classics as my favourite 1940s films.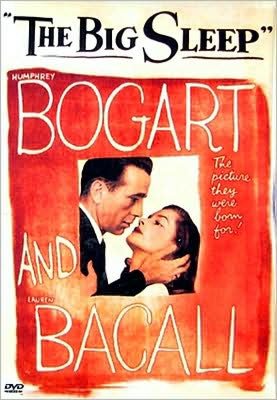 The Big Sleep (1946) The Big Sleep is noted for its complexity with characters double-crossing one another and many secrets being exposed throughout the narrative, which is exactly the type of film I love to watch and the novel I enjoy reading. I also like to weave in lots of twists and turns and double crosses in my own crime novels.
Private detective Philip Marlowe is hired by a rich family to find a missing chauffeur or is he? Before the complex case is over, he's seen murder, blackmail, and what might be love. Directed by Howard Hawks and starring Humphrey Bogart and Lauren Bacall, The Big Sleep is atmospheric, full of innuendos, steamy rain and conservatory scenes and ripping dialogue.  It can take a few viewings before understanding all the twists but who's counting and even if you don't get the ending it is still a delight to watch.
Farewell My Lovely (called Murder My Sweet in the USA) (1944) This is an adaptation of another Raymond Chandler novel featuring Philip Marlowe. A classic film noir directed by Edward Dmytryk starring Dick Powell, the wonderful Claire Trevor and Anne Shirley.  The film was released in the UK under the title Farewell, My Lovely, the same as the 1940 Chandler novel, but it was renamed for the American market to prevent filmgoers from mistaking it for a musical for which Dick Powell was already famous.
Private eye Philip Marlowe is hired by petty crook, Moose Malloy, recently released from prison to find his girlfriend, Velma, who according to Moose is 'cute as lace pants'.  Marlowe's enquiries lead to a complex web of deceit involving bribery, perjury and theft.
Dark Corner (1946) This great film noir contains one of my favourite lines, 'I'm backed up in a dark corner and I don't know who's hitting me' uttered by Clifton Webb, private eye and one time prison inmate framed for murder and now trying to start afresh with a new agency in another part of America. What I particularly like about this film noir, apart from the great script and wise cracking dialogue, is the character portrayed by Lucille Ball.  OK, so boss falling for secretary and vice versa is a bit predictable but in this film it is the secretary who emerges the stronger character and has more staying power than her boss. It also shows how talented an actress Lucille Ball was. Directed by Henry Hathaway it also stars the brilliant William Bendix with that gravely voice which I could listen to for ages.
It's time to switch to British films and again there are so many classics that it's difficult to choose just two to round off my top five thriller/mystery/crime films from the 1940s. But on a more light-hearted note one of them has to be Green for Danger
Green for Danger (1946) Green for Danger is adapted from one of Christianna Brand's most successful novels. It features Inspector Cockrill superbly played by Alastair Simm. Directed by Sidney Gilliat and also starring the enigmatic Trevor Howard, the sexily husky Sally Gray and the wonderful character actress Megs Jenkins Green for Danger is a classic forerunner to many UK television detective programmes of today.
Set in war torn Britain in a large house converted to a hospital for the duration it captures the jealousies, suspicions and sexual undercurrents between the doctors and nurses when a postman dies on the operating table and their relationships are put under the spotlight. Scotland Yard's insouciant Inspector Cockrill is called in to investigate this unexpected murder mystery story.
And to complete my list, one of the most atmospheric film noirs of all time, The Third Man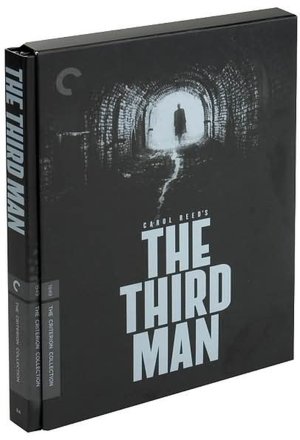 The Third Man (1949) This film screenplay was written by another of my favourite writers, Graham Greene. Directed by Carol Reed it stars Joseph Cotton, Orson Wells Alida Valli and again Trevor Howard. It has everything: atmospheric cinematography, a scarred location which perfectly imitates the scarred individuals in the film, wonderful editing, echoing background sound effects reflecting the empty despair of some of the characters, and a unique musical score.
American pulp western novelist Holly Martins travels to shadowy, post-war Vienna, where his old friend Harry Lime has offered him a job only to find Harry dead. Soon Martins is drawn into investigating the mysterious circumstances surrounding the death and in so doing has to face up to the shocking truth about his friend – Limes is a scheming black-market opportunist.
I could wax lyrically about many more thriller movies that I love, those from the 40s and 50s (I haven't even mentioned Hitchcock!) and even some modern day thrillers and suspense films but it's time to end the show for now. I'm off to watch a film.
Pauline Rowson
Pauline Rowson is the author of the contemporary crime novels featuring the flawed and rugged DI Andy Horton set in the Solent area on the South Coast of England. The latest to be published in the series in 2012 are A KILLING COAST and DEATH LIES BENEATH. Her crime novels have received critical acclaim in both the UK and the USA and have been hailed as Best of British Crime Fiction. They have an International readership and have been translated into several languages. As well as being a crime writer Pauline is also an entertaining and inspirational public speaker. Before becoming a full time writer she wrote a collection of 'how to' business books and ran a successful marketing, media and training company.
Born and raised in Portsmouth, England, Pauline draws her inspiration for her crime novels from the area in which she lives which is diverse and never without incident. When she isn't writing (which isn't often) she can be found walking the coastal paths on the Isle of Wight and around Langstone and Chichester Harbours.  She is the founder of CSI Portsmouth, an annual event part of Portsmouth Bookfest, and a committee member of the Crime Writers' Association. For further information visit Pauline Rowson's Official Website www.rowmark.co.uk You can also follow Pauline Rowson on Twitter http://twitter.com/PaulineRowson or visit her Marine Mystery Facebook Page