Tags
Related Posts
Share This
Five Things: Poison Soup for the Noirish Soul
If you're like me (Sam the Eagle voice: "And you MUST be") you have a noirish soul. Like any kind of a soul, this occasionally needs tending to, looking after, I mean. Feeding, like a racehorse from Hell or a bonsai tree somebody gave you once but nobody really wants anymore and you'd get rid of it but, like, you can't just throw away a dang tree, right?, especially a bonsai tree. Why, it might have a spirit in it. Maybe even a long lost relative.
Hell, I forgot what I was talking about (see Item 5 below).
Oh, yeah, noir things. Nourishment for the noirish soul. Five things, in fact. Here they are: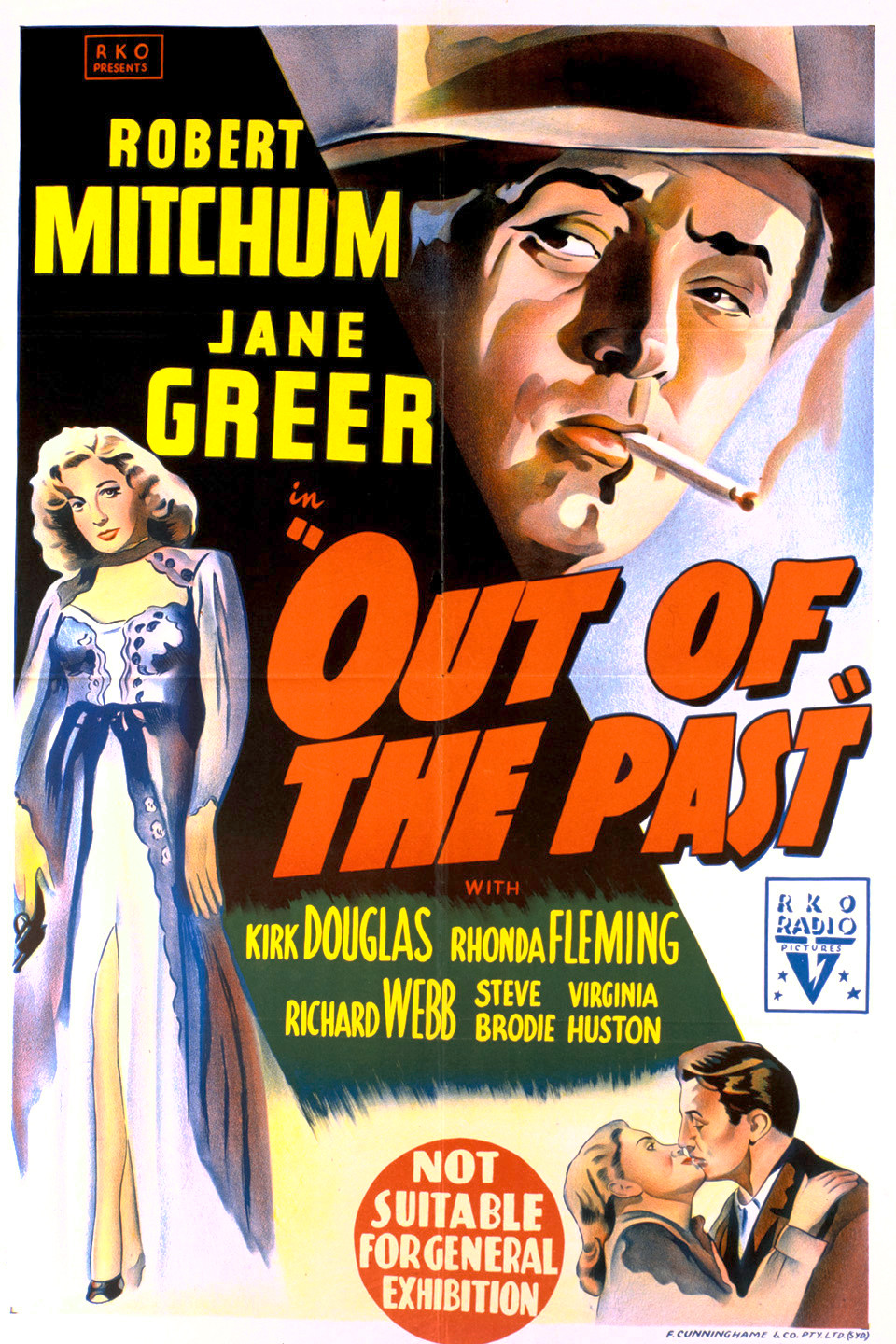 1. Movie: Out of the Past (1947): Even after all these years, still the granddaddy of them all. Daniel Mainwaring's script might as well have been written by the devil itself, of at the very least an angry First Lieutenant. It's a razor blade made of ink. Jacques Tourneur's direction is hauntingly spare and perfectly accompanies that wonderful scripted poetry. Lyrical, elegant, funny, and as tight as a bullet in its chamber, it also boasts maybe the greatest movie noir exchange in film history:
"Oh, Jeff, I don't want to die!"
"Neither do I, baby, but if I have to, I'm going to die last."
As Frank Sinatra once said, if you don't like that, you don't like ice cream.
2. Comic books: Gotham Central (DC Comics, 2002–2006): What's life like for the cops in Batman's city? That's the question Ed Brubaker and Greg Rucka set out to answer in this stylish and intelligent neo-noir. At a time when Commissioner Gordon is out of action (or…dead? I can't remember now, but you know how comics do), Batman has been effectively re-criminalized, the cops of the GCPD are overworked and outgunned, and then there's the little matter of super villains running wild all over the damn place. Michael Lark's gritty, realistic artwork brings the enormous cast (a day shift and a night shift, no less) to life, and sharp-eyed readers will recognize a number of set-pieces that inspired scenes in some of the recent Batman films. An unexpectedly compelling read and something of an oddity in modern, big-market comic books.
3. TV: Justified (2010–2015): Call it country noir. This translation of Elmore Leonard's Raylan Givens novels (and the short story that actually gets the title sequence shout-out) gets so many things right: The sets, the people, the language. What easily could have turned into another awkward parody of rural places and people is instead one of the best serialized crime dramas in recent memory. It's also just damn fun, so there's that, as well. Timothy Olyphant makes a fine Raylan, but it's Walton Goggins' unpredictable, sometimes even admirable, but usually just bad-to-the-ass Boyd Crowder who steals the proverbial show. (Special mention to the first season of True Detective, too, which gets so much about pulp right, but never quite managed to pay off that incredible premise.)
4. Music: Like a lot of writers, I create soundtracks to accompany a new project and help to set the tone and mood while I work. I like it. For example, the RED DOG soundtrack includes songs by the late, great Allen Toussaint, R.L. Burnside, Cyndi Lauper (yep), Big Mama Thornton, and the Carolina Chocolate Drops. If that doesn't do it for you, there's always Calexico's dark, haunting Feast of Wire (2003). Or, hey, ever heard of Tom Waits? Yeah, you have. Is it noir? Hell, man, I'm not sure. Let's just say it is what you say it is, and move on along to…
5. The refreshment: Bulleit Bourbon: I live in Nashville, Tennessee (pauses for applause and gunfire), right across the border from more great bourbons than you can shake a wavering, in-focus-out-of-focus finger at, but the house brand is Bulleit. I find the rye to be a little on the aggressive side, but the orange label bourbon? Brothers and sisters, that is the water of life, salvation, and Easter pie all rolled into one. Don't drink? No problem. I got you covered. I will drink you portion, too.
Now, don't bother thanking me, fam.
It's just my way.
Jason Miller
Jason Miller is the author of the Slim in Little Egypt series of crime novels set in what were once the coalfields of southern Illinois. The Chicago Tribune named him the funniest person on Twitter in 2014. Jason lives in Nashville with four tom cats and a college professor. His latest, RED DOG, came out yesterday.