Tags
Related Posts
Share This
Flashback: Eating Well is the Best Revenge , If You Can Find It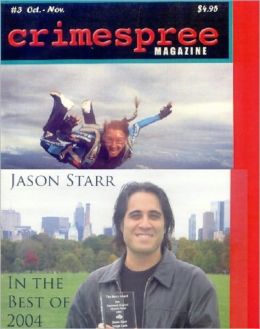 From issue 3 (October 2004)
I'm jet-lagged. I forgot to pack my favorite perfume. Julia and I took a wrong turn a half-hour ago and now we're lost in rush-hour traffic, wondering if we'll make the reading on time. And what if no one shows up?
At least we'll eat well. We're in Kansas City, Missouri, where the smell of barbeque permeates the very air. After the reading, we'll feast like Southern royalty. I can already feel my teeth sinking into a pulled pork sandwich.
Dream on, sucker!
The sad truth about book tours is that it's really hard to eat well, or healthily. Now, I'm not a foodie by any means, and trendy expensive restaurants annoy me, but I get delirious at the thought of restaurants that use fresh ingredients and seasonings. While traveling the country with fellow mystery author Julia Spencer-Fleming last spring (The Murdering Mommies of Mystery 2004 Tour) , I downed my share of pizza, cookies, coffee, plane peanuts and those delicious airport Danishes! But I also hunted down some amazing meals, or at least tried to.
That night in a Kansas City suburb, I didn't succeed. After speaking to an enthusiastic bookstore crowd and signing stacks of books, Julia and I were assured there was a fabulous (and still open) barbeque joint just two blocks away. Salivating, we pulled up at 8:50 p.m., only to find a "CLOSED" sign dangling from the door. I peered through the glass, ready to beg, bribe or cajole the closing staff into some ribs. But everyone was gone, leaving only the tangy aroma to taunt my hungry stomach.
Still hopeful, Julia and I cruised the streets, scanning for another bbq eatery. Each one we found was closed. By this time it was 9:40 p.m., with only the cruel neon glare of McDonalds and Taco Bell winking in the night, and we had a 6:30 a.m. flight to catch the next morning. Julia finally brought me to my senses, pointing out that the hotel restaurant would be closed too if we didn't hustle back to our room.
Final dinner: One utterly mediocre chicken Caesar salad, two glasses of wine.
Next morning, the hotel restaurant wasn't open when we checked out at 5:15 a.m., dashing my breakfast hopes of hot links and eggs. At the airport, I glumly bought a banana, two yogurts and a turkey wrap because we'd have to hit the interstate as soon as we landed at our next destination. And interstates aren't chockablock with good food – they specialize in microwave pizza and cinnamon rolls that contain your entire day's caloric intake in one glistening package.
It's not like this everywhere we go. Malice Domestic takes place a stone's throw away from one of the best restaurant rows I've ever seen, and I'm particularly fond of a little Pakistani joint that serves up wonderfully spiced spinach, eggplant, lentil and garbanzo dishes. In Lincoln, Nebraska, Cathy at Lee Books told us about a Greek restaurant in a strip mall a few stores away. I don't know what brought these Greeks so far from the Aegean, but the food at The Parthenon was as authentic as it gets and I immediately dropped $50 on enough grub to last us for two meals as we dodged tornadoes on back roads all the way to Kansas. So what if we dined al rental car and I dribbled olive oil on my shirt. It was a small price to pay for grilled octopus and spanikopita. Julia forewent the tentacles but scooped up hummus and melitzanosalata with triangles of freshly baked pita as she drove.
I admit I was a little dubious in Milwaukee when Jon Jordan and Richard Katz of Mystery One Books took mystery author Richard Barre and myself to a Chinese restaurant. Barre and I live in Southern California, where Asian immigration has reconfigured the cultural landscape, and we know from Chinese food. But as soon as I tried the Sechzwan eggplant and hand-cut noodles at China Gourmet, I had to admit they were right. In an orgy of gluttony, Richard and I ordered half the menu and ate our way into oblivion. My only sorrow is that I didn't take the leftovers onto the plane the next day.
There were many other memorable meals – including a potluck picnic at Mary Lou Wright's home in Lawrence Kansas that featured home-smoked turkey and hot devilled eggs. Mary Lou co-owns of The Raven Bookstore and she and her friends know how to put on a feed. In Oconomowoc, Wisconsin, Beth Feydn of Books & Company took Richard Barre, Jon Jordan and I to a drive-in called Kiltie's for frozen custard, a local treat. But in three days in New York, I ate only one memorable meal, (be still, my stomach!) at "Good," a short walk from Partners & Crime in Greenwich Village, where my publisher took me. Sorry folks, that I ordered two appetizers, a large entre and a dessert, but I hadn't eaten all day and the mojitos were beginning to get to me.
In Maine and New England, where Julia and I ran around doing up to three signings a day, I pined for chowder, fresh cracked crab or lobster. But there was just no time. So next year, I've promised myself a date with a salty Maine crustacean.
Indeed, I have high culinary hopes for the next tour. My fourth Eve Diamond novel, "Savage Garden," will be published by Scribner on May 3, 2005, and I plan to take dried fruit, granola, turkey jerkey and nori to tide me over the bad patches. Meanwhile, I'm accepting suggestions for interesting restaurants at denise@denisehamilton.com.
Denise Hamilton writes the Eve Diamond crime novels, which have been short-listed for the Edgar, Macavity, Willa, Anthony and Southern California Booksellers Association awards. Visit her at www.denisehamilton.com.