Tags
Related Posts
Share This
Joe Lansdale, Nick Santora and Gary Phillips In This Weeks Contest
In conjunction with the Friday Reads facebook page we are giving away copies of
Joe Lansdale's EDGE OF DARK WATER (Mulholland)
Nick Santora's FIFTEEN DIGITS (Mulholland)
SCOUNDRELS, edited by Gary Phillips ( Down and Out Books)
To be entered in the drawing shoot an email over to
Jon?@crimespreemag.com (remove the question mark)
And put CONTEST in the subject line.
Also please put your address in the body of the email
We will pick the winners on May 11th
When we do the drawing we will be sending an extra something for one
lucky winner to be picked from the comments section of the Friday Reads
face book page, so after you enter, go leave a comment!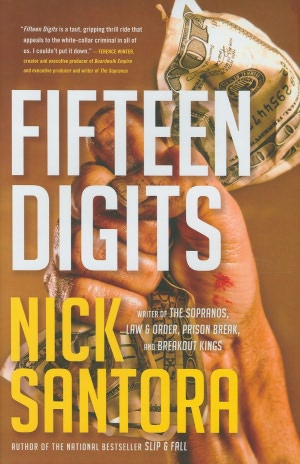 FIFTEEN DIGITS
A GRITTY THRILLER SET IN THE WORLD OF POWERFUL NEW YORK LAW FIRMS, FROM NICK SANTORA, WRITER OF THE HIT CRIME DRAMAS THE SOPRANOS, LAW & ORDER, PRISON BREAK and BREAKOUT KINGS AND THE NATIONALLY BESTSELLING AUTHOR OF SLIP & FALL.
Is it really insider trading if you've been an outsider your entire life?
Five men. Five walks of life. Every day they come together at the white shoe law firm Olmstead & Taft. But they're not lawyers. They're "Printers": blue-collar guys consigned to the dark basement of the firm charged with copying, collating and delivering the mountains of paperwork that document millions of dollars of sensitive legal secrets.
Until the five are approached by an ambitious young attorney who teaches them what they have: insider information. Together they make a plan: take the classified documents that pass through their hands every day and use them to get rich. They create a joint account to deposit the spoils. An account with a safeguard-each one only knows one section of the access code.
Which means that for all five conspirators, there's no way out. But as too much money piles up to go unnoticed, the Printers will discover there's one thing even worse than being an outsider: being in too deep.
From Nick Santora's website:
After the first screenplay I wrote won "Best Screenplay of The Competition" at the New York International Independent Film Festival, I was hired to write an episode of THE SOPRANOS. After that incredible experience, I decided to leave New York (where I was an attorney; Columbia class of 1996) and move to Los Angeles to try my hand at screenwriting full time.
Soon thereafter I was hired as a staff writer for the CBS drama THE GUARDIAN where I was fortunate enough to be promoted to Co-Producer within a year. From there I went on to write and Produce LAW & ORDER and write and Co-Executive Produce PRISON BREAK.
I also forayed into unscripted television, having Created and Executive Produced the hit reality show BEAUTY & THE GEEK. And I enjoy writing feature films. I was a credited writer on the Lions
Gate/Marvel feature THE PUNISHER: WAR ZONE as well as THE LONGSHOTS starring Ice Cube – a film I also produced.
My career took an even more interesting turn when my first novel, SLIP &FALL, was published in 2008 and became a National Best Seller within its first week. My second novel, FIFTEEN DIGITS, will be released by renowned publisher Little, Brown on April 24, 2012.
I also recently completed SANDSTORM, an original comic book series that I created for DC Comics. Currently, the majority of my time is spent as Co-Creator/Writer/Executive Producer/Showrunner for the A&E series BREAKOUT KINGS, now in its second season.
A born and bred New Yorker, I find myself still adjusting to LA even after a decade out here. But I am thrilled to be able to share my crazy
life with my beautiful wife and our two wonderful daughters.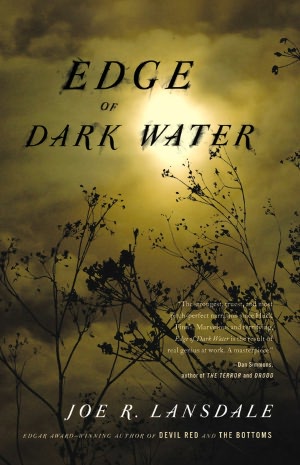 EDGE OF DARK WATER
Mark Twain meets classic Stephen King—a bold new direction for widely acclaimed Edgar Award winner Joe R. Lansdale.
May Lynn was once a pretty girl who dreamed of becoming a Hollywood star. Now she's dead, her body dredged up from the Sabine River.
Sue Ellen, May Lynn's strong-willed teenage friend, sets out to dig up May Lynn's body, burn it to ash, and take those ashes to Hollywood to spread around. If May Lynn can't become a star, then at least her ashes will end up in the land of her dreams.
Along with her friends Terry and Jinx and her alcoholic mother, Sue Ellen steals a raft and heads downriver to carry May Lynn's remains to Hollywood.
Only problem is, Sue Ellen has some stolen money that her enemies will do anything to get back. And what looks like a prime opportunity to escape from a worthless life will instead lead to disastrous consequences. In the end, Sue Ellen will learn a harsh lesson on just how hard growing up can really be.
Joe Lansdale's site:
Champion Mojo Storyteller Joe R. Lansdale is the author of over thirty novels and numerous short stories. His work has appeared in national anthologies, magazines, and collections, as well as numerous foreign publications. He has written for comics, television, film, newspapers, and Internet sites. His work has been collected in eighteen short-story collections, and he has edited or co-edited over a dozen anthologies. He has received the Edgar Award, eight Bram Stoker Awards, the Horror Writers Association Lifetime Achievement Award, the British Fantasy Award, the Grinzani Cavour Prize for Literature, the Herodotus Historical Fiction Award, the Inkpot Award for Contributions to Science Fiction and Fantasy, and many others. His novella Bubba Hotep was adapted to film by Don Coscarelli, starring Bruce Campbell and Ossie Davis. His story "Incident On and Off a Mountain Road" was adapted to film for Showtime's "Masters of Horror." He is currently co-producing
several films, among them The Bottoms, based on his Edgar Award-winning novel, with Bill Paxton and Brad Wyman, and The Drive-In, with Greg Nicotero. He is Writer In Residence at Stephen F. Austin State University, and is the founder of the martial arts system Shen Chuan: Martial Science and its affiliate, Shen Chuan Family System. He is a member of both the United States and International Martial Arts Halls of Fame. He lives in Nacogdoches, Texas with his wife, dog, and two cats.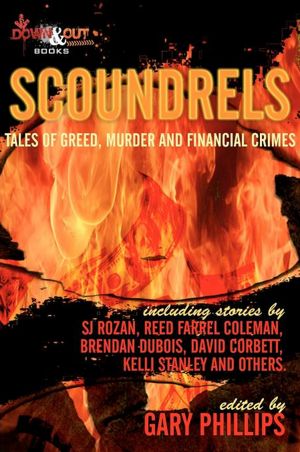 SCOUNDRELS
In Scoundrels, an all-original anthology featuring bestselling and Edgar and Shamus award-winning writers, you'll read stories of desperate grifters, brokers hedging big bets for the big take, schemers working the long con for the sure money, used car salesman with golden dreams and rusted hopes, crooked lawyers and bent clients, one percenters hustling for that last half-percent, kind-hearted killers and the lonely hearted who tell themselves any lie as the double down for the long count.
Stories by: Reed Farrel Coleman, David Corbett, Tyler Dilts, Brendan DuBois, Seth Harwood, Darrell James, Gary Phillips, Travis Richardson, SJ Rozan, Kelli Stanley, Eric Stone, Bob Truluck, Lono Waiwaiole and Pamela Samuels Young.
Welcome to my website wherein you'll find bits and pieces about my doings and reflections on the craft and business of mystery and crime writing, smoking cigars, current events, and oh yes, donuts. You've no doubt noted the rather large plaster donut that sits atop Randy's Donuts, a structure that's in keeping with the American tradition of having buildings as giant tamales, hot dogs, night owls for all-night diners, and so on. What urbanist Sam Hall Kaplan has labeled programmatic architecture, the building looks like what they sell or do.I enjoy telling stories in various mediums about various sorts of characters, and I try to show that on this site. You'll also find out about upcoming projects, and if I get around to it, a few ramblings on whatever the hell's on my mind now and then. So please take a few minutes to click on one of the interviews below or simply browse through the site and give me your feedback.