Tags
Related Posts
Share This
Lisa Unger and Steve Ulfelder In This Weeks Contest
In conjunction with the Friday Reads facebook page we are giving away copies of
Lisa Unger's FRAGILE and DARKNESS, MY OLD FRIEND
Steve Ulfelder's THE WHOLE LIE
To be entered in the drawing shoot an email over to
Jon?@crimespreemag.com (remove the question mark)
And put CONTEST in the subject line.
Also please put your address in the body of the email
We will pick the winners on May 18th
When we do the drawing we will be sending an extra something for one
lucky winner to be picked from the comments section of the Friday Reads
face book page, so after you enter, go leave a comment!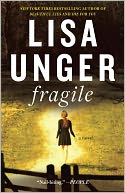 FRAGILE
Everybody knows everybody in The Hollows, a quaint, charming town outside of New York City. It's a place where neighbors keep an eye on each other's kids, where people say hello in the grocery store, and where high school cliques and antics are never quite forgotten. As a kid, Maggie found the microscope of small town life stifling. But as a wife and mother, she's happily returned to The Hollows' insular embrace. As a psychologist, her knowledge of family histories provides powerful insights into her patients' lives. So when the girlfriend of her teenage son Rick disappears, Maggie's intuitive gift proves useful to the case – and also dangerous.
Eerie parallels soon emerge between Charlene's disappearance and the abduction of another local girl that shook the community when Maggie was a teenager. The investigation has her husband, Jones, the lead detective on the case, acting strangely. Rick, already a brooding teenager, becomes even more withdrawn. In a town where the past is always present, nobody is above suspicion, not even a son in the eyes of his father.
"I know how a moment can spiral out of control," Jones says to a shocked Maggie, as he searches Rick's room for incriminating evidence. "How the consequences of one careless action can cost you everything."
As she tries to reassure him that Rick embodies his father in all of the important ways, Maggie realizes this might be exactly what Jones fears most. Determined to uncover the truth, Maggie pursues her own leads into Charlene's disappearance and exposes a long-buried town secret – one that could destroy everything she holds dear. This thrilling novel about one community's intricateyet fragile bonds will leave readers asking, "How well do I know the people I love?" and "How far would I go to protect them?"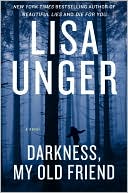 DARKNESS, MY OLD FRIEND
After giving up his post at The Hollows Police Department, Jones Cooper is at loose ends. He is having trouble facing a horrible event from the past, and finding a second act. He's in therapy. Then, on a brisk October morning, he has a visitor. Eloise Montgomery, the psychic who plays a key role in FRAGILE, comes to him with predictions about his future, some of them dire.
Michael Holt, a young man who grew up in The Hollows, has returned looking for answers about his mother who went missing many years earlier. He has hired local PI Ray Muldune and psychic Eloise Montgomery to help him solve the mystery that has haunted him. What he finds might be his undoing.
Fifteen year old Willow Graves is exiled to The Hollows from Manhattan when six months earlier she moved to the quiet town with her novelist mother after a bitter divorce. Willow is acting out, spending time with kids that bring out the worst in her. And when things get hard, she has a tendency to run away – a predilection that might lead her to dark places.
Set in The Hollows, the backdrop for Fragile, this is the riveting story of lives set on a collision course with devastating consequences. The result is Lisa Unger's most compelling fiction to date.
Lisa Unger is an award-winning New York Times and international bestselling author. Her novels have sold over 1 million copies in the U.S. and have been translated into 26 different languages.
She was born in New Haven, Connecticut but grew up in the Netherlands, England, New Jersey and New York, where she graduated from the New School for Social Research. Lisa now divides her time, along with her husband and daughter, between Florida and New York City.
Her writing has been hailed as "masterful" (St. Petersburg Times), "sensational" (Publishers Weekly) and "sophisticated" (New York Daily News) with "gripping narrative and evocative, muscular prose" (Associated Press).
THE WHOLE LIE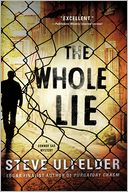 Conway Sax, the no-nonsense auto mechanic with a knack for solving difficult problems, is back inThe Whole Lie.
For once, Conway thinks normalcy is within reach. He's opening a new garage, he's moved in with longtime girlfriend Charlene, and the end of his parole is in sight.
Then along comes Savannah Kane: smart, smoky, a pusher of men's buttons. Years ago, Conway helped her disappear—but not before they had a sizzling, knock-down-drag-out affair. Now Savvy's got a shocking revelation: she's the mother of a six-year-old boy. She claims her son's father is billionaire Bert Saginaw, and she's back for more than just a family reunion.
Saginaw wants to be Lieutenant Governor of Massachusetts. Savvy wants to get paid. Conway wants nothing to do with either of them. But a brutal murder leaves him no choice but to sort lies from truth – even though doing so may cost him his freedom, his lover, and his life.

 Steve Ulfelder
I spent 20 years as a business and technology journalist. For the most part, that career revolved around Computerworld magazine, where I wrote and edited feature stories and opinion columns.
I spent the final six years of my journalism life as a freelancer. Most of my articles examined trends affecting corporate technology managers, but I also managed to write about race cars, job fairs, the Bahamas, the horrors of the office fridge, swimming pool design, romance in the workplace, and the joy of Pringles.
In 2006, I dumped journalism to write novels and focus on Flatout Motorsports Inc., the company I co-founded. Headquartered in Bellingham, Massachusetts, Flatout builds, rents, sells and services race cars. I spend weekends with Team Flatout racing my Honda S2000 in Sports Car Club of America competition.
While I read everything, mystery has always been my genre of choice. Influences and faves include James Ellroy, Ed McBain, Robert B. Parker, Donald Westlake/Richard Stark, John D. MacDonald, Ross Macdonald, Gregory McDonald, Robert Crais, Don Winslow, Ken Bruen, Dennis Lehane, Lee Child, and probably a couple more McDonalds or MacDonalds.
My debut novel, Purgatory Chasm, was published by Minotaur/Thomas Dunne Books in May 2011. The follow-up, The Whole Lie, is coming in May 2012. I'm a proud member of the Mystery Writers of America and Sisters in Crime.
I received a BA in Creative Writing from Ohio Wesleyan University. I work at my home in Worcester County, Massachusetts.