Tags
Related Posts
Share This
Steve Forman and Julie Hyzy in this Weeks Contest
Hey folks! It is Friday and that means FREE BOOKS.
This week, In conjunction with the Friday Reads facebook page , we  have the Steven Forman's BOCA KNIGHTS and Julie Hyzy's AFFAIRS OF STEAK.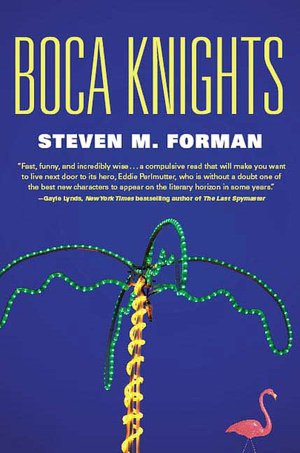 BOCA KNIGHTS
Eddie Perlmutter is capable of fighting with fearless frenzy, but only does so to defend the defenseless. Eddie's career as a much-honored Boston cop has come to an end. At sixty, he's still energetic and virile, but decades of harsh New England winters and collaring the pug-uglies of Boston's underworld have taken their toll—especially on his knees. So what does a lonely, retired cop with arthritic knees do? Head to sunny Florida, of course.
Country-club politics and early-bird specials are a far cry from the street toughs, scuffles, and arrests of his former life. But some things never change. Instead of enjoying a relaxed, laid-back retirement, Eddie quickly discovers the darker side of Boca Raton's endless sun and palm trees, where hate crimes, counterfeiting, and worse lurk beneath the deceptively calm surface of cushy retirement communities.


With his no-nonsense crime-fighting skills and roll-with-the punches attitude, Eddie hits Boca Raton like of a Nor'easter from Hell, fast, fresh, and unstoppable. A compulsively readable comic thriller with an egalitarian message that will inspire readers of all ages, Boca Knights will have readers in stitches and keep them on the edge of their seats.
Steve Forman
Originally from Boston Steve Forman has been wintering in Boca Raton since 1992. After 45 successful years in international business he wrote his first novel, Boca Knights, published in 2009 by Tom Doherty Associates. The sequel, Boca Mournings, was released in 2010, his first e-book, Eddie the Kid, was published November 22, 2011 and Boca Daze, the 3rd in the series, came out in January.
Steve is a graduate of UMass, class of '63. He is married to Barbara Forman and is father of two children and five grandchildren. You can find him on Facebook and on Twitter.
AFFAIRS OF STEAK
White House executive chef Olivia Paras just wants to create first class cuisine for the First Family. Unfortunately, dangerous politics keep spoiling her recipes…
Olivia and her arch nemesis, White House Sensitivity Director Peter Everett Sargeant, must work together to solve the double murder of one of the First Lady's assistants and the Chief of Staff — before they become the next victims of a merciless assassin with a secret agenda.

Julie Hyzy
Julie Hyzy's very first job had her flipping burgers and chopping onions at a neighborhood hot dog stand. She traded that experience for a job as a singing waitress at Farrell's Ice Cream Parlour — but gave that up when she started college (and because she couldn't carry a tune).
Over the years, she's acted in community theater productions, appeared in television commercials, and crashed a previously all-male fraternity to become one of the first female brothers in Loyola University's Chapter of Delta Sigma Pi. Julie had dreams of becoming a writer, but family, friends, and frat brothers convinced her otherwise. Having held positions as junior officer at a downtown bank, office manager at an architectural firm, and financial advisor at a prestigious wealth management company, she realizes that the business degree was probably a good choice — but fiction is truly her passion. Now, with some well-earned life experience behind her, she's delighted to finally be able to make writing a priority in her life.  Her latest, GRACE AMONG THIEVES, is now available at all fine bookstores.  Be sure to stop by and visit her on Facebook and follow her on Twitter.
To be entered in the drawing shoot an email over to
Jon?@crimespreemag.com (remove the question mark)
And put CONTEST in the subject line.
Also please put your address in the body of the email
We will pick the winners on July 6th.
When we do the drawing we will be sending an extra something for one lucky winner to be picked from the comments section of the Friday Reads face book page, so after you enter, go leave a comment!
http://www.facebook.com/FridayReads