Tags
Related Posts
Share This
Michael Koryta in this Weeks Contest
All right folks, time for another chance to snag a killer book.   Crimespree, in conjunction with Friday Reads Facebook page, offers you the chance to receive THE PROPHET by Michael Koryta.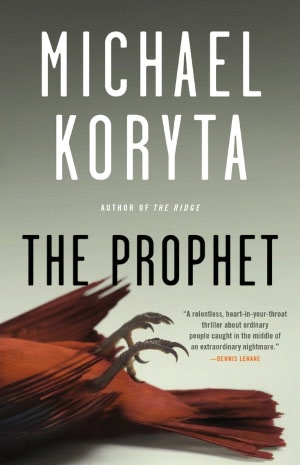 THE PROPHET
Adam Austin hasn't spoken to his brother in years. When they were teenagers, their sister was abducted and murdered, and their devastated family never recovered. Now Adam keeps to himself, scraping by as a bail bondsman, working so close to the town's criminal fringes that he sometimes seems a part of them.
Kent Austin is the beloved coach of the local high school football team, a religious man and hero in the community. After years of near misses, Kent's team has a shot at the state championship, a welcome point of pride in a town that has had its share of hardships.
Just before playoffs begin, the town and the team are thrown into shock when horrifically, impossibly, another teenage girl is found murdered. When details emerge that connect the crime to the Austin brothers, the two are forced to unite to stop a killer-and to confront their buried rage and grief before history repeats itself again.
Michael Koryta, long hailed as one of the best young thriller writers at work today, has written his greatest novel ever-an emotionally harrowing, unstoppably suspenseful novel that proves why Michael Connelly has named him "one of the best of the best."
Michael Koryta
Michael Koryta (pronounced ko-ree-ta) is the author of many novels, some of which have won the Los Angeles Times Book Prize, Great Lake Books Award, and St. Martin's Press/PWA Best First Novel prize, while also earning nominations for the Edgar, Quill, Shamus and Barry awards. In addition to winning the Los Angeles Times prize for best mystery, his novel Envy the Night was selected as a Reader's Digest condensed book. His work has been translated into nearly twenty languages. A former private investigator and newspaper reporter, Koryta graduated from Indiana University with a degree in criminal justice. He currently lives in St. Petersburg, Florida, and Bloomington, Indiana. Check out his Facebook page or his Twitter account.
To be entered in the drawing shoot an email over toJon?@crimespreemag.com (remove the question mark) And put CONTEST in the subject line. Also please put your address in the body of the email
We will pick the winners on August 31st.
When we do the drawing we will be sending an extra something for one lucky winner to be picked from the comments section of the Friday Reads face book page, so after you enter, go leave a comment!