Tags
Related Posts
Share This
Kathryn Casey and David Rosenfelt in this Weeks Contest
Happy Friday! Crimespree, in conjunction with Friday Reads Facebook page, is giving each and every one of you a chance to receive books from Kathryn Casey and David Rosenfelt.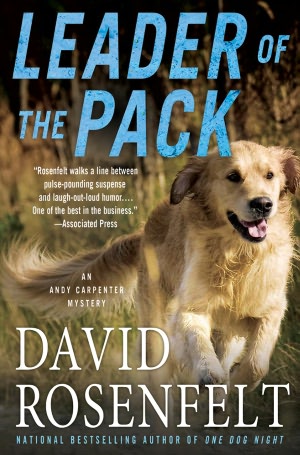 LEADER OF THE PACK by David Rosenfelt
Secrets are unearthed in a murder case that lawyer and dog lover Andy Carpenter lost years ago. Will they lead to the truth or more killing in the tenth in David Rosenfelt's popular series?
Over the course of his legal career Andy Carpenter has lost a few cases. But that doesn't mean he forgets his clients. Andy has always known that Joey Desimone, a man convicted of murder nine years ago, was innocent and believes that Joey's family's connections to organized crime played a pivotal role in his conviction. While there isn't much Andy can do for him while he serves out his prison sentence, Joey suggests that Andy visit Joey's uncle in a rest home. He'd rather not but as a favor to Joey, he agrees to take his dog, Tara, on a few visits.
The old man's memory is going, but when Andy tries to explain why he's there it jogs something in the man's mind that leaves Andy wondering if Joey's uncle is confused or if he holds the key to Joey's freedom after all this time.
Andy grabs on to this thread and follows it into a world where the oath of silence is stronger than blood ties, and where people will do anything to make sure their secrets are kept. It makes for another entertaining, suspenseful and dog-filled entry in David Rosenfelt's much-beloved series.
DEADLY LITTLE SECRETS by Kathryn Casey.
A man of God . . . driven by the evil
To his parishioners, minister Matt Baker seemed a pious and good man. To his wife, Kari, he was a devoted husband and caring father. Always sunny and vivacious, Kari never questioned their frequent relocations from one small Texas Baptist church to another. Even when tragedy struck, Kari remained strong—until one day, inexplicably, she took her own life.
To friends and family, Kari's suicide made no sense—and they struggled with questions they couldn't answer. Why couldn't Matt hold a job with any one church? Why did he cut off all contact with Kari's devastated parents soon after her death? And who was the blond companion he began appearing with just days after the funeral? But it would take a team of investigators and dogged determination to bring Matt Baker's dark secrets to light—revealing a shocking history of lies, infidelity, cruelty, and sexual obsession that may have led a serial predator cloaked in God's word to commit murder.
To be entered in the drawing shoot an email over to Jon?@crimespreemag.com (remove the question mark) And put CONTEST in the subject line. Also please put your address in the body of the email
We will pick the winners on October 5th.
When we do the drawing we will be sending an extra something for one lucky winner to be picked from the comments section of the Friday Reads face book page, so after you enter, go leave a comment!