Tags
Related Posts
Share This
Mo Hayder in this Weeks Contest
Another Friday, another chance to win! Crimespree, in conjunction with Friday Reads Facebook page, is giving each and every one of you a chance to receive books from Mo Hayder!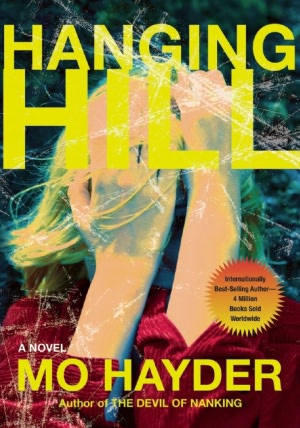 HANGING HILL
Mo Hayder is a world-class author of gritty, gripping page-turners, winner of the Dagger in the Library from the Crime Writers' Association for outstanding body of work. With her latest novel, she ratchets up the terror to fever pitch. Fast-paced and addictive, Hanging Hill centers around a pair of estranged sisters-one a cop, one a coddled wife fallen on hard times-and the gruesome homicide of a teenage beauty, which exposes the nightmares that lurk at the edges of our safe domestic lives.
One morning in picture-perfect Bath, England, a teenage girl's body is found on the towpath of a canal. Lorne Wood-beautiful, popular, and apparently the victim of a disturbingly brutal murder. Why was she on the towpath alone late at night? Zoe Benedict-Harley-riding police detective, independent to a fault-is convinced the department head needs to look beyond the usual domestic motives to solve the case, but no one wants to hear it, especially from the department's black sheep. Meanwhile, Zoe's sister, Sally-recently divorced and in dire financial straits, supporting a daughter who was friends with the dead girl-has begun working as a housekeeper for a rich entrepreneur who seems less eccentric and more repugnant, and possibly dangerous. And why are his sinister associates showing up at her daughter's school? When Zoe's investigation turns up evidence that Lorne's attempts to break into modeling had delivered her into the world of webcam girls and amateur porn, a crippling secret from Zoe's past seems determined to emerge.
All roads seem to be leading to one conclusion: there's something very wrong at the house on Hanging Hill. But will Zoe and Sally put their differences aside and fit all the pieces together before it's too late? Hanging Hill is a masterful, terrifying book that will have readers sleeping with the lights on.
GONE
Praised as a "maestro of the sinister" by the New York Daily News, Mo Hayder delivers her most suspenseful novel to date. By turns thrilling and horrifying, Gone follows the investigation of a brilliant and twisted carjacker with a disturbing game to play.
Jack Caffery's newest case seems like a routine carjacking, a crime he's seen plenty of times before. But as the hours tick by and his investigation morphs into a nightmare, he realizes the sickening truth: the thief wasn't after the car, but the eleven-year-old girl in the backseat. Meanwhile police diver Sergeant Flea Marley is pursuing her own theory of the case, and what she finds in an abandoned, half-submerged tunnel could put her in grave danger. The carjacker is always a step ahead of the Major Crime Investigation Unit, toying with their minds in taunting letters and ready to strike again. As the chances for his victims grow slimmer, Jack and Flea race to fit the pieces together in time.
Gone is Mo Hayder at her terrifying best. Each dark and captivating twist reveals a new dimension to this tight-knight plot, burrowing deeper into the chilling and clever world Mo Hayder creates.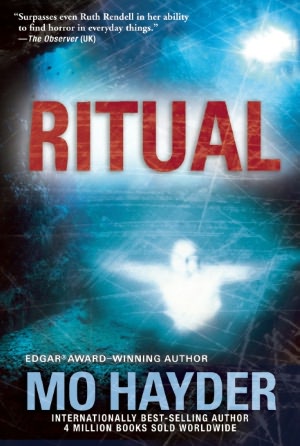 RITUAL
A SIGNATURE COCKTAIL of gore and suspense fused with elements of the occult have made Mo Hayder a rising star on the mystery circuit. Her latest, Ritual, delivers all the thrills her growing fanbase has come to expect. Just after lunch, police diver Flea Marley closes her gloved fingers around a human hand. The fact that there is no body attached is disturbing enough—until the matching hand is discovered and forensics indicate that the victim was still alive when they were removed. Flea and Detective Jack Caffery soon establish that the hands belong to a young man who has recently disappeared. Their search for answers lead them into the darkest recesses of Bristol's underworld, where street kids prostitute themselves for a hit and one of Africa's most disturbing rituals may have made an unwelcome appearance.
THE TREATMENT
Hayder's second novel after the hair-raising Birdman, The Treatment brings Detective Jack Caffery back to investigate the abduction of a little boy, a crime with disturbing parallels to Caffery's own troubled past.
In a quiet residential area in London, a couple is discovered bound and imprisoned in their own home. Savagely battered and severely dehydrated, the worst revelation is yet to come: their eight-year-old son has been abducted. But when the body is found and forensic evidence turns the case on its head, revealing disturbing parallels to events in Detective Caffery's own past, he realizes he's dealing with much more sinister forces than he'd anticipated-and finds it increasingly difficult to maintain his professional distance. As the evidence mounts and Caffery struggles to hold his own life together, the case hurtles toward a shocking conclusion.
BIRDMAN
Birdman showcases Hayder at her spine-tingling best as beloved series character Jack Caffery tracks down a terrifying serial killer.
In his first case as lead investigator with London's crack murder squad, Detective Inspector Jack Caffery is called on to investigate the murder of a young woman whose body has been discovered near the Millennium Dome in Greenwich, south-east London. Brutalized, mutilated beyond recognition, the victim is soon joined by four others discovered in the same area-all female and all ritualistically murdered. And when the post-mortem examination reveals a gruesome signature connecting the victims, Caffery realizes exactly what he's dealing with-a dangerous serial killer.
To be entered in the drawing shoot an email over to Jon?@crimespreemag.com (remove the question mark) And put CONTEST in the subject line. Also please put your address in the body of the email
We will pick the winners on October 12th.
When we do the drawing we will be sending an extra something for one lucky winner to be picked from the comments section of the Friday Reads face book page, so after you enter, go leave a comment!
http://www.facebook.com/FridayReads