Tags
Related Posts
Share This
Gillian Anderson & Chris Hadfield are featured in this week's giveaway
Crimespree magazine, in conjunction with Friday Reads Facebook page, is offering you a chance to win A VISION OF FIRE by Gillian Anderson and YOU ARE HERE by Col. Chris Hadfield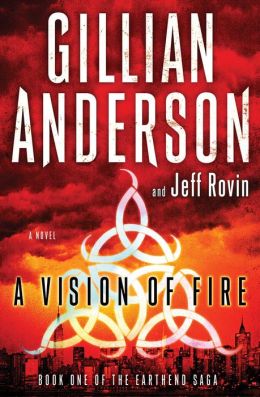 A VISION OF FIRE by Gillian Anderson
The first novel from iconic X-Files star Gillian Anderson and New York Times bestselling author Jeff Rovin: a science fiction thriller of epic proportions.
Renowned child psychologist Caitlin O'Hara is a single mom trying to juggle her job, her son, and a lackluster dating life. Her world is suddenly upturned when Maanik, the daughter of India's ambassador to the United Nations, starts speaking in tongues and having violent visions. Caitlin is sure that her fits have something to do with the recent assassination attempt on her father—a shooting that has escalated nuclear tensions between India and Pakistan to dangerous levels—but when teenagers around the world start having similar outbursts, Caitlin begins to think that there's a more sinister force at work.
In Haiti, a student claws at her throat, drowning on dry land. In Iran, a boy suddenly and inexplicably sets himself on fire. Animals, too, are acting irrationally, from rats in New York City to birds in South America to ordinary house pets. With Asia on the cusp of nuclear war, Caitlin must race across the globe to uncover the mystical links among these seemingly unrelated incidents in order to save her patient—and perhaps the world.
YOU ARE HERE by Col. Chris Hadfield
One of the most accomplished astronauts in the world takes readers on a tour around the world through the photographs he took in space.
Divided by continent, YOU ARE HERE represents one (idealized) orbit of the ISS. This planetary photo tour — surprising, playful, thought-provoking, and visually delightful — is also punctuated with fun, fascinating commentary on life in zero gravity. In the spirit of his bestselling An Astronaut's Guide to Life on Earth, YOU ARE HERE opens a singular window on our planet, using remarkable photographs to illuminate the history and consequences of human settlement, the magnificence (and wit) of never-before-noticed landscapes, and the power of the natural forces shaping our world and the future of our species.
To be entered in the drawing shoot an email over to Jon?@crimespreemag.com (remove the question mark) And put CONTEST in the subject line. Also please put your address in the body of the email.
We will pick the winners on October 31st.
When we do the drawing we will be sending an extra something.