Tags
Related Posts
Share This
Grebe and Träff, Robertson and Breen and Edwardson featured in this week's Giveaway.
Ladies and Gentlemen, boys and girls, it is that time of the week! Crimespree magazine , in conjunction with Friday Reads Facebook page, is giving away copies Ãke Edwardson's ROOM NO. 10, Camilla Grebe and Åsa Träff's MORE BITTER THAN DEATH and David Robertson and Bill Breen's BRICK BY BRICK.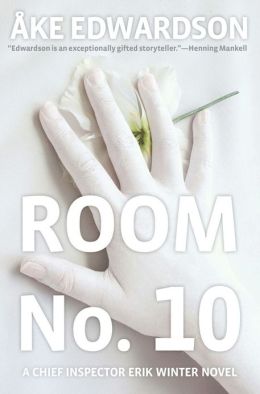 ROOM NO. 10 by  Ãke Edwardson
A woman is discovered hanged in a hotel room in Gothenburg, Sweden. Her parents are bereft and unable to explain the puzzling contents of the note she left behind. But Chief Inspector Erik Winter wonders whether the family is holding back some secret that might help identify the murderer.
Meanwhile, Winter recalls that one of his first cases as a young detective concerned a young woman who disappeared—from the same room in the same hotel. That case was never solved. As he investigates the murder and re-examines the old police report, he becomes convinced that the missing woman was also murdered—possibly by the same person who committed the recent murder. But tracking down this killer could cost Winter his life.
Room No. 10 is a dramatic, first-rate police procedural, infused with the cruelly beautiful seaside atmosphere of Gothenburg, a city that is as much a character in the novel as any human.
Åke Edwardson has worked as a journalist, a press officer for the United Nations, and a university lecturer at the University of Gothenburg, the second-largest city in Sweden, where his mysteries are set. He is one of Sweden's bestselling authors, and his books featuring Detective Chief Inspector Erik Winter have been translated into more than twenty languages worldwide. He is a three-time winner of the Swedish Crime Writers' Award for best crime novel.
MORE BITTER THAN DEATH by Camilla Grebe and Åsa Träff
In the chilling follow-up to Some Kind of Peace, Siri Bergman returns to investigate a brutal murder case centered in the dark world of domestic abuse.
It's a rainy evening in a Stockholm suburb, and five-year-old Tilde is hiding under the kitchen table playing with her crayons, when a man enters and beats her mother to death in cold blood. Tilde can't quite see the murderer, but she's the only witness.
Across town, psychologist Siri Bergman and her friend Aina are meeting with their old friend Vijay, who wants them to host a self-help group for victims of domestic abuse. Over the course of several evenings, five very different women share their stories of impossible love, violence, and humiliation. At the same time, Siri finds herself at a crossroads—she's carrying her boyfriend's child, but is still beset by doubts and fears.
Swedish sisters Camilla Grebe and Åsa Träff weave all these threads together so that the search for healing and the ability to love again are soon transformed into a hunt for Tilde's mother's killer. Everyone is a suspect: the many men in the victim's life, her own son, even some of the women in the self-help group. Grebe and Träff combine the chills of first-rate crime novels with palpable emotion and personal experience (Träff is a real-life psychologist), as More Bitter Than Death builds to a shocking conclusion.
Sisters Camilla Grebe and Åsa Träff started out writing thrillers over email, each writing a chapter and sending it back to the other to continue the story. Åsa Träff is a psychologist specializing in cognitive behavioral therapy. She runs a private practice with her husband. She lives in Älvsjö, Sweden. Camilla Grebe is a graduate of the Stockholm School of Economics. She was a cofounder of Storyside, a Swedish audiobook publisher, where she was both CEO and publisher during the early 2000s. She lives in Stockholm, Sweden.
BRICK BY BRICK by David Robertson and Bill Breen
The saga of how consultants and the Seven Truths of Innovation pushed LEGO to the brink of financial disaster, and how the company learned to adapt those Seven Truths, innovate profitably, and once again become one of the most successful toy makers in history.
They create 19 million brick pieces a year, have reached the hearts and homes of more than 400 million people across the globe, and have enjoyed a pre-tax profit surge of over 50 percent from 2007 to 2010, far surpassing their competitors. But LEGO has not always stood on such solid ground.
Just ten years ago, overinfluenced by outside consultants and overinnovated beyond their core competency, LEGO was teetering on the edge of financial disaster. Brick by Brick looks back at the last decade and shows how the company resurrected the Seven Truths of Innovation-truths that had almost sunk them when first applied-to rebuild their business stronger than ever. Along the way they learned to adapt and adjust outsiders' advice, and the classic Seven Truths, to suit their internal needs and find the path to profit and innovation.
To be entered in the drawing shoot an email over to Jon?@crimespreemag.com (remove the question mark) And put CONTEST in the subject line. Also please put your address in the body of the email
We will pick the winners on June 21st.
When we do the drawing we will be sending an extra something for one lucky winner to be picked from the comments section of the Friday Reads face book page, so after you enter, go leave a comment!