Tags
Related Posts
Share This
Guilty Pleasures: Ayo Onatade
I don't remember exactly when I first had the pleasure of meeting Ayo, only that it was at a Bouchercon. I was wowed by her passion, charm, energy, brains and loveliness. Since then, I am happy to say she is a fellow Crimespree staff member and pal.
Jeremy
My film guilty pleasures.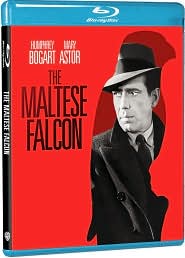 I have two films that are guilty pleasures and they are both my guilty pleasures for different reasons but with a slight overlap. Both films cemented my love of noir films and books.
My first is John Houston's 1941 film version of Dashiell Hammett's classic 1930 noir novel The Maltese Falcon. It is one of the three film adaptations of the novel of the same name. The Maltese Falcon is considered to be the first "official" film noir. Shot in black and white it was John Huston's first film. When I first sat down to watch The Maltese Falcon I did so without initially appreciating the depth of the film. However, the second time I saw the film it brought me up sharply as I sat there watching it riveted. What can I say about The Maltese Falcon that won't sound trite? Humphrey Bogart who plays a world-weary Sam Spade with ease is the epitome of someone who has seen it all. As Sam Spade, Bogart created the prototypical noir persona: a dispassionate, cynical and world-weary tough guy. Mary Astor plays the sultry femme fatale and who can resist her? At one stage certainly not Spade. Then there is Sydney Greenstreet and Peter Lorre who play Kasper Gutman and Joel Cairo respectively. The film itself is a study in greed, manipulation and deception and also lays bare the template for hard-boiled detective fiction on the silver screen.
SPOILER ALERT – For anyone that has not seen The Maltese Falcon the plot very very briefly as follows – Spade finds himself pulled into a web of intrigue surrounding a mysterious, valuable object (The Maltese Falcon) that brings three murders to his doorstep.
But for me the reason why The Maltese Falcon is one of my film guilty pleasures has more to do with the fact that it is an absorbing film that is brilliantly directed, deftly acted with a great sense of foreboding. It is also boasts good performances, is darkly funny, dirty, gritty and lyrical. It also has hard-boiled dialogue, twisty plotting and some ludicrously over the top characters. The fact that it is based on one of my favourite crime novels is just a bonus. There is also the fact that Sam Spade is the antithesis of what was considered to be the well-managed amateur sleuth at the time, a tarnished hero. It is a film that I can watch time and time again.
My second is the 1975 film version of Raymond Chandler's 1940 novel Farewell My Lovely featuring Robert Mitchum as Philip Marlowe.
Part of Farewell My Lovely is told in flashback. In fact the start of the film sees Phillip Marlowe in a rather seedy hotel talking about what took place, as the police are also demanding answers from him as well. Like The Maltese Falcon, Farewell My Lovely has been made into a number of films but it is the 1975 version, which is considered to be the best, and the one that is the most faithful to the book.
SPOILER ALERT – The plot is as follows – Farewell My Lovely is set in Los Angeles circa 1941. Marlowe has been hired to find "Velma" the girlfriend of a big, burly ex-convict thug called Moose Malloy. Having been in jail, Malloy has not seen his girlfriend for quite sometime. At the same time Marlowe is investigating the death of a client who had been the victim of blackmail and who has also had a jade necklace stolen from him. Soon both cases become connected and Marlowe finds himself being drugged and held captive by a psychotic madam. The resolution takes place onboard a gambling boat.
So why is Farewell My Lovely also my film guilty pleasure? When I am asked who is my favourite crime writer I often prevaricate. Not because I don't want to tell anyone, but because I have such an eclectic taste. However, when pushed I will say Raymond Chandler and of all his books, Farewell My Lovely is my favourite. Adaptations of novels sometimes work and when they do work they are a joy to behold. For me this is the case with Farewell My Lovely. From the start of the film you get the impression of the memorable underbelly that is Los Angeles. The film's twisty plot and the moody ambience enhance Mitchum's excellent casting as Chandler's hard-boiled private eye Philip Marlowe. Jack O'Halloran as Moose Malloy and Charlotte Rampling as Helen Grayle/Velma are also portray first rate performance and despite the fact that Malloy is a thug at times you can't help feeling sorry for him. As for Helen Grayle she is seductive and one can understand why Marlowe becomes attracted to her. As much as the film shows the sleazy, corrupt and bigoted side of Los Angeles it also tells a damn good story. Furthermore, it has some of the wittiest lines of dialogue going.
So when I sit down to watch a favourite film, it invariably ends up being either The Maltese Falcon or Farewell My Lovely and I know why!
Ayo Onatade
As talented as she is lovely, the dynamic Ayo is a force to be reckoned with in the British mystery scene. She often rocks the written word in Crimespree and often has the male crime writers kneeling at her feet.