Tags
Related Posts
Share This
Guilty Pleasures: SJ Rozan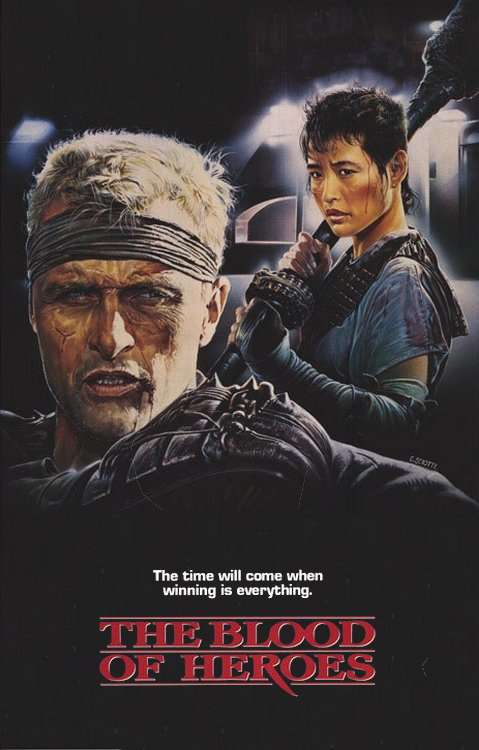 BLOOD OF HEROES
1989
Rutger Hauer, Joan Chen, Delroy Lindo, Vincent D'Onofrio
Written and directed by David Peoples
Okay, there it is. My post-apocalyptic road warrior guilty pleasure.
I love this movie. Categorically, I love straight-line extrapolations into the future anyway: they're convincing, hard to argue with, and always wrong. Nothing's more off-base than the present as the past imagined it — we're not living in any of the worlds sci-fi said we'd have by the year 2000, are we? Your personal robot butler, your jetpack, they haven't arrived, right? Nor will the future, when it gets here, be as we're predicting now. Which is not to say don't worry, it'll be better, everything will be fine. It might well be much worse. But it'll be different, for sure.
BLOOD OF HEROES is a straight line extrapolation out from the apocalypse. That was some kind of civilization-destroying war, though we're never told what it was about or how long before the time of the movie it was fought. Nor who won — completely irrelevant. What's important is, human existence has returned to a medieval-Europe sort of life: villages scratching out meager crops, lots of grunting, animal skins for clothing, and dirt.
But there's a Game. Traveling teams play local teams, like baseball barnstormers, only in this Game, anything goes. On each team of five, one player's unarmed; called the "qwik," his/her role is to carry a dog's skull onto the goalpost of the opposing team. The opposing players attack, in this case literally, with whatever clubs, chains, rocks or ropes they can scare up. The qwik's teammates defend him/her with their own weapons. You can disable; you can maim; you can kill. Meanwhile, defense goes to offense: the opposing qwik tries to steal the skull and head in the opposite direction.
BLOOD OF HEROES has a plot, about a traveling team trying, in essence, to make it to the majors: there are a few cities left, where people live better (but more twisted and artificial) lives than in the countryside. Each city has a team, and if you play them and win… But who cares? What I love about this movie is how smart it is about what sports really mean, right under the surface — remember, I'm also a jock — and how the fiercest of competitors can be the most surprisingly tender. The sets, costumes and makeup tell the whole story; there's very little dialogue. BLOOD OF HEROES is convincingly post-apocalyptic, and like all successful films in its genre, its use is to show us how we'll end up if we don't swerve soon; meaning, if we stay just who we are.
SJ
SJ Rozan, a native New Yorker, is the author of twelve novels. Her work has won the Edgar, Shamus, Anthony, Nero, and Macavity awards for Best Novel and the Edgar for Best Short Story. She's also the recipient of the Japanese Maltese Falcon Award. Bronx Noir, a short story anthology SJ edited, was chosen NAIBA "Notable Book of the Year."
SJ has served on the National Boards of Mystery Writers of America and Sisters in Crime, and is ex-President of the Private Eye Writers of America. She speaks, lectures and teaches, and she runs a summer writing workshop in Assisi, Italy.
In January 2003 SJ was an invited speaker at the Annual Meeting of the World Economic Forum in Davos, Switzerland. The 2005 Left Coast Crime convention in El Paso, Texas made her its Guest of Honor and she was Toastmaster at Bouchercon 2009.
A former architect in a practice that focussed on police stations, firehouses, and zoos, SJ Rozan lives in lower Manhattan. More info is available at her website.