Tags
Related Posts
Share This
Guilty Pleasures: Toni L. P. Kelner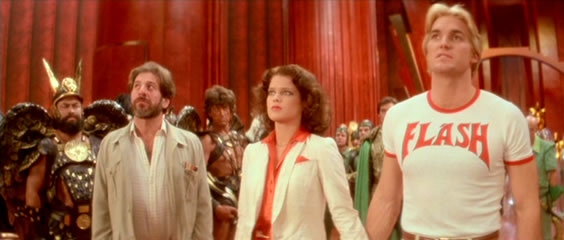 Flash! A-ah!
Let me say this right up front. Flash Gordon is not a good movie. It is, in fact, a very bad movie. I confirmed this recently by watching it yet again. This time my husband and I showed it to our daughters so they, too, can know the epic badness that is Flash Gordon. The plot is ludicrous, the script is silly, and the star does a terrible job.
And yet I like it.
What's more, I like it for a multitude of reasons, some of which are not quite as embarrassing as others.
1) Even bad science fiction is still science fiction.
I am a long-time science fiction fan, so Flash was right in my sweet spot. Never mind that it's really lame in terms of science fiction. I mean, a traveling planet and accompanying moons, a home-made rocket ship, weather control, mind-wiping, moving our moon 12 degrees out of orbit… And how on earth did those barely moving wings lift Prince Vultan and company? The costumes, though, are FAB!
2) I have fond memories.
No, not memories of the original Flash Gordon–I'm not that old. But just before the movie first came out, my sister and I got free passes to see an Advance Screening at the Park Road Theater in Charlotte, NC. She, her then-husband, and I had a great time that night–we got free t-shirts with the lovely motto, "Fooling Humans–Who Can Help You Now?" In fact, that t-shirt is still in my house, though I have passed it on to another generation.
3) It's trivia heaven.
For someone like me, who likes TV trivia so much I created a mystery series to give myself an excuse to read more, Flash is heaven on Earth. Or on Mongo. You've got famous actors who should have known better than to sign on for this movie: Topol of Fiddler on the Roof fame played crazy scientist Dr. Hans Zarkov and Max von Sydow, who started out working with Ingmar Bergman, played the Emperor Ming, or as some of us call him, Ming the Merciless. And you've got at least one case of an actor who later made it pretty big: Timothy Dalton, who played James Bond in two movies, was Prince Barin. (Dalton also played Rassilon in Doctor Who, which gives him even more luster for the trivia fan.) Plush you've got a cult favorite: Richard O'Brien, who played Prince Barin's henchman, is best known for creating The Rocky Horror Picture Show and starring in it as Riff-Raff. (He's currently playing the father on Phineas and Ferb.) Plus Brian Blessed plays Prince Vultan, and he's always a pleasure to watch or just to hear. (Plenty of other connections with Blessed: Black Adder; I, Claudius; the Disney version of Tarzan…) And just to add a touch of surrealism, Flash producer Dino De Laurentiis originally hoped that Federico Fellini would direct the movie–Fellini actually contributed to the original Flash strip cartoon.
4) I love the music.
The soundtrack is by Queen. Need I say more?
5) There is so much humor, and some of it is even intentional.
I'll forgive a lot in a movie if I get enough laughs out of it, and there are plenty here. Some of them are intentional camp, and others are just such wonderful examples of scenery chewing and ludicrous lines. Consider the following:
Scantily Clad Slave Girl: It has no name. Many brave men died to bring it here from the Galaxy of Pleasure… It will make your nights with Ming more… agreeable.
Or:
Dale Arden: Flash, Flash, I love you, but we only have fourteen hours to save the Earth!
Or this interaction:
Klytus (Ming's Henchman): Most effective, Your Majesty. Will you destroy this Earth?
Ming: Later. I like to play with things a while before annihilation.
Or even:
Flash Gordon: Biro! You alright?
Biro (a hawkman): They just winged me!
I just can't resist dialog like that.
So I'm going public with my fondness for this terribly bad movie, which I own on DVD and will likely watch again some day. At least the funniest parts. I leave you now with the last words of the movie:
"Long live Flash! You've saved your Earth. Have a nice day."
Toni
Toni L.P. Kelner is an award-winning author of two mystery series: the eight Laura Fleming novels, which include: Wed and Buried, Death of a Damn Yankee, Tight as a Tick, and several others; and the Where Are They Now? series, which debuted in January 2008 with Without Mercy. She has also edited two urban fantasy anthologies with Charlaine Harris. Many Bloody Returns, a collection of stories about vampire birthdays, was released in September 2007, and Wolfsbane and Mistletoe, a collection of werewolf Christmas stories, was released in October 2008. A third anthology, as edited with Harris, Death's Excellent Vacation, is expected to be released in August 2010. Kelner has written a number of short stories in anthologies and magazines. Her most recent are "Skull and Cross-Examinations" and "Kangaroo Court".
Kelner's short fiction has been nominated for the Agatha, the Anthony, and the Macavity awards, and her story "Sleeping With The Plush" won the Agatha for Best Short Story of 2006. Her novels have been nominated for several RT BOOKclub awards, and Kelner won an RT BOOKclub Career Achievement Award. You can learn more at her website and can follow her on Twitter.