Tags
Related Posts
Share This
GUN MACHINE by Warren Ellis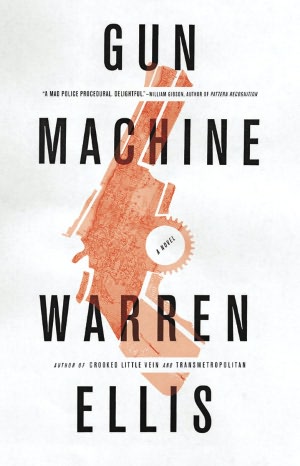 Mulholland Books
Pub date: January 1, 2013
Warren Ellis and I go way back.
I don't mean we hang out, or anything. He doesn't know my name, and I seriously doubt he's ever even been to the great state of Minnesota. But still, Warren and me go way back.
Way back in the early 90's, when comics were hitting a bit of a lull, it was getting pretty tough to keep reading them. But then I stumbled across HELLSTORM: PRINCE OF LIES. This was a character I had first run into in the pages of WEST COAST AVENGERS, for crying out loud. You know, the group with Hawkeye and Wonder Man? Sunny, daytime happy crime fighting? But in his own book, the art was scratchy, and everyone smoked a lot. And most stories ended with people dead in Hell. Yeah, this Ellis guy was doing something different. Different with mood, attitude, tone, and art. This is a book that actually made me… uncomfortable. I was hooked.
Then when Ellis and his HELLSTORM art partner Leonardo Manco went and did the DRUID min-series in 1994? That book gave me a case of the creepy-crawlies that I'm still dealing with today. And the ending, with Druid's body dumped in a garbage can? I've never looked at waste receptacles the same way since. So needless to say, I've been following Mr. Ellis's work from then on. Most of you readers are familiar with the works that followed: THOR, TRANSMETROPOLITAN, STORMWATCH, THE AUTHORITY, PLANETARY, HELLBLAZER, THUNDERBOLTS, GRAVEL. On and on.
So when he made the leap to prose with the private eye novel CROOKED LITTLE VEIN and now the police procedural GUN MACHINE, you know I was first in line to steal my copy. (Editor's Note: Crimespree Magazine in no way condones stealing books.)
GUN MACHINE is a claustrophobic pressure cooker filled with tension, and mixed with anxiety and mental illness. Detective John Tallow and his partner James Rosato respond to a 911 call on Pearl Street in New York City. A naked shotgun-toting apartment resident is causing a bad scene, and in the course of attempting to subdue him, Rosato is killed. Tallow then shoots the naked guy.
During the cleanup and investigation, a sealed apartment is discovered. A sealed apartment filled with nothing but guns: new guns, old guns, modern guns, and flintlock guns. And each gun is found to be the murder weapon in an open investigation. The guns are displayed in the apartment in very deliberate patterns; patterns that fit together in an intended design that means something to the resident of apartment 3A.
Since he was the one who discovered this locked room mystery, it falls on Tallow to solve every one of these crimes. But who is Tallow? A veteran officer who had fallen into the rhythm of always riding in the passenger seat while Rosato would drive. A guy that most people don't really like. They liked Rosato.
So why does Tallow get assigned the case, when procedure says he should be on mandatory leave following the death of his partner?
Mr. Ellis takes us through this mystery in a very restrained narrative. While imaginative and descriptive dialog is a hallmark of his writing style, Ellis uses a very restrained approach in GUN MACHINE. This adds to the oppressive feeling of tension that the story provides. But when the spotlight turns to Tallow's new partners Bat and Scarly, readers are treated to Mr. Ellis's signature machine-gun dialog.
Warren Ellis's transition from comic books to prose literature is a wonderful gift to readers. I loved GUN MACHINE, and reading this book has me headed to my Local Comic Shop for collections of his earlier work that I haven't read in years. My hope is the new readers who will no doubt want more after reading GUN MACHINE will head to their LCS or Amazon for more Ellis as well.
Dan Malmon