Tags
Related Posts
Share This
Hard Case Crime's LITTLE GIRL LOST optioned by Universal, director and writer attached.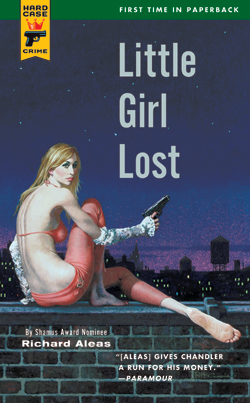 Congratulations are in order for Charles Alrdai and Hard Case Crime. Universal has optioned LITTLE GIRL LOST, a novel written by Charles (under the name Richard Aleas) and published by HCC.
Miranda Sugarman was supposed to be in the Midwest, working as an eye doctor. So how did she wind up shot to death on the roof of New York's seediest strip club? It's up to detective John Blake to uncover his ex-girlfriend's secret life as a strip tease queen. But the deeper he digs, the darker the secrets he uncovers, until a shattering face-off in an East Village tenement changes his life forever…
While many novels are optioned and do nothing more than collect dust, LGL already has a director and writer attached to it.

Jonathan Levine is slated to direct. Levine was responsible for the acclaimed THE WACKNESS as well as All THE BOYS LOVE MANDY LANE. The choice of Levine suits Charles just fine:
"When I saw Jonathan Levine's movie THE WACKNESS, I was floored by how much it reminded me of LITTLE GIRL LOST — his wounded protagonist, caught between innocence and cynicism; the battered but romantic portrayal of New York; the doomed relationship you nevertheless can't stop hungering for. Hell, I even recognized one of the locations they filmed in, since we did a photoshoot for a Hard Case Crime cover on the same rooftop! As soon as I saw that movie, I knew he'd be the perfect director for this book."
Michael Bacall will be handling the writing duties. Michael has worked as an actor for years, appearing in dozens of television shows as well as FREE WILLY, INGLOURIOUS BASTERDS and DEATH PROOF. He co-write SCOTT PILGRIM VS. THE WORLD and is attached to the planned film of 21 JUMP STREET. Charles had dinner with him and thinks he is a good fit: "he's great — a very smart, insightful writer and a serious student of noir fiction. I can't wait to see what he does with the screenplay."
If you have not yet read LITTLE GIRL LOST, pick up a copy.