Tags
Related Posts
Share This
Hard Case to publish lost Block novel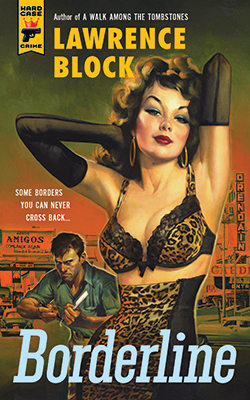 Word came this today that Hard Case Crime will be publishing BORDERLINE, a Lawrence Block novel that has been out of print for over 50 years. The book will also feature a very cool new cover by Michael Koelsch.
On the border between El Paso, Texas, and Juarez, Mexico, five lives are about to collide—with fatal results. You'll meet
MARTY—the professional gambler who rolls the dice on a night with…
MEG—the bored divorcee who seeks excitement and finds…
LILY—the beautiful hitchhiker lured into a live sex show by…
CASSIE—the redhead with her own private agenda…
and WEAVER—the madman, the killer with a straight razor in his pocket, on the run from the police and determined to go down swinging!
BORDERLINE comes out in May of 2014. You can read the first chapter here.