Tags
Related Posts
Share This
HEART OF A KILLER by David Rosenfelt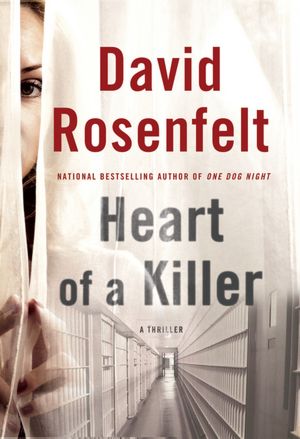 Publisher:Minotaur books
Publication date: Feb 14, 2012
Acerbic, underachieving lawyer, Jamie Wagner, has made a career by flying beneath the radar of the partners in his firm. Now, he is going to live his nightmare by accidentally getting involved in the case of a lifetime. A woman who had been convicted of brutally murdering her husband five years ago is now seeking assistance to help commit suicide to save her daughter who is in desperate need of a heart transplant.
Jamie finds himself in an unenviable situation where if he wins his
case, it means the death of his client. If he loses, her young daughter will die still waiting for a donor. At the same time he is embroiled in the case, a terrorist is striking high profile targets all around the United States, with no apparent goal except the destruction of human life.
Rosenfelt does an excellent job of interweaving both the emotional
and action-packed drama into a cohesive tale that flies through your fingertips. While at times the story can be a bit predictable, it in no way diminishes the striking tale of a mother trying to save her dying child, a lawyer in a no-win situation, and an officer stalking his extremely deadly prey. The self-effacing humor of the protagonist and the ruthlessness of the terrorist are the perfect counterpoint to one another. The twists and turns of each tale come together beautifully at the high-tension conclusion of the book.
Despite the release date, title, and central theme of the book, I
will take the high road and make no cardiac puns. However, I will say this book will keep you entertained from the start. While this book is a standalone, I could easily see Jamie Wagner turning into a recurring character. Whether you are a fan of court procedurals or cross-country games of cat-and-mouse with sociopaths, Rosenfelt delivers plenty of each to sate your desire.
-Bryan VanMeter