Tags
Related Posts
Share This
Hilary Davidson: Tour dates for BLOOD ALWAYS TELLS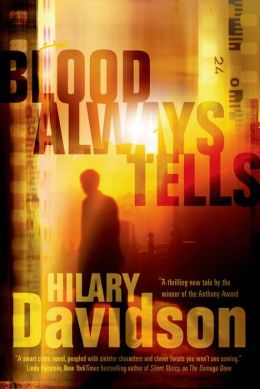 Hilary Davidson just celebrated the release of BLOOD ALWAYS TELLS, her new stand alone and fourth overall book.
Dominique Monaghan just wanted to get even with her two-timing, married boyfriend, a washed-up boxer stuck in a toxic marriage to a dangerously spoiled socialite. However, an elaborate blackmail scheme soon lands her in the middle of an unexpected kidnapping . . . and attempted murder. But who is actually out to kill whom?
Desmond Edgars, Dominique's big brother, has looked out for his wayward sister ever since their
mother was convicted of murdering many years ago, so when he receives a frantic phone call from
Dominique in the middle of the night, he drops everything to rush to the rescue. But to find out what has really happened to his sister, the stoic ex-military man must navigate a tangled web of murder and deception, involving a family fortune, a couple of shifty lawyers, and a missing child, while wrestling with his own bloody secrets . . . .
Hilary will be touring in April, May and early June in support of BAT, take a look at these dates and see if the delightful Miz H will be near you.
Monday, April 21, 2014
7:30pm
Mysterious Galaxy Redondo Beach
2810 Artesia Blvd.
Redondo Beach, CA, 90278
310-542-6000
Tuesday, April 22, 2014
7pm
Mysterious Galaxy
7051 Clairemont Mesa Blvd.
San Diego, CA
858-268-4747
Wednesday, April 23, 2014
7pm
Poisoned Pen
4014 N Goldwater Blvd.
Suite 101, Scottsdale, AZ 85251
480-947-2974
Thursday, April 24, 2014
6:30pm
BookPeople
603 N. Lamar
Austin, TX, 7870
512-472-5050
Friday, April 25, 2014, Denver
7:30pm
Tattered Cover
2526 East Colfax Avenue
Denver, CO
303-322-7727
MAY
Sunday, May 4, 2014, Toronto
10am-noon
"Books and Brunch" event hosted by the Globe & Mail and Ben McNally Books
Omni King Edward Hotel
37 King Street East, Toronto
Tickets are $50;
please call Ben McNally Books at 416-361-0032 to reserve a ticket.
Tuesday, May 6, 2014, Toronto,
6pm-8pm
Canadian launch party for BLOOD ALWAYS TELLS
Ben McNally Books
366 Bay Street, Toronto, ON, M5H 4B2;
416-361-0032
Thursday, May 15, 2014,
7pm-8pm
One More Page
2200 N. Westmoreland Street, #101
Arlington, VA 22213
703-300-9746
Saturday, May 17, 2014, Milwaukee
2pm
Mystery One
2109 North Prospect Avenue
Milwaukee, WI 53202
414-347-4077
Saturday, May 17, 2014, Milwaukee
Noir at the Bar Milwaukee!
Details TBA
JUNE
Tuesday, June 17, 2014, New York City
6:30pm
Mystery Writers of America crime fiction reading series
KGB Bar
85 East 4th Street
New York