Tags
Related Posts
Share This
Hill and Shannon featured in this week's giveaway
Crimespree magazine,  in conjunction with Friday Reads Facebook page,  is offering you a chance to win  copies of THE GOOD SUICIDES by Antonio Hill and ALL THE DEVILS by Harry Shannon
THE GOOD SUICIDES by Antonio Hill
Inspector Hector Salgado, the salty hero of The Summer of Dead Toys, returns in another crime thriller set in Barcelona during a cold snap.
After a team-building retreat in a remote country house, senior staff at Alemany Cosmetics return with a secret. Each has received an anonymous email with a photo showing dogs hanging dead from a tree near the farm. Now they're committing suicide, one by one. The connection between the gut-wrenching photos and heartbreaking suicides remains a befuddling mystery-one that racks Barcelona's executive think tanks and could lead to a frightening end. Deciphering the personalities of these youthful executives and their power structures isn't easy, but Inspector Salgado has his own ways of making them speak. Meanwhile, Barcelona is freezing, suffering from an unusual cold spell and Salgado's wife, Ruth, is still missing. Salgado must break through the icily furtive layers of this young group in order to save his family, his reputation, and his city.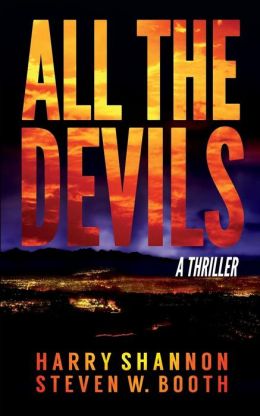 ALL THE DEVILS by Harry Shannon
Carrie Young's life is one hot mess. The posh political aide is having an affair with her boss, a Congressman who is taking bribes from a major corporation. When a hit man kills the Congressman and sets Carrie up to die in an apparent murder/suicide, she is rescued by Spider Walsh, a soft-spoken janitor. The two strangers go on the run, pursued by an elite network of professional assassins, skilled men and women who do dirty work for the rich and powerful.
With both the police and the ruthless group of mercenaries on their trail, Carrie and Spider venture deep into LA's gang territory, where she must trust her mysterious protector and his friends to keep her alive. Their enemies will stop at nothing to keep Carrie from revealing vital secrets to the authorities. As they begin to fight back, Carrie learns that Spider is not just a janitor after all. In fact, he is a very dangerous man, with a few dark secrets of his own
To be entered in the drawing shoot an email over to Jon?@crimespreemag.com (remove the question mark) And put CONTEST in the subject line. Also please put your address in the body of the email.
We will pick the winners on July 11th.
When we do the drawing we will be sending an extra something.