Tags
Related Posts
Share This
Home Entertainment Release Recap for Dec 30th, 2014
Not surprisingly, today is a pretty lean day for releases. Of note are season two of the Cinemax series BANSHEE as well as Denzel Washington's THE EQUALIZER.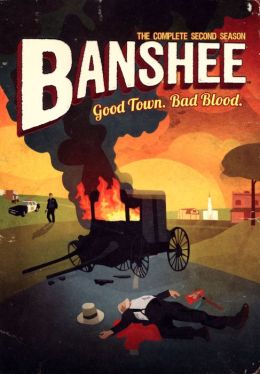 BANSHEE: The Complete Second Season (2014) Four-disc set with 10 episodes. Formats: DVD: $39.98, Blu-ray Disc: $49.99, Extras: "Banshee Origins" story before the story with a dozen prequel videos featuring the cast of Banshee; "Conversation Between Olek & the Albino"; "Zoomed In: Episodes 1-4 & 6-8" behind-the-scenes; commentaries with cast & crew; deleted scenes; episode recaps; trailers. Blu-ray adds "Inside the Title Sequence" interactive feature uncovers the clues behind each episode's opening title sequence; Twitter commentary with cast & crew. (HBO).
"Banshee" charts the continuing twists and turns that follow Lucas Hood (Antony Starr), an ex-convict who assumes the identity of sheriff of the rural, Amish-area town of Banshee, where his former lover and partner-in-crime (Ivana Milicevic) lives under the alias Carrie Hopewell. Season 2 takes up immediately after the events of the Season 1 finale, when Carrie's father, gang kingpin Rabbit (Ben Cross) was left for dead after a climactic warehouse shootout. Carrie, now exposed and estranged from her husband and kids, is torn between her devotion to her family and her connection to Lucas, who had given himself up in order to save her years earlier.
THE EQUALIZER (2014) Denzel Washington, Chloe Grace Moretz Formats: DVD $30.99, Blu-ray $34.99 (Sony)
McCall (Denzel Washington) has put his mysterious past behind him and is dedicated to living a new, quiet life. But when he meets Teri (Chloë Grace Moretz), a young girl under the control of ultra-violent Russian gangsters, he can't stand idly by. Armed with hidden skills that allow him to serve vengeance against anyone who would brutalize the helpless, McCall comes out of his self-imposed retirement and finds his desire for justice reawakened. If someone has a problem, if the odds are stacked against them, if they have nowhere else to turn, McCall will help. He is The Equalizer.