Tags
Related Posts
Share This
Home Entertainment Release recap for Feb 8th, 2011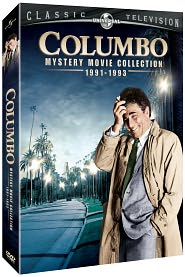 COLUMBO: Mystery Movie Collection 1991-1993
Peter Falk. $26.98 (Universal).
Peter Falk is back in all his rumpled, trenchcoat-wearing glory as police lieutenant Columbo in six captivating two-hour TV movies that aired between 1991-1993. Join the four-time Primetime Emmy® winner for "just one more thing" as he goes after sure-footed suspects with his offbeat wit, wily charm, and dogged persistence. Featuring such amazing guest stars as Faye Dunaway (Bonnie and Clyde), Penny Johnson Jerald (24), Little Richard, George Hamilton (Dynasty), Louis Herthum (The Last Exorcism) and Rip Torn (Men In Black), it's a must-see-three-disc collection that will keep you on the edge of your seat with one of the mystery genre's most beloved icons.
THE GUARDIAN: The Final Season
(2003-04) Simon Baker, Dabney Coleman, Alan Rosenberg, Raphael Sbarge , $40.99. (CBS/Paramount).
Nick Fallin is a hotshot lawyer working at his father's ultra successful Pittsburgh law firm. Unfortunately, the high life has gotten the best of Nick. Arrested for drug use, he's sentenced to do 1,500 hours of community service, somehow to be squeezed into his 24/7 cutthroat world of mergers, acquisitions and board meetings. Reluctantly, he's now The Guardian – a part-time child advocate at Legal Aid Services, where one case after another is an eye-opening instance of kids caught up in difficult circumstances.
THELMA & LOUISE: 20th Anniversary Blu-ray
(1991) Dir: Ridley Scott; Susan Sarandon, Geena Davis, Brad Pitt, Harvey Keitel. $19.99 Extras: 2 Commentaries with Ridley Scott and with Susan Sarandon, Geena Davis and Callie Khouri, Deleted and extended scenes, Extended ending (with commentary by Ridley Scott), Thelma and Louise: The Last Journey, Original theatrical featurette (with and without promotional narration), Multi-angle storyboards: The Final Chase, Music video: Glenn Frey for Part of You, Part of Me, Trailer and TV spots (MGM)
Thelma and Louise are accidental outlaws on a desperate flight across the Southwest after a tragic incident at a roadside bar. With a determined detective on their trail, a sweet-talking hitchhiker in their path and a string of crimes in their wake, a high-speed thrill ride and empowering personal odyssey follows even as the law closes in.
(2010) Dir: Jonathan Lynne; Bill Nighy, Rupert Grint, Emily Blunt, Martin Freeman DVD: $22.98, Blu-ray $29.99 Extras: Target Practice: Emily Blunt on Wild Target (Fox)
Take dead aim at action-packed laughs with this killer comedy featuring an all-star cast. Emily Blunt steals the show as Rose, a free-spirited thief who finds herself in the cross hairs of a world-class assassin named Victor (Bill Nighy). But when Victor spares Rose's life, the lonely hearted hitman sets off an outrageous chain of events that turn both their worlds upside down. Joined by a gun-toting apprentice (Rupert Grint), the unlikely trio teams up to thwart the murderous intentions of Victor's unhappy client.