Tags
Related Posts
Share This
Home Entertainment releases for Feb 9th, 2010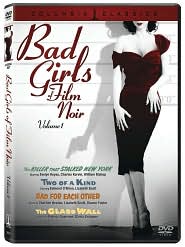 BAD GIRLS OF FILM NOIR: Volume 1 This two-disc set features four classics from the Columbia Pictures vault: "The Killer That Stalked New York" (1953), "Two of a Kind" (1951), "Bad for Each Other" (1953) and "The Glass Wall" (1953). Restored and remastered. Extras: Terry Moore on Two of a Kind, The Payoff-All Star Theatre Episode $24.96 (Sony).
In the 40's and 50's the juiciest roles for actresses in Hollywood were often in B-pictures that explored the dark side of life: starring roles as cool, calculating gals who could stick a knife in a man's back and make him like it. Lizabeth Scott, Gloria Grahame, and Evelyn Keyes were some of the best of the period, and are among Noir fans' favorites for their roles in such classics of the genre as Dead Reckoning and The Racket (Scott), The Big Heat and Human Desire (Grahame), 99 River Street and The Prowler (Keyes). Here's your chance to see them at work in some great films straight out of the vault, newly restored and re-mastered, for the first time on DVD. Co-starred with the likes of Edmund O'Brien, Charleton Heston, and Vittorio Gassman these dames shine a like the brightest stars in Hollywood, and each film packs in plenty of the best bad girl behavior.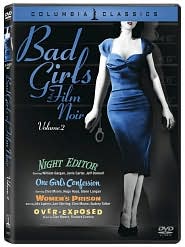 BAD GIRLS OF FILM NOIR: Volume 2 This two-disc set features four classics from the Columbia Pictures vault: "Night Editor" (1946), "One Girl's Confession" (1953), "Women's Prison" (1955) and "Over-Exposed" (1956). Restored and remastered. $24.96 (Sony).
Cleo Moore, Audrey Totter, Jan Sterling, Ida Lupino and Janis Carter. Forgery, adultery, theft, blackmail and murder. The Bad Girls of Noir are back, in Volume 2, and these gorgeous gals with malice in their hearts are sure to thrill hard-boiled fans of Noir. Fan favorite Cleo Moore finally gets her due in three films that highlight the talents of the beauty who was compared to Marilyn Monroe, but whom fans love for her earnest, if stilted portrayals of dim-witted gals who can't catch a break. Four films, restored and re-mastered are all new to DVD, and sure to provide plenty of excitement for the noir aficionado. Watch out for these gals, they're dangerous–which makes them oh, so fun to watch.


A DANGEROUS MAN (2010) Dir: Keoni Waxman; Steven Seagal, Byron Mann, Mike Dopud. $22.99 (Paramount).
I don't like to start a fight unless I finish it. Action legend Steven Seagal stars as Shane Daniels, an ex-Special Forces operative released from prison after serving six years hard time for a murder he didn't commit. Back on the street, he comes to the rescue of a beautiful young hostage stashed in a car trunk with millions in cash. Wielding a devastating combination of street fighting smarts and martial arts skills, he suddenly finds himself in a deadly showdown with international drug merchants and the local corrupt cops. As the only ones standing between him and his newfound freedom, they're about to discover just how dangerous one man can be in this explosive, wall-to-wall thriller.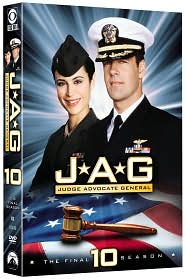 JAG: The Final Season (2004-05) David James Elliott, Catherine Bell, Chuck Carrington, John M. Jackson, Patrick Labyorteaux, Scott Lawre $55.98. (Paramount).
A one-hour, dramatic series JAG (military terminology for Judge Advocate General) is an adventure drama about an elite legal wing of officers trained as lawyers who investigate, prosecute and defend those accused of crimes in the military, including murder, treason and terrorism. A Navy Commander ace pilot turned lawyer Harmon "Harm" Rabb, Jr. (David James Elliott) and by-the-book Marine Lieutenant Colonel Sarah "Mac" MacKenzie (Catherine Bell) find themselves clashing as they traverse the globe together to search for and discover the truth.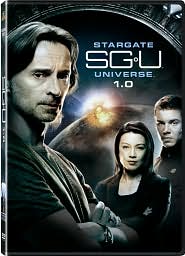 STARGATE UNIVERSE 1.0 (2009) Robert Carlyle, Ming Na, Lou Diamond Phillips, Justin Louis, Brian J. Smith, David Blue DVD: $49.98, Blu-ray: $69.98. Extras: Extended pilot, cast and crew commentary on all episodes, "Stargate 101: Presented by Dr. Daniel Jackson," "Kino Video Diaries," "Destiny SML," more. Blu-ray Disc adds "A Brand New 'Universe',' "Designing Destiny," "Inside Destiny," "Kawoosh 2.0," "Director's Minutes," "Setting the (Alien) Mood," "Helmet-Cam 101," "Future/Past: The New Stargate," "A New Look for SG: U," more. (MGM).
From the creators of television's longest running Sci-Fi series, "Stargate SG-1" comes a new story as "SGU 1.0" lands on two-disc Blu-ray and three-disc DVD February 9 from MGM Home Entertainment. Featuring the first 10 episodes, fans will have the opportunity to relive their favorite moments before all-new episodes air in the spring. With a winning combination of Stargate's pedigree, award-winning cult favorite stars and a bold new look, "SGU 1.0" features appearances by original cast members. Plus meet a brand new all-star cast.
"SGU" is the story of a group of soldiers, scientists and civilians, fleeing an attack, finding themselves stranded billions of miles from Earth on an Ancient ship known as the Destiny. Locked on an unknown course, they must fight to survive and find a way home. The danger, adventure and hope they find on board the Destiny will reveal the heroes and villains among them.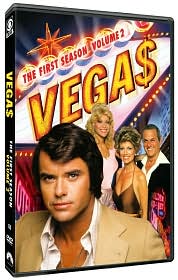 Vega$: The First Season, Volume 2 (1979) Robert Urich, Tony Curtis, Phyllis Davis, Greg Morris, Bart Braverman $36.98. (Paramount).
In this popular series, handsome, fun loving, private eye, Dan Tanna, drives around Las Vegas in his vintage Thunderbird solving private cases but is also on retainer to a wealthy casino owner to keep crime out of his hotels. He is helped by his smart and sexy assistant, a sexy and not too smart chorus girl who takes messages for him, and his enthusiastic, yet inept, legman.