Tags
Related Posts
Share This
Home Entertainment Release Recap for March 23rd, 2015
This week's releases are a mix of foreign mysteries and B films, some long forgotten. MHz has some nice titles, including the characters of Henning Mankell.
 BUKOW AND KONIG: Sets 1 & 2 (1971 — Germany) Each three-disc set contains five episodes Formats: DVD ($39.95 each). (MHz Home Entertainment).
Alexander Bukow is a veteran cop who doesn't mind working at the edge of the law to get results. Katrin Konig has a sterling reputation as an analyst and profiler and is esteemed by all who know her for her assessments and concentrated professionalism. Bukow knows the town where they work, Rostock, like his own backyard and he should; it's where he grew up. He has contacts on every corner and can be charming enough to wrap friends and enemies around his finger, but never reveals much about himself. He's also got a life outside the job and is married with two small children. For Konig, the job is her life, which is how she became such an accomplished criminal profiler. She's a strait-laced control freak and all too aware of her photo for Confessions of a Prodigal Son partner's seedy past and questionable allegiances. Despite, or perhaps because of their differences, they make a successful crime-fighting team — when they're not fighting each other.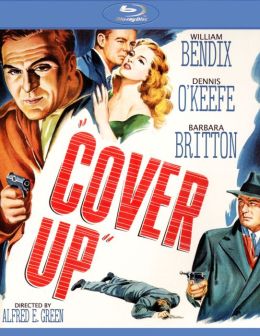 COVER UP (1949) William Bendix, Dennis O'Keefe, Barbara Britton, Art Baker, Ann E. Todd Formats: Blu-ray ($29.95), DVD ($19.95) (Kino Lober)
A Small Town…with Big Secrets! Sam Donovan (Dennis O'Keefe, T-Men, Raw Deal) is an insurance investigator sent to a small Midwest town, to find out whether the death of one of its policyholders was a suicide or murder. Sam is convinced that he was murdered but the entire town, led by the sheriff (William Bendix, Lifeboat), is not talking. It's only when local girl Anita (Barbara Britton, I Shot Jesse James) breaks her silence does Sam begin to uncover the truth. As he falls in love with Anita, he begins to unravel the secret everyone in the town is keeping. Directed by Alfred E. Green (Baby Face), with stunning black-and-white cinematography by the great Ernest Laszlo (Judgment at Nuremberg).
DIAMOND HEIST  (2012) Michael Madsen, Vinnie Jones. Formats: DVD ($19.99) (Random Media).
After witnessing a murder, a hapless pair of misfits escape their own near death experience by posing as male strippers — only to find themselves neck deep in even bigger trouble.
DON MATTEO: Sets 9 & 10 (2005-06 — Italy) Terence Hill, Nino Frassica Each three-disc set contains 11 episodes. Formats: DVD ($39.95 each) (MHz Home Entertainment).
Terence Hill stars as Don Matteo, a thoroughly ordinary Catholic priest with an extraordinary ability to read people and solve crimes. He's a parish priest who never met an unjustly accused person he didn't want to help. In fact, he never met anyone marginalized he didn't want to help: the elderly, the homeless, the immigrant, the unemployed. He sees them all as he bicycles along the streets and through the countryside of his parish. His friend and chess partner is policeman Marshal Cecchini, who slips him information about new cases much to the chagrin of the police chief who isn't at all thrilled about the collaboration. But he's in agreement with Don Matteo about one thing: the importance of justice being served.
GONE WITH THE POPE (1981) Duke Mitchell, Lorenzo Dardado, Peter Milo, Jim LoBianco. Formats: Blu-ray/DVD Combo ($29.95). Extras: In-depth interviews with stars Jim LoBianco and John Murgia, cinematographer Peter Santoro, editors Bob Leighton and Robert Florio, and legendary exploitation producer-director Matt Cimber; footage from the 2010 Hollywood World Premiere; deleted scenes and bloopers; liner notes by horror novelist John Skipp; extensive still galleries and theatrical trailer. (Grindhouse Releasing).
Lost for over 30 years, "Gone With the Pope" stars famed nightclub performer Duke Mitchell as Paul, a paroled gangster with an unholy scheme: to kidnap the Pope and charge a dollar from every Catholic in the world as the ransom. Shot in 1975, the film was unfinished at the time of Mitchell's death in 1981. Sage Stallone and Bob Murawski of Grindhouse Releasing rediscovered the film in 1995 and vowed to save it from obscurity. Academy Award-winning film editor Murawski ("The Hurt Locker," "Army of Darkness") spent 15 years completing "Gone With the Pope" from the surviving film elements.
MEMORY LANE (2012) Michael Guy Allen, Meg Braden, Julian Curi, Zac Snyder. Formats: DVD ($14.95) . Extras: Director' commentary, deleted scenes, short films, promotional videos, screen tests trailers. (MVD Entertainment).
When PTSD-plagued war vet Nick returns home and finds that his finance Kayla has committed suicide, he decides to take his own life, but what he sees in flashbacks moments before he is resuscitated leads him to believe Kayla was murdered. Now Nick must travel back and fourth between our world and the afterlife in a search for her killer — but to do it, he has to die over and over again.
SEBASTIAN BERGMAN: DARK SECRETS (2010 — Sweden) Rolf Lassgård, Gunnel Fred, Moa Silén, Tomas Laustiola, Christopher Wagelin Formats: DVD ($29.95) (MHz Home Entertainment).
Every criminal has his own handwriting, but only Sebastian Bergman can read it. Bergman is Sweden's most famous criminal profiler, having written a definitive, best-selling book about workings of the criminal mind. Bergman is strong-headed, politically incorrect, intuitive, abrasive -— and grief-stricken. He's struggling to come to terms with the loss of his wife and young daughter from the 2004 tsunami in Thailand, an event that caused his life to careen out of control. Returning to work, Bergman had one more surprise waiting for him — an adult daughter he never knew he had, now working alongside him as a fellow investigator in the Stockholm police department. At the same time, he discovers a personal connection in the case of three girls who were found dead in a small-town mine. It could have been a triple suicide or murder. More dark secrets emerge as the corpse of a notorious serial killer is found buried in a field. Clues lead to a nearby convent, where the body of a young girl is also unearthed. He has to figure out who killed the girl and who killed the killer. Bergman is played by Swedish actor Rolf Lassgard, famous for his performance as the original Wallander, based on Henning Mankell's wildly popular crime novels.