Tags
Related Posts
Share This
Home Entertainment Release Recap for November 4th, 2014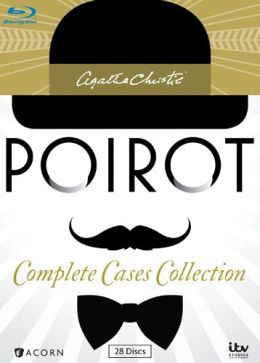 This week finds some of the studios preparing for the holidays with some killer collections. HBO is offering up, for the first time in Blu-ray, the complete collection of THE SOPRANOS, BBC America is presenting limited edition sets of DOCTOR WHO: The Matt Smith Years and SHERLOCK: Seasons 1-3 and Acorn Media has the complete collection of Agatha Christrie's POIROT.
AGATHA CHRISTIE'S POIROT: Series 13 (2014) David Suchet Formats: Blu-ray ($59.98), DVD ($59.98) (Acorn Media)
With the release of Agatha Christie's Poirot, Series 13 in the fall of 2014, David Suchet will have completed the unsurpassed feat of portraying Agatha Christie's beloved detective Hercule Poirot in all 70 Poirot stories. For the last 25 years, David Suchet has been synonymous with the brilliant Belgian detective and recently received Royal Television Society's prestigious Lifetime Achievement Award for his work on Poirot.
The feature-length mysteries in Series 13 include: The Big Four, Dead Man's Folly, Elephants Can Remember, Labours of Hercules, and Curtain: Poirot's Last Case.
AGATHA CHRISTIE'S POIROT: The Complete Collection David Suchet Extras:Being Poirot: David Suchet reflects on 25 years as Poirot while filming his final episodes, plus bonus interviews with Suchet and Agatha Christie's grandson, Mathew Prichard, Super Sleuths: Documentary about the series featuring the stars and crew, David Suchet on the Orient Express: A tour of the Orient Express and its history, Behind-the-scenes featurette, Photo galleries, Production notes by David Suchet and Tim Curry, Companion booklet with articles by David Suchet and Mathew Prichard; episode synopses; character profiles; information about Poirot; and Poirot's obituary Formats: Blu-ray ($399.99), DVD ($349.99)(Acorn Media)
Spanning 25 years and the entire Poirot canon, David Suchet's iconic portrayal of Agatha Christie's famous Belgian detective has been hailed as "one of TV's greatest achievements" (Telegraph, U.K.). These 70 episodes of the hit mystery seen on public television are rich with period detail and feature some of film and television's brightest stars, including Michael Fassbender, Emily Blunt, Jessica Chastain, Damian Lewis, Tim Curry, Iain Glen, Christopher Eccleston, Aiden Gillen, Peter Capaldi, Lindsay Duncan, Hugh Bonneville, and many more.
Follow Hercule Poirot and his "little grey cells" from his very first case to his final curtain call. This 33-disc set includes all 13 series of the beloved mystery, remastered and restored to original U.K. broadcast order.
THE DOCTOR AND THE DEVILS (1985) Timothy Dalton, Jonathan Pryce , Stephen Rea, Julian Sands, Patrick Stewart, Twiggy. Formats: Blu-ray Disc. Extras: Commentary with author and film historian Steve Haberman; new interview with executive producer Mel Brooks, producer Jonathan Sanger and former Brooksfilms development executive Randy Auerbach; theatrical trailer. (Scream Factory/Shout! Factory).
Based on Dylan Thomas' original screenplay, this shocking horror-thriller stars Timothy Dalton as Thomas Rock, a brilliant young anatomy professor in 1820s Edinburgh. At first accepting only the cadavers provided him for study — those of a few hanged criminals per year — Rock eventually recruits two grave robbers (Jonathan Pryce and Stephen Rea) to secure a better supply of corpses. Coming to the gory conclusion that they will earn more the "fresher" the corpses, the two begin committing murder and delivering warm bodies to the doctor's lecture chambers.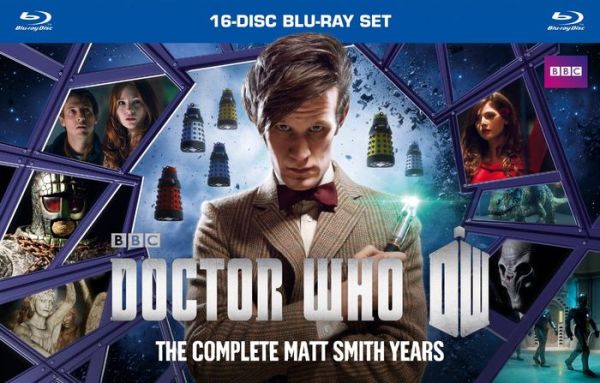 DOCTOR WHO: The Complete Matt Smith Years Limited Edition Blu-Ray Gift Set (2013) Matt Smith Formats: Blu-ray Disc,: $148.95. (BBC Home Entertainment).
Matt Smith made his first appearance as the Doctor in 2010, and went on to star in three seasons of the iconic British sci-fi series, written and executive produced by Emmy® and BAFTA winner Steven Moffat (Sherlock, The Adventures of Tintin). The 16-disc set features the complete adventures of the Eleventh Doctor — every season, every special, every episode. It also includes, for the very first time on a special bonus disc, "Doctor Who Proms 2013," "The Day of the Doctor: From Script to Screen,"" The Five Doctors Reboot" and "Doctor Who: The Ultimate Guide." And it wouldn't be a complete set of Matt Smith's appearances without also including the two part special "Sarah Janes Adventures: The Death of the Doctor."

LAW & ORDER: The Fifteenth Year (2004-05), The Sixteenth Year (2005-06) and  The Seventeenth Year (2006-07) Each Five-disc s $39.98. Formats: DVD. (Universal).
THE NEWSROOM: The Complete Second Season (2013) Three-disc set with nine episodes.Extras: Audio Commentaries – four audio commentaries with Aaron Sorkin, executive producer Alan Poul, cast members Jeff Daniels, Sam Waterston, Emily Mortimer and Olivia Munn, Inside the Episodes – get the inside perspective on each of the episodes with revealing interviews from Aaron
Sorkin, Deleted Scenes and Episodic Recaps  Formats: DVD: $59.98, Blu-ray: $79.98, Digital. (HBO).
In Season 2 of The Newsroom, it's a year later, and in the days leading up to Election Night 2012, the News Night staff is being prepared to give depositions in a wrongful termination lawsuit filed by a staff member alleged to have doctored a report about a suspicious U.S. Drone strike. As details about the suit's origin and aftermath emerge, the team continues its quixotic mission to "do the news well" in the face of corporate and commercial obstacles, and their own personal entanglements. While the series is set at a fictional network, news stories covered in the News Night cablecast are often actual past events, or are inspired by them. The Newsroom offers viewers an opportunity to return to and relive the news events that made headlines as they watch it unfold for the show's characters, who race to put together the broadcast. Flashing back to earlier events from August 2011 to November 2012, the new season touches on the administration's anti-terrorism policy, Occupy Wall Street, Troy Davis, Trayvon Martin, Benghazi and, of course, the primaries and general election.

PERRY MASON – Double Features 7-9 Double Feature Seven: "The Case of the Poisoned Pen" and "The Case of the Desperate Deception"; Double Feature Eight: "The Case of the Silenced Singer" and "The Case of the Defiant Daughter"; Double Feature Nine: "The Case of the Ruthless Reporter" and "The Case of the Maligned Mobster"; $16.99 each. Formats: DVD. (CBS/Paramount).
The fan-favorite courtroom drama returns with a new collection of thrilling television movies starring Raymond Burr as the famous lawyer. From Las Vegas to Paris, Mason and his team travel to the scene of the crime, crossing paths with mobsters, war criminals, and demanding divas at almost every turn.
THE SOPRANOS: The Complete Series BLU-RAY DEBUT (1999-2007) Twenty-eight discs packaged in an elegant box set featuring iconic artwork from the series, 279.98. Includes Digital HD copy of all 86 episodes. Extras: New and exclusive feature exploring how "The Sopranos" came to be and how it transformed the television landscape. "Defining a Television Landmark" features all-new interviews with cast, crew, celebrities, filmmakers and academics — including series creator David Chase, star James Gandolfini, director Steven Soderbergh, Jeff Daniels and Steve Buscemi — discussing the impact and influence of the groundbreaking series, with brand new archival footage. Additional bonus material includes lost scenes, two round table dinners with cast and crew, 25 audio commentaries and much more. (HBO).
For six seasons, millions of viewers loyally tuned in to HBO to watch the drama unfold as modern-day mob boss Tony Soprano juggled responsibilities between his family and his other "family." David Chase's drama series stars three-time Emmy winners James Gandolfini as Tony Soprano and Edie Falco as Tony's wife Carmela, plus Lorraine Bracco as therapist Dr. Jennifer Melfi, Emmy-winner Michael Imperioli as Tony's nephew Christopher Moltisanti and Dominic Chianese as Uncle Junior. Other series regulars include Robert Iler as Anthony Soprano, Jr., Jamie-Lynn Sigler as Meadow Soprano, Tony Sirico as Paulie Walnuts, Steven Van Zandt as Silvio Dante, Aida Turturro as Tony's sister Janice, Steven R. Schirripa as Bobby "Bacala" Baccalieri, John Ventimiglia as Artie Bucco, Vincent Curatola as Johnny Sack, Frank Vincent as Phil Leotardo and Ray Abruzzo as Little Carmine.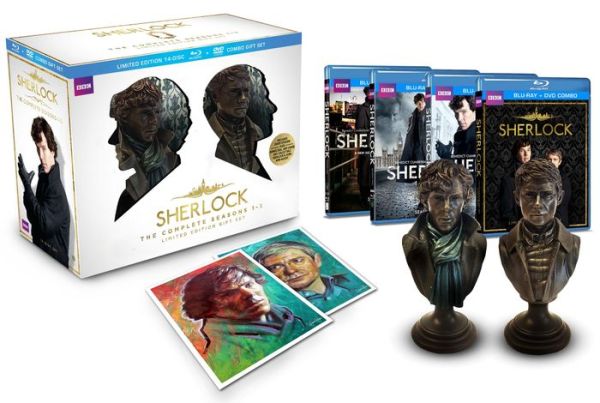 SHERLOCK: The Complete Seasons 1-3 Limited Edition Gift Set (2013) Extras: all new commentaries; never-before-seen outtakes; a deleted scene; BBC Archive Interviews with Benedict Cumberbatch, Martin Freeman, Steven Moffat and Sue Vertue from the time of the initial Season One premiere; "Unlocking Sherlock," a 60-minute behind-the-scenes program for Season Three; and exclusive collectibles including limited edition art cards and busts of Sherlock Holmes and John Watson. Formats: Blu-ray + DVD combo gift set $197.50. (BBC Home Entertainment).
This set includes every episode from all three seasons on both Blu-ray and DVD formats, along with the original bonus features released with each season. Additionally, the set features all new commentaries, never-before-seen outtakes and exclusive collectibles including limited edition art cards and busts of Sherlock Holmes and John Watson. This is the ultimate gift set to keep fans guessing until the next game is afoot. Sherlock Holmes was always a modern man in an old world. Now he's back as he should be: edgy, difficult and dangerous, as award-winning actor Benedict Cumberbatch (The Hobbit films, Star Trek Into Darkness) shows him in a new, contemporary light. Sherlock can tell a software designer by his tie and an airline pilot by his thumb. He has a uniquely analytical brain unlike anyone else in the world – a man who staves off boredom by solving crimes. When a chance encounter brings soldier John Watson (Martin Freeman: The Hobbit films, Fargo) into Sherlock's life, it's apparent the two men couldn't be more different, but Sherlock's intellect coupled with John's pragmatism soon forge an unbreakable alliance. Across three thrilling, scary, action-packed and highly-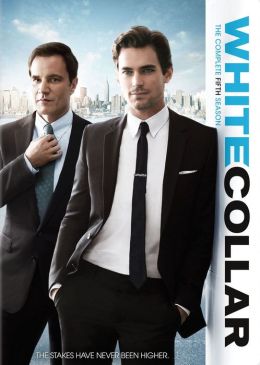 entertaining seasons, Sherlock and John navigate a maze of cryptic clues and lethal killers to get at the truth. With sparkling scripts and unforgettable performances, this is a contemporary take on the classic Arthur Conan Doyle stories for a new generation. The finale of season three, "His Last Vow," recently earned 12 Primetime Emmy ® Award nominations including Outstanding Lead Actor in a Miniseries or Movie for Benedict Cumberbatch, Outstanding Supporting Actor in a Miniseries or Movie for Martin Freeman, and Outstanding Television Movie.
WHITE COLLAR Season Five (2013-14) Four-disc set 13 episodes, $39.98. Formats: DVD. Extras: Commentary on "Diamond Exchange" episodes, "Willie Garson: Director Extraordinaire" featurette, gag reel, 13 deleted scenes. (Fox).