Tags
Related Posts
Share This
Home Entertainment weekly release for Feb 23, 2010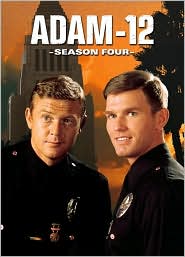 ADAM 12: Season 4 (1971-72) Martin Milner, Kent McCord $34.97. (Shout! Factory).
Los Angeles, 1972 … Officers Pete Malloy (Martin Milner) and Jim Reed (Kent McCord) are on the streets fighting crime on the mean streets of Los Angeles.
Created by Jack Webb, Adam-12 was a spin-off of the popular NBC TV series DRAGNET and similary portrayed incidents and situations that were based on real LAPD cases. Best-selling author and prolific television producer Stephen J. Cannell (The A-Team, 21 Jump Street) joined the series this season as head writer and story editor.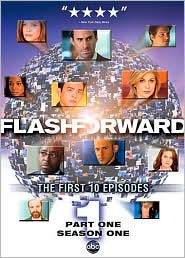 FLASHFORWARD: Part 1, Season 1 (2009) Joseph Fiennes, John Cho, Sonya Walger, Courtney B. Vance, Dominic Monihan $29.99. Extras: "Creating a Catastrophe: The Effects of a Global Blackout" featurette, "Flashforward: A Look Ahead" teaser, "COULD," a look at the second half of FlashForward Season 1, narrated by Dominic Monaghan. (Disney).
Experience the nonstop action, excitement, and drama of the first ten episodes of the critically-acclaimed FlashForward and get set for television's best new show (Mark A. Perigard, Boston Herald) to grab hold of you from its first explosive moment. Chaos reigns ater a mysterious event causes everyone in the world to lose consciousness at exactly the same time. Was it an act of nature or something far more sinister? During the global blackout, every man, woman and child was given a glimpse of his or her life six months in the future. One elite law enforcement team jumps into the investigation, attempting to solve the mystery, as the world's population wrestles with the choice of whether to embrace the fate they've seen or fight to change the future. Relive every brilliant twist of FlashForward's first ten episodes, and prepare yourself for what's to come in the second half of Season One. Who is D. Gibbons? Who is the shadowy figure unaffected by the blackout? And what's next for your favorite characters as their day of reckoning approaches? Plus, dig even deeper with never before seen bonus features and an exclusive sneak peek at the next chapter, only available on DVD.
THE INFORMANT! (2009) Dir.: Steven Soderbergh; Matt Damon, Joel McHale, Scott Bakula, Mike O'Malley, Andrew Daly, Adam Paul, Melanie Lynskey, Tom Wilson, Rick Overton, Tom Papa, Candy Clark. DVD: $28.98, Blu-ray/DVD Combo Pack: $35.99 Extras: Deleted scenes. Blu-ray Disc adds commentary by director Steven Soderbergh and screenwriter Scott
Mark Whitacre is secretly rolling tape during a meeting of corporate honchos who are illegally fixing the price of food additives. Meeting after meeting, Mark rolls tape after tape. He's sure the tapes will make him a U.S. hero. What went wrong? Director Steven Soderbergh reteams with one of his Ocean's trilogy stars for a snappy skewering of big business based on the true story of the highest-ranking corporate whistleblower in U.S. history. Matt Damon portrays Whitacre, whip-smart and immensely likable even as his schemes become increasingly untethered. Pay attention to the fun and intrigue of The Informant! and be informed!

JUSTICE LEAGUE: CRISIS ON TWO EARTHS (2010)Mark Harmon, Alyssa Milano, William Baldwin, and James Woods. Two-disc special edition: $24.98,Blu-ray: $29.99 (Warner).
In a parallel Earth ruled by the Crime Syndicate, the Justice League must fight their evil doppelgangers in a battle that would be dead even, except that their malicious counterparts are willing to do the one thing Batman and Superman never would: kill.
MIDSOMER MURDERS: Set 14 (2007) John Nettles, Jason Hughes $49.99. Extras: Caroline Graham biography (Acorn Media).
The cozy villages of Midsomer County reveal their most sinister secrets in these contemporary British television mysteries. Inspired by the novels of Caroline Graham, modern master of the English village mystery, the series stars John Nettles (Bergerac) as the unflappable Detective Chief Inspector Tom Barnaby, with (This Life) as his earnest, efficient protégé, Detective Sergeant Ben Jones. Guest stars include Stephanie Cole, Gareth Thomas, Christopher Fairbank, Richard Hope, Peter Eyre, Chris Barrie, Matthew Marsh, and Clare Higgins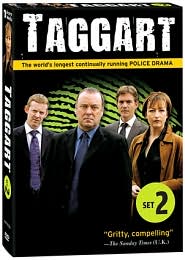 TAGGART, Set 2 (2009) Alex Norton, John Michie, Blythe Duff, Colin McCredie $59.99. (Acorn Media).
A hard-driving cop drama with a hard-edged Scottish burr, Taggart deals in a world of prostitutes, drug dealers, crime lords, and killers. In eight tightly crafted episodes, a team of Glasgow detectives use their collective wits and street smarts to tackle murder in this very tough town. Sometimes that means taking on hardened crime bosses, sometimes innocent victims with years to plot their revenge. Each time it means getting inside the mind of murderers–how they think, how they act, how they kill.

With its deadpan humor, sordid setting, and "witty scripts rich with Glasgow patter" (The Guardian, U.K.), this quintessentially Scottish series has won universal appeal. Starring Blythe Duff, John Michie (To Walk with Lions), Alex Norton (Patriot Games), and Colin McCredie.