Tags
Related Posts
Share This
Home Entertainment Weekly Release Recap for March 23rd.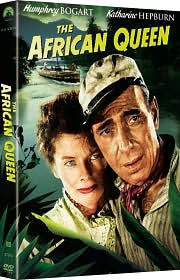 THE AFRICAN QUEEN (1951) Dir.: John Huston; Humphrey Bogart, Katharine Hepburn. Extras: "Embracing Chaos: Making The African Queen" comprehensive documentary. DVD: $19.99. Box set: $34.99, Blu-ray: $39.98, Blu-ray Box Set: $57.99. (Paramount).
Restored using state-of-the-art 4K digital technology. The restoration process began at the source: Romulus Films, one of the film's original production companies, provided access to the original three-strip negative at a London facility where the film was carefully scanned and digitized. The separate elements were then transferred to Los Angeles and painstakingly recombined and inspected frame by frame to ensure that every detail aligned and that any dirt and scratches were removed. To ensure that the restored picture matched the filmmakers' original vision, Paramount arranged a screening of an MPAA archive print for the film's original cinematographer, Academy Award-winner Jack Cardiff, whose comments were recorded live during the screening. That same archival print was later screened alongside the newly restored version so that the restoration team could ensure that all of Cardiff's notes had been addressed. The result is a vibrant, warm picture that reverentially recreates the film as it was originally meant to be seen. A Commemorative box set will also be available that includes the DVD plus an audio disc with a recording of the Lux Radio Theater broadcast of "The African Queen," a reproduction of Katharine Hepburn's out-of-print memoir "The Making of The African Queen or How I Went to Africa with Bogart, Bacall and Huston and Almost Lost My Mind," a Senitype film frame collectible reproduction, and postcards featuring reproductions of images related to the film.

THE BLIND SIDE (2009) Sandra Bullock, Tim McGraw, Quinton Aaron, Jae Head, Lily Collins, Ray McKinnon, Kim Dickens, Adriane Lenox, Kathy Bates. DVD: $28.98 , Blu-ray Combo Pack: $35.99. Extras: Deleted scenes. Blu-ray adds digital copy, "Acting Coaches: Behind the Blind Side" featurette, "The Story of Big Quinton" featurette, "Sidelines: Conversations on the Blind Side — Sandra Bullock and Leigh Anne Tuohy," "Sidelines: Conversations on the Blind Side — John Lee Hancock and Athor Michael Lewis," Michael Oher interview. (Warner).
Michael Oher (Quinton Aaron) knows little about family. Less about football. What the homeless teen knows are the streets and projects of Memphis. Well-to-do Leigh Anne Tuohy (Sandra Bullock) knows little about his world. Yet when she and Michael meet, he's found a home. And the Tuohys have found something just as life-changing: a beloved new son and brother. This real-life story of family and of Michael's growth into a blue-chip football star will have you cheering with its mix of gridiron action and heartwarming emotion. Share the remarkable journey of the college All-American and first-round NFL draft pick who was a winner before he ever stepped onto the playing field.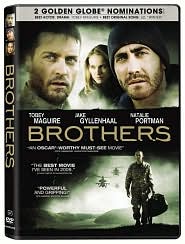 BROTHERS (2009) Jake Gyllenhaal, Natalie Portman, Tobey Maguire, Clifton Collins Jr. DVD: $29.95, Blu-ray: $39.99 Extras: Commentary, featurettes. Also available on Blu-ray Disc. (Lionsgate).
Captain Sam Cahill (Maguire) is embarking on his fourth tour of duty, leaving behind his beloved wife (Portman) and two daughters. When Sam's Blackhawk helicopter is shot down in the mountains of Afghanistan, the worst is presumed, leaving an enormous void in the family. Despite a dark history, Sam's charismatic younger brother Tommy (Gyllenhaal) steps in to fill the family void.
DAMAGE (2009) Steve Austin, Walton Goggins, Laura Vandervoort, William B. Davis. $22.98 (Fox).
Slugfest actioner about an ex-con (six-time WWF Champion "Stone Cold" Steve Austin) who's ready to leave violence behind him until he learns that the young daughter of the man he killed can't afford the heart transplant she needs to save her life; he joins an underground fighting community to win enough prize money to pay for her procedure.
FANTASTIC MR. FOX (2009) Dir: Wes Anderson. Stars: Voices of George Clooney, Meryl Streep, Jason Schwartzman, Bill Murray, Wally Wolodarsky, Eric Anderson, Michael Gambon, Willem Dafoe, Owen Wilson, Jarvis Cocker. DVD: $29.98 , Blu-ray Disc Combo pack: $39.99 .Extras: "From Script to Screen," "Still Life" (Puppet Animation), "A Beginner's Guide to Whack-Bat." Blue-ray adds "Making Mr. Fox" fantastic, "The Look of Fantastic Mr. Fox," "The Puppet Makers," "The Cast," "Bill and His Badger," "Fantastic Mr. Fox: The World of Roald Dahl," digital copy. (Fox)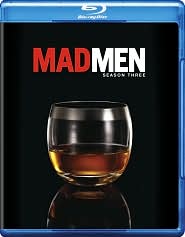 MAD MEN: Season Three (2009) Jon Hamm, Elisabeth Moss, Vincent Kartheiser, Christina Hendricks and January Jones. DVD: $49.98 ,Blu-ray $49.99. Extras: Commentaries, featurettes. (Lionsgate).
Returning for its third season, the two-time Golden Globe®-winning series for Best TV Drama bursts with one scandalous surprise after another. Jon Hamm and the rest of the award-winning ensemble continue to captivate us as they contend with a world on the brink. Welcome to Mad Men – a shocking portrait of a time that was anything but innocent. Nothing is as sexy. Nothing is as provocative. Nothing is as it seems. Mad Men: Where the Truth Lies.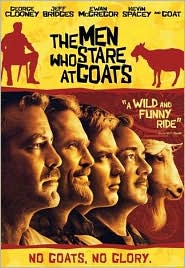 THE MEN WHO STARE AT GOATS (2009) George Clooney, Ewan McGregor, Kevin Spacey, Jeff Bridges, Rebecca Mader, Terry Serpico . Extras: "Goats Declassified: The Real Men of the First Earth Battalion"; "Project 'Hollywood': A Classified Report From The Set"; commentary by director Grant Heslov; commentary by book author Jon Ronson; character bios; deleted scenes. Blu-ray Disc adds digital copy. (Anchor Bay Entertainment).
In this comedic look at real life events that are almost too bizarre to believe, reporter Bob Wilton (Ewan McGregor) discovers an experimental top-secret wing of the U.S. military called The New Earth Army, trained to change the ways wars are fought through New Age psychic power. In search of his next big story, Wilton tracks down Lyn Cassady (Academy Award® winner George Clooney), a shadowy figure who claims to be a member of this legion of "Warrior Monks" with unparalleled psychic powers who can read the enemy's thoughts, pass through walls, and even kill a goat simply by staring at it.
THE PRISONER (2009) Ian McKellen, Jim Caviezel, Hayley Atwell, and Ruth Wilson , $29.98. Extras: Six-part "Inside The Prisoner" featurette, commentaries, unaired scenes, "The Prisoner" Comic-Con panel, McKellen interview, production and story behind-the-scenes featurette. (Warner).
The Prisoner miniseries is a reinterpretation of the British 1960s cult hit series that starred and was co-created by Patrick McGoohan. The Premise : A man, known as Six, finds himself inexplicably trapped in The Village with no memory of how he arrived. As he explores his environment, he discovers that his fellow inhabitants are identified by number instead of name, have no memory of any prior existence, and are under constant surveillance. Not knowing whom to trust, Six is driven by the need to discover the truth behind The Village, the reason for his being there, and most importantly — how he can escape. Jim Caviezel (The Passion of the Christ , The Thin Red Line) plays the role of Six; and two-time Oscar nominee Ian McKellen (Lord of the Rings, The Da Vinci Code) co-stars as Two.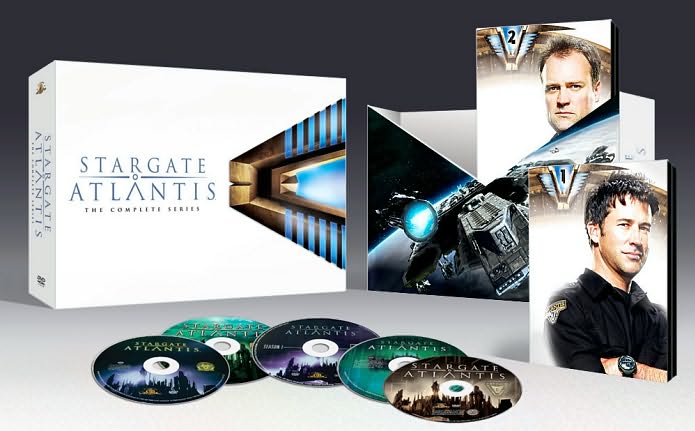 STARGATE: ATLANTIS: The Complete Series (2004-09) Twenty-six disc giftset featuring the entire series as well as a bonus disc with never-before-seen special features; $199.98. Extras: Commentaries, set tour, photo galleries, featurettes on each disc; 26th disc includes "Mission 100: Atlantis Reaches a Milestone" and "Stargate Atlantis: A Retrospective" featurettes. (MGM).
Now for the first time you can own all five seasons of this groundbreaking science-fiction series in this 26-disc set, including a bonus disc with exclusive, all new special features.
Atlantis build thousands of years ago by the highly evolved Ancients, is home base for an elite expedition team from Earth. These courageous military commanders and scientists leap through the city's Stargate to explore the wondrous Pegasus Galaxy and battle the treacherous Wraith, who seek control of Atlantis – at any cost.

Includes all the bonus features from the season set DVD releases PLUS a bonus disc with two all new behind-the-scenes features and the broadcast version of the last two episodes of the series