Tags
Related Posts
Share This
Hooray Hooray The Comics of May
 Batman #675
DC Comics
Grant Morrison continues to kick ass on this title. Subplots from issue to issue, wonderful art and a great story that seems to feature more Bruce Wayne than the Bat. Talia is here as is the son she and Bruce had. A hostage situation has Bruce unable to become Batman and save the day. The results are a little surprising.
Part 6 0f the 8 issue miniseries hits the racks and inside this issue the shit hits the fan. Flashbacks filling us in on the history, and in the present death and violence and mayhem ensue. This tale from Warren Ellis is great fun and the art from Juan Jose Ryp just makes it even better
Checkmate #25
DC Comics
This is Greg Rucka's last issue. I will miss him on this title Though he is still writing plenty of comics and novels and even short stories if you , like me, need a Rucka fix.
This issue wraps up the current arc with Rooks invading a Kobra stronghold. Loads of action and a nice surprise ending.
This is a teaser for the big summer event. It's only 50cents. It's also great!
Wonderful art and if I was already psyched for the Final Crisis now I'm really jazzed.
Plus the cover by Perez is worth the purchase alone! If you read DC you NEED to own this.
Ok, short and sweet.
Fables going to war.
Cinderella kicks ass. I mean she really kicks some serious ass!
This is a classic title and was always a favorite for me. This new version follows the format, each issue will be a different story. This time though it's people trapped in a pub telling the stories.
The first issue is creepy and a bit twisted, in other words just what I'm looking for! And Cain and Abel are here too!
If you like horror or dark comics check this out.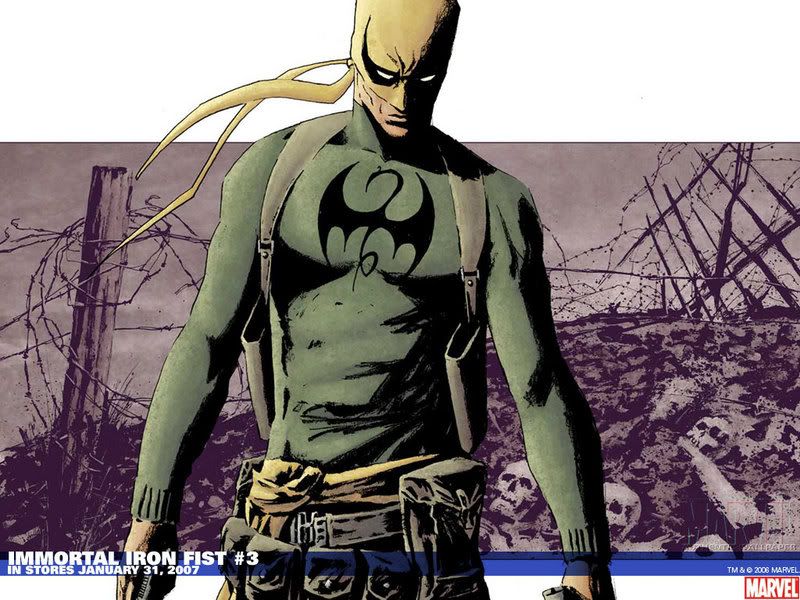 The Immortal iron Fist #14
Marvel Comics
Matt Fraction and Ed Brubaker have been kicking some martial arts ass on this title. This wraps up a story line that involved all seven capitol cites of heaven (which is also the title of the story arc).
It's a detailed and twisty turny plot and I won't go into detail here. I will say that it's a great run and this should be on everybody's pull list. Fraction (and now with Brubaker adding his hand) has really brought Iron Fist back in a big way and made this a can't miss title.
This is a flashback story going back to when our rascally hero was Jack Candle of the Wild West. Jack is robbing stages and causing trouble. Towards the end we look in on Fabletown as Bigby gets ready to go hunting…
A fun issue and more insight into Jack.
B. Clay Moore has been doing a great job with a character that I've always thought was underused. Wildcat is a scaled down Batman , sure, but he's also a hero with loads of experience and a hell of a fighter. Moore plays on both of these and in this arc really explores if Wildcat still has a place in the world of heroes that are all supercharged and super powered. With Moore writing him, he sure does!
Alex Grecian has created a really great universe in this series, one populated with all sorts of critters out of the study of crypto zoology. This means monsters and weird creatures that are thought not to exist. Proof is the name of a Bigfoot working for an outfit known as The Lodge. They track down the strange beasts and capture/stop/help them.
This is the second story arc of the series and the first trade should be out now or really soon. Our current story involves a wack job hunter who tracks and kills these special creatures and serves them at expensive dinner parties. Kind of a similar idea to the sub story in the movie The Freshman with Brando from the 90's.
Proof is a great read and terrific break from men in tights.
Secret Invasion #1, New Avengers #40, Mighty Avengers #12, Ms Marvel #26.
Marvel Comics
Well, as any reader of comics, or anyone near a comic store for that matter. Knows, the secret invasion has started.
Secret Invasion is the mighty crossover for this summer from the House of Ideas. Here's the run down: The Skrulls have been infiltrating Earth for a while and replacing people, a lot of them heroes. Not too long ago the new Avengers discovered after a long battle that Elektra was really a Skrull. Distrust and paranoia ensue!
The idea here is pretty simple and yet wonderful and complex all at once. Skrulls could be anyone, and they want Earth.
Brian Michael Bendis has been planting seeds for a while now, as far back as maybe three or four years. And now it's all coming to a head.
While my reading of Marvel comics is on and off, this is really starting off terrific. If the pay off is as good as what's out already it will be a real masterpiece. I was disappointed over all with Civil War last year, but so far this is delivering the goods.
I have more to finish and review, so there should be more this weekend.