Tags
Related Posts
Share This
James Lee Burke & Lisa Lutz are featured in this week's Giveaway.
Hope everyone has had a great week. Crimespree magazine,  in conjunction with Friday Reads Facebook page,  is giving away copies of James Lee Burke's LIGHT OF THE WORLD and Lisa Lutz's THE LAST WORD
LIGHT OF THE WORLD by James Lee Burke
"America's best novelist" (The Denver Post) and "the reigning champ of nostalgia noir" (The New York Times Book Review) introduces his most evil character yet in the twentieth thriller in the bestselling Dave Robicheaux series.
A New York Times bestselling author many times over, James Lee Burke is a two-time Edgar Award-winner whose every book is cause for excitement, especially those in the wildly popular Dave Robicheaux series.
In Light of the World, sadist and serial killer Asa Surrette narrowly escaped the death penalty for the string of heinous murders he committed while capital punishment was outlawed in Kansas. But following a series of damning articles written by Dave Robicheaux's daughter Alafair about possible other crimes committed by Surette, the killer escapes from a prison transport van and heads to Montana—where an unsuspecting Dave happens to have gone to take in the sweet summer air, accompanied by Alafair, his wife Molly, faithful partner Clete, and Clete's newfound daughter, Gretchen Horowitz, whom readers met in Burke's most recent bestseller Creole Belle.
"James Lee Burke remains the heavy weight champ," says New York Times bestseller Michael Connelly, "a great American novelist whose work…is unsurpassed." The master proves it once again with this harrowing novel that examines the nature of evil and pits Dave Robicheaux against the most diabolical villain he has ever faced.
About the author: James Lee Burke was born in Houston, Texas, in 1936 and grew up on the Texas-Louisiana gulf coast. He attended the Southwestern Louisiana Institute and later received a BA in English and an MA from the University of Missouri in 1958 and 1960 respectively. Over the years he worked as a landman for the Sinclair Oil Company, pipeliner, land surveyor, newspaper reporter, college English professor, social worker on Skid Row in Los Angeles, clerk for the Louisiana Employment Service, and instructor in the U. S. Job Corps. He and his wife Pearl met in graduate school and have been married 48 years; they have four children.
Burke's work has twice been awarded an Edgar for Best Crime Novel of the Year; in 2009, the Mystery Writers of America named him a Grand Master. He has also been a recipient of Breadloaf and Guggenheim fellowships and an NEA grant. Three of his novels (Heaven's Prisoners, Two for Texas, and In the Electric Mist with Confederate Dead) have been made into motion pictures. His short stories have been published in The Atlantic Monthly, New Stories from the South, Best American Short Stories, Antioch Review, Southern Review, and The Kenyon Review. His novel The Lost Get-Back Boogie was rejected 111 times over a period of nine years, and upon its publication by Louisiana State University press in 1986 was nominated for a Pulitzer Prize.
Today he and Pearl live in Missoula, Montana.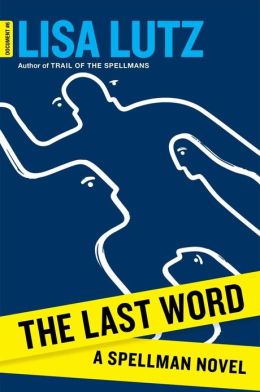 THE LAST WORD by Lisa Lutz
The latest installment of the New York Times bestselling Spellman mysteries, a "series that keeps getting better and better" (Publishers Weekly), finds private investigator Izzy Spellman on the verge of losing everything.
Isabel Spellman is used to being followed, extorted, and questioned—all occupational hazards of working at her family's firm, Spellman Investigations. Her little sister, Rae, once tailed Izzy for weeks on end to discover the identity of her boyfriend. Her mother, Olivia, once blackmailed Izzy with photographic evidence of Prom Night 1994. It seemed that the Spellmans would lay off after Izzy was fired for breaching client confidentiality, but then Izzy avenged her dismissal by staging a hostile takeover of the company. She should have known better than to think she could put such shenanigans behind her.
In The Last Word, Izzy's troubles are just beginning. After her hostile takeover of Spellman Investigations, Izzy's parents simply go on strike. Her sister, Rae, comes back into the family business with questionable motivations. Her other employees seem to be coping with anxiety disorders, and she has no idea how to pay the bills. However, her worst threat comes from someone who is no relation. Within months of assuming control of the business, Izzy is accused of embezzling from a former client, the ridiculously wealthy Mr. Slayter, who happens to have Alzheimer's, which Izzy and he are diligently trying to keep under wraps. Not only is Slayter's business and reputation on the line, but if Izzy gets indicted for embezzlement, she'll lose everything—her business, her license, and her family's livelihood. Is this the end of Izzy Spellman, PI? The answer makes The Last Word, hands down, the most thrilling book in this bestselling, award-nominated series.
About the author: Lisa Lutz is the New York Times bestselling author of The Spellman Files, Curse of the Spellmans, Revenge of the Spellmans, The Spellmans Strike Again, Trail of the Spellmans, The Last Word, Heads you Lose (with David Hayward), and the children's book, How to Negotiate Everything (illustrated by Jaime Temairik). Lutz has won the Alex award and has been nominated for the Edgar Award for Best Novel.
Although she attended UC Santa Cruz, UC Irvine, the University of Leeds in England, and San Francisco State University, she still does not have a bachelor's degree. Lisa spent most of the 1990s hopping through a string of low-paying odd jobs while writing and rewriting the screenplay Plan B, a mob comedy. After the film was made in 2000, she vowed she would never write another screenplay. Lisa lives in a town you've never heard of in upstate New York.
To be entered in the drawing shoot an email over to Jon?@crimespreemag.com (remove the question mark) And put CONTEST in the subject line. Also please put your address in the body of the email
We will pick the winners on July 26th.
When we do the drawing we will be sending an extra something for one lucky winner to be picked from the comments section of the Friday Reads face book page, so after you enter, go leave a comment!