Tags
Related Posts
Share This
Jefferson Bass and Asa Schwarz featured in this week's giveaway
Another Friday, another chance to win some great books.  Crimespree magazine,  in conjunction with Friday Reads Facebook page,  is giving away copies of Jefferson Bass's CUT TO THE BONE and Asa Schwarz's NEPHILIM
CUT TO THE BONE by Jefferson Bass
In this long-awaited prequel to his New York Times bestselling series, Jefferson Bass turns the clock back to reveal the Body Farm's creation-and Dr. Bill Brockton's deadly duel with a serial killer
In the summer of 1992, Arkansas Governor Bill Clinton and Tennessee Senator Albert Gore begin their long-shot campaign to win the White House. In the sweltering hills of Knoxville at the University of Tennessee, Dr. Bill Brockton, the bright, ambitious young head of the Anthropology Department, launches an unusual-some would call it macabre-research facility, unlike any other in existence. Brockton is determined to revolutionize the study of forensics to help law enforcement better solve crime. But his plans are derailed by a chilling murder that leaves the scientist reeling from a sense of déjà vu. Followed by another. And then another: bodies that bear eerie resemblances to cases from Brockton's past.


The police chalk up the first corpse to coincidence. But as the body count rises, the victims' fatal injuries grow more and more distinctive-a spiral of death that holds dark implications for Brockton himself. If the killer isn't found quickly, the death toll could be staggering. And the list of victims could include Brockton . . . and everyone he holds dear.
Jefferson Bass is the pen name of Jon Jefferson, writer, and Dr. Bill Bass, renowned forensic anthropologist. Jefferson and Bass have collaborated on 2 nonfiction books and 7 crime novels; their 8th novel, Cut to the Bone, will be published in September 2013. Dr. Bass, founder of the University of Tennessee's "Body Farm," is an author on more than 200 scientific publications. Jefferson is a veteran journalist and documentary filmmaker; his two National Geographic documentaries on the Body Farm were seen around the world.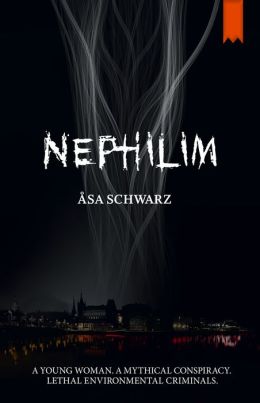 NEPHILIM by Asa Schwartz
A Thriller of Biblical Proportion
When eco warrior Nova decides to take action against environmentally dangerous corporations, little does she know that a shadowy organization shares in her goal.
Nephilim is a riveting thriller, set in the historic capital of Sweden. Blending biblical mythology with global conspiracies in a convincing and effective manner, it's a page-turning novel that raises important questions.
Åsa Schwarz, a trained Information Security Consultant, is one of Sweden's most popular authors. What makes her stories stand out are her thorough characterizations and her mix of mystical legends with symbolic puzzles and modern technical detail.
Åsa lives with her partner Mikael and their children, Fanny and Oscar, in a twenties house in the southern part of Stockholm. This ex-grocery store might soon inspire her to write a new story, where the prime suspects are sting-rays. As it happens, they live at the same address.
Åsas novels are translated to eighteen languages and published in four continents.

To be entered in the drawing shoot an email over to Jon?@crimespreemag.com (remove the question mark) And put CONTEST in the subject line. Also please put your address in the body of the email
We will pick the winners on September 27th.
When we do the drawing we will be sending an extra something for one lucky winner to be picked from the comments section of the Friday Reads face book page, so after you enter, go leave a comment!