Tags
Related Posts
Share This
Jessie Chandler celebates the release of OPERATION STOP HATE
Last Thursday, Minnesota author Jessie Chandler celebrated the release of OPERATION STOP HATE, her new stand alone, at Once Upon A Crime.
When Special Agent Cailin McKenna and her National Investigation and Protection Unit partners are drawn into an investigation surrounding a pair of school shootings in the Twin Cities, it soon becomes obvious that there's more to it than meets the eye. A hate group is recruiting teenagers on school grounds with metal music rife with violent messages, all while plotting a massive terrorist offensive on a major Twin Cities venue.

It gets personal when Cailin's brother is stabbed and the attack is linked to their case. And how can Cailin possibly maintain her fiery new relationship now that her psycho stalker ex-girlfriend is hell-bent on getting her back.
When events take a deadly turn, Cailin is suddenly in a fight for her own life. And the clock is ticking-can she prevail in time to stop the worst attack the Minnesota has ever seen?
A good time was had by all, including fellow crime writer Kristi Belcamino, and ended with enough time for Jessie to don her Wild Jersey and cheer on the Minnesota hockey team as they won the first game in their playoff series with the St. Louis Blues.
OSH is actually a novel that Jessie wrote over a decade ago and had forgotten about, she recently dusted it off and decided the time was right to revisit the characters and story.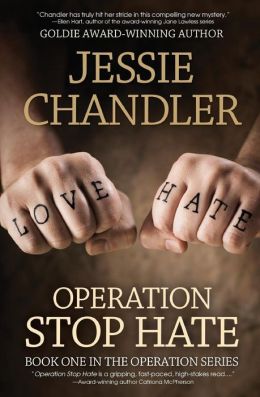 "I wrote this bad boy 2003 to 2004, and back then we were just coming off the Columbine, Red Lake, and Cold Spring school shootings. I wanted to show how bullying affected "good" kids as well as kids who headed down potentially dark paths. When I pulled this manuscript out a year and a half ago, I was chilled and saddened when I re-read it. It's over ten years later and we really haven't come all that far. Shootings in schools and other places that should be safe abound. Bullying is still not addressed as is should be, although it's thankfully getting more attention in some circles.
I hadn't realized how the theme of family came into play throughout the story. Even after I'd revised it, it wasn't until after Catriona McPherson brought up the family themes running through the book that I really understood that was a core piece of the story and of the main character, Cailin."
Jessie recently told me that one of the alarming things she learned, while working on OPERATION STOP HATE, was that there are far more hate groups than one might expect.
"I had no idea hate groups existed in so many states, my own included. And they are not just the white supremacist groups who are usually brought to mind when talk of hate groups come up. Head over to the Southern Poverty Law Center and check on your own states. You might be surprised."
Jessie has a scheduled appearance at the Northtown Blaine Barnes & Noble on Sat May 9th at 1pm and will also be appearing at Printers Row (June 6-7) in Chicago and at the NO LIMITS PRINTING booth at Twin Cities Pride (June 27-28). You can check her site and facebook page for future appearances.