Tags
Related Posts
Share This
JUSTICE LEAGUE: THE FLASHPOINT PARADOX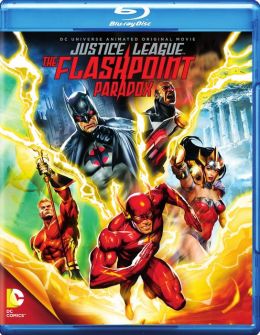 Warner Home Entertainment
MSRP: $24.98
Release date: July 30, 2013
Runtime: 82 minutes
Starring the voices of Justin Chambers, C. Thomas Howell, Michael B. Jordan, and Kevin McKidd
Written by Jim Krieg, based on the graphic novel Flashpoint by Geoff Johns and Andy Kubert
Directed by Jay Oliva
Barry Allen, a.k.a. The Flash (Chambers), awakens powerless in an alternate reality torn by war between Wonder Woman's Amazons and Aquaman's Atlanteans. Hoping to restore his powers and his own timeline, Barry seeks out Batman, only to find that Bruce Wayne was murdered as a child, inspiring his father, Dr. Thomas Wayne (McKidd), to become Batman.
Despite the usual time constraints, Justice League: The Flashpoint Paradox stays fairly faithful to the 2011 DC Comics crossover event on which it is based. The movie's surprises lie in how much the alternate reality differs from those more familiar to the audience. Some twists struck me as dark and violent for their own sake, but Barry Allen's optimism gave me someone to root for through it all.
As 2008's Justice League: The New Frontier was a star vehicle for Green Lantern, The Flashpoint Paradox proves The Flash can carry a movie. This incidentally bodes well for The CW's plans to spin off a live-action Flash from Season 2 of Arrow.
The Blu-ray includes a feature-length commentary with writer Geoff Johns, producer James Tucker, screenwriter Jim Krieg, and director Jay Oliva; a featurette on The Flash's villains; and a digital comic in addition to the DVD version's two featurettes and three episodes from previous DC Warner Bros. cartoons.
–Gerald So