Tags
Related Posts
Share This
Kate Mulgrew, Chigozie Obioma are featured in this week's giveaway
Crimespree magazine, in conjunction with Friday Reads Facebook page, is offering you a chance to win copies of BORN WITH TEETH by Kate Mulgrew and THE FISHERMEN by Chigozie Obioma
BORN WITH TEETH by Kate Mulgrew
An actress's deeply moving account of the price and rewards of a passionate life.
Raised by unconventional Irish Catholics who knew "how to drink, how to dance, how to talk, and how to stir up the devil," Kate Mulgrew grew up with poetry and drama in her bones. But in her mother, a would-be artist burdened by the endless arrival of new babies, young Kate saw the consequences of a dream deferred. Determined to pursue her own no matter the cost, at 18 she left her small Midwestern town for New York, where, studying with the legendary Stella Adler, she learned the lesson that would define her as an actress: "Use it," Adler told her. Whatever disappointment, pain, or anger life throws in your path, channel it into the work.
It was a lesson she would need. At twenty-two, just as her career was taking off, she became pregnant and gave birth to a daughter. Having already signed the adoption papers, she was allowed only a fleeting glimpse of her child. As her star continued to rise, her life became increasingly demanding and fulfilling, a whirlwind of passionate love affairs, life-saving friendships, and bone-crunching work. Through it all, Mulgrew remained haunted by the loss of her daughter, until, two decades later, she found the courage to face the past and step into the most challenging role of her life, both on and off screen.
We know Kate Mulgrew for the strong women she's played–Captain Janeway on Star Trek; the tough-as-nails "Red" on Orange is the New Black. Now, we meet the most inspiring and memorable character of all: herself. By turns irreverent and soulful, laugh-out-loud funny and heart-piercingly sad, BORN WITH TEETH is the breathtaking memoir of a woman who dares to live life to the fullest, on her own terms.
 About the author: Kate Mulgrew is an American actress noted for her roles as Captain Kathryn Janeway on Star Trek: Voyager, Mary Ryan on Ryan's Hope, and, most recently, Galina "Red" Reznikov on Orange Is the New Black. She has performed in numerous television shows, theater productions, and movies. She is the winner of a Golden Satellite Award, a Saturn Award, and an Obie Award and has been nominated for a Golden Globe and an Emmy.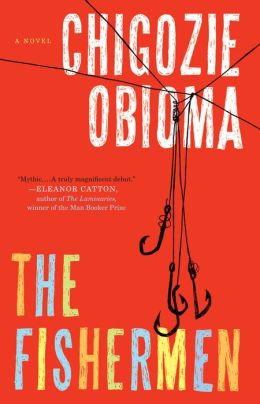 THE FISHERMEN by Chigozie Obioma
In a Nigerian town in the mid 1990's, four brothers encounter a madman whose mystic prophecy of violence threatens the core of their close-knit family.
Told from the point of view of nine year old Benjamin, the youngest of four brothers, THE FISHERMEN is the Cain and Abel-esque story of an unforgettable childhood in 1990's Nigeria, in the small town of Akure. When their strict father has to travel to a distant city for work, the brothers take advantage of his extended absence to skip school and go fishing. At the ominous, forbidden nearby river, they meet a dangerous local madman who persuades the oldest of the boys that he is destined to be killed by one of his siblings.
What happens next is an almost mythic event whose impact-both tragic and redemptive-will transcend the lives and imaginations of its characters and its readers. Dazzling and viscerally powerful, The Fishermennever leaves Akure but the story it tells has enormous universal appeal. Seen through the prism of one family's destiny, this is an essential novel about Africa with all of its contradictions-economic, political, and religious-and the epic beauty of its own culture.
With this bold debut, Chigozie Obioma emerges as one of the most original new voices of modern African literature, echoing its older generation's masterful storytelling with a contemporary fearlessness and purpose.
About the author: Chigozie Obioma was born in Nigeria. He has lived in Cyprus, Turkey and now the United States where he is a Helen Zell fellow at the University of Michigan. A recipient of Hopwood Awards in fiction and poetry, his fiction has appeared in Virginia Quarterly Review and Transition. His novel, THE FISHERMEN, will be published originally in English by ONE/Pushkin Press (UK), Little, Brown (US/Canada), Scribe (Australia/NZ), and in 8 languages beginning from Spring 2015. Go to 'International Editions' section of the website for a list of editions and publishers' pages.
 
To be entered in the drawing shoot an email over to Jon?@crimespreemag.com (remove the question mark) And put CONTEST in the subject line. Also please put your address in the body of the email.
We will pick the winners on April 10th.