Tags
Related Posts
Share This
Kelly, Swanson featured in this week's giveaway
Crimespree magazine, in conjunction with Friday Reads Facebook page, is offering you a chance to win copies of THE BULLET by Mary Louise Kelly and THE KIND WORTH KILLING by Peter Swanson
THE BULLET by Mary Louise Kelly
Two words: The bullet.
That's all it takes to shatter her life.
Caroline Cashion is beautiful, intelligent, a professor of French literature. But in a split second, everything she's known is proved to be a lie.
A single bullet, gracefully tapered at one end, is found lodged at the base of her skull. Caroline is stunned. It makes no sense: she has never been shot. She has no entry wound. No scar. Then, over the course of one awful evening, she learns the truth: that she was adopted when she was three years old, after her real parents were murdered. Caroline was there the night they were attacked. She was wounded too, a gunshot to the neck. Surgeons had stitched up the traumatized little girl, with the bullet still there, nestled deep among vital nerves and blood vessels.
That was thirty-four years ago.
Now, Caroline has to find the truth of her past. Why were her parents killed? Why is she still alive? She returns to her hometown where she meets a cop who lets slip that the bullet in her neck is the same bullet that killed her mother. Full-metal jacket, .38 Special. It hit Caroline's mother and kept going, hurtling through the mother's chest and into the child hiding behind her.
She is horrified—and in danger. When a gun is fired it leaves markings on the bullet. Tiny grooves, almost as unique as a fingerprint. The bullet in her neck could finger a murderer. A frantic race is set in motion: Can Caroline unravel the clues to her past, before the killer tracks her down?
About the author:
Mary Louise Kelly is an American broadcaster and author. A former reporter and host for National Public Radio (NPR), CNN, and the BBC, her writing has appeared in the New York Times, the Washington Post, Newsweek, The Atlantic, and other publications. Her first novel was published in 2013.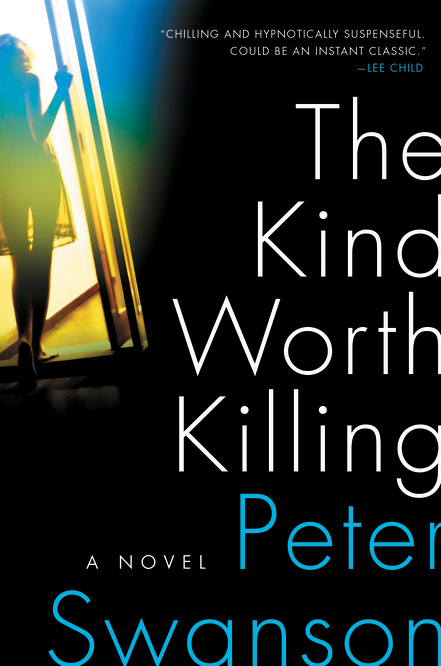 THE KIND WORTH KILLING by Peter Swanson
On a night flight from London to Boston, Ted Severson meets the stunning and mysterious Lily Kintner. Sharing one too many martinis, the strangers begin to play a game of truth, revealing very intimate details about themselves. Ted talks about his marriage that's going stale and his wife Miranda, who he's sure is cheating on him. Ted and his wife were a mismatch from the start—he the rich businessman, she the artistic free spirit—a contrast that once inflamed their passion, but has now become a cliché. But their game turns a little darker when Ted jokes that he could kill Miranda for what she's done. Lily, without missing a beat, says calmly, "I'd like to help." After all, some people are the kind worth killing, like a lying, stinking, cheating spouse…
Back in Boston, Ted and Lily's twisted bond grows stronger as they begin to plot Miranda's demise. But there are a few things about Lily's past that she hasn't shared with Ted, namely her experience in the art and craft of murder, a journey that began in her very precocious youth.
Suddenly these co-conspirators are embroiled in a chilling game of cat-and-mouse, one they both cannot survive . . . with a shrewd and very determined detective on their tail.
About the Author:
Peter Swanson is the author of two novels, The Girl with a Clock for a Heart, and The Kind Worth Killing, available from William Morrow in the United States and Faber & Faber in the United Kingdom. His poems, stories and reviews have appeared in such journals as The Atlantic, Asimov's Science Fiction, Epoch, Measure, Notre Dame Review, Soundings East, and The Vocabula Review. He has won awards in poetry from The Lyric and Yankee Magazine, and is currently completing a sonnet sequence on all 53 of Alfred Hitchcock's films. He lives with his wife and cat in Somerville, Massachusetts.
 
To be entered in the drawing shoot an email over to Jon?@crimespreemag.com (remove the question mark) And put CONTEST in the subject line. Also please put your address in the body of the email.
We will pick the winners on April 10th.