Tags
Related Posts
Share This
PIMP: Ken Bruen, Jason Starr team up for fourth novel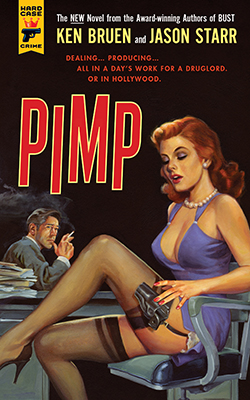 Ten years after they first teamed up, Hard Case Crime will release PIMP, the fourth novel by Ken Bruen and Jason Starr.
PIMP features the return of Max Fisher, the would-be druglord that was first introduced in BUST and continued his criminal ways in SLIDE and THE MAX.
THERE'S NO DRUG MORE
ADDICTIVE THAN FAME.
EXCEPT, YOU KNOW, PIMP.
Ruined and on the lam, former drug kingpin Max Fisher stumbles upon the biggest discovery of his crooked life: a designer drug called PIMP that could put him back on top. Meanwhile, a certain femme fatale from his past is pursuing a comeback dream of her own, setting herself up in Hollywood as producer of a series based on her and Max's life story. But even in La-La Land, happy endings are hard to come by, especially with both the cops and your enemies in the drug trade coming after you…
"Bruen and Starr deserved every one of the raves they won for Bust, Slide and The Max," said Hard Case Publisher Charles Ardai, "and PIMP is their wildest ride yet. It's the best Hollywood satire since Get Shorty, and easily the funniest book we've ever published. And utterly merciless – it makes South Park look like choir practice."
"People have been asking us for years to give them another book about Max and Angela," said Jason Starr, "and we were just waiting till we had just the right story to tell. We think PIMP is the best of the four books and can't wait to see it knock readers for a loop."
"It's the perfect antidote for Gone Girl," said Ken Bruen.
PIMP will feature a brand new cover painting in the classic pulp style by Michael Koelsch, whose previous work for Hard Case Crime has graced novels by James M. Cain, Lawrence Block, Robert Silverberg, and Donald E. Westlake.