Tags
Related Posts
Share This
Killing Joke Films acquire Anthony Neil Smith's HOGDOGGIN'.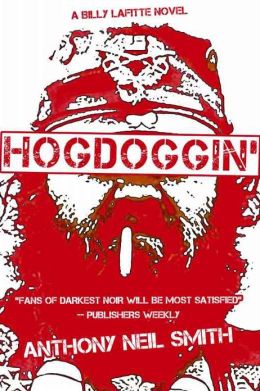 Paul von Stoetzel's Killing Joke Films, in conjunction with Pounding Heart MultiMedia, have acquired the rights to Anthony Neil Smith's HOGDOGGIN'.
Killing Joke has previously mined crime fiction for shorts (Dennis Tofoya's HOW TO JAIL, Jediah Ayres' VISCOSITY), but this is their first time tackling a novel.
Paul was introduced to Neil by Tofoya and was immediately interested in his work. "I've been looking for the first crime adaptation to direct and that this one is absolutely prefect. You can allude to the fact that there is always the possibility of adapting the sequel as well and even a possible trilogy. In a perfect world. I suppose also the fact that the brutal nature of the entire story speaks to the kind of work I enjoy doing and the fact that there are no heroes, no villains, just well crafted characters in a hellish world."

Pounding Heart Media recently signed a deal with Killing Joke to product and distribute. Executive Producer/Owner Bridget Cronin Sutton is especially excited to take part in this pairing: "I am extremely excited about pairing one of Minnesota's best noir crime authors with one of the most fearless directors Minnesota has ever produced. This will be a great movie that people will want to watch."
HOGDOIGGIN' is the second book to feature ex-cop Billy Lafitte (The first being YELLOW MEDICINE) and sees him return to Yellow Medicine County.
Smith, currently the chairman of the English Department at Southwest Minnesota State University in Marshall, MN, is also pumped that his first film deal is with Killing Joke. "I'm thrilled to let Minnesota's best film teams take a chance on adapting this, the novel I was working on when I finally fell in love with Minnesota. Keeping it close to home is the right decision, and Pounding Heart MultiMedia and Killing Joke Films are the right people to do it."

Killing Joke Films' owner, writer and director Paul von Stoetzel, is known for his unflinching storytelling, winning numerous awards for his hit documentary, SNUFF: A Documentary About Killing On Camera. Von Stoetzel first met Smith online after being introduced to the crime writer's community by noir author Dennis Tafoya. After reading Smith's book, Yellow Medicine, von Stoezel became very interested in Smith's work.
If goes according to plan, Hogdoggin will be released early in 2015.