Tags
Related Posts
Share This
Kristi Belcamino, James Rollins are featured in this week's giveaway
As Christmas creeps ever closer, CrimSspree Magazine, in conjunction with Friday Reads Facebook page, is offering you a chance to snag your own gift in the form of BLESSED ARE THE DEAD, BLESSED ARE THE MEEK, BLESSED ARE THOSE WHO WEEP, and BLESSED ARE THOSE WHO MOURN by Kristi Belcamino and THE BONE LABYRINTH by James Rollins
BLESSED ARE THE DEAD
To catch a killer, one reporter must risk it all …
San Francisco Bay Area newspaper reporter Gabriella Giovanni spends her days on the crime beat, flitting in and out of other people's nightmares, yet walking away unscathed. When a little girl disappears on the way to the school bus stop, her quest for justice and a front-page story leads her to a convicted kidnapper, Jack Dean Johnson, who reels her in with promises to reveal his exploits as a serial killer. But Gabriella's passion for her job quickly spirals into obsession when she begins to suspect the kidnapper may have ties to her own dark past: her sister's murder.
Risking her life, her job, and everything she holds dear, Gabriella embarks on a quest to find answers and stop a deranged murderer before he strikes again.
BLESSED ARE THE MEEK
A rash of high-profile murders all point to reporter Gabriella Giovanni's boyfriend, Detective Sean Donovan, when investigators uncover a single link in the deaths: Annalisa Cruz. A decade ago, Cruz seduced Donovan away from a life as a monk, and though their relationship soured long ago … her passion for him has not.
As the investigation continues, it becomes increasingly clear that any man who gets involved with Cruz soon ends up dead, including a dot-com millionaire, the mayor of San Francisco, and a police officer. Donovan, the only man to have dated Cruz and survived, is arrested for the murders and dubbed a jealous ex, leaving Gabriella scrambling to find the real killer without ending up as the next body headed for the morgue.
Gabriella's search ultimately unearths a dark secret that Donovan had intended to take to the grave. Faced with the knowledge of this terrible truth, Gabriella must tie the past and present together to clear Donovan's name.
BLESSED ARE THOSE WHO WEEP
San Francisco Bay Area reporter Gabriella Giovanni stumbles onto a horrific crime scene with only one survivor—a baby girl found crawling between the dead bodies of her family members. Reeling from the slaughter, Gabriella clings to the infant. When Social Services pries the little girl from her arms, the enormity of the tragedy hits home. Diving deep into a case that brings her buried past to the forefront, Gabriella is determined to hunt down the killer who left this helpless baby an orphan.
But one by one the clues all lead to a dead end, and Gabriella's obsession with finding justice pulls her into a dark, tortuous spiral that is set to destroy everything she loves …
BLESSED ARE THOSE WHO MOURN
San Francisco Bay Area reporter Gabriella Giovanni has finally got it all together: a devoted and loving boyfriend, Detective Sean Donovan; a beautiful little girl with him; and her dream job as the cops' reporter for the Bay Herald. But her success has been hard-won and has left her with debilitating paranoia. When a string of young co-eds starts to show up dead with suspicious Biblical verses left on their bodies—the same verses that the man she suspects kidnapped and murdered her sister twenty years ago had sent to her—she begins to question if the killer is trying to send her a message.
It is not until evil strikes Gabriella's own family that her worst fears are confirmed. As the clock begins to tick, every passing hour means the difference between life and death to those Gabriella loves…
About The Author
Kristi Belcamino is a Macavity and Anthony Award-nominated author of four crime fiction books, a newspaper cops reporter, and an Italian mama who makes a tasty biscotti. Her first novel, BLESSED ARE THE DEAD, was inspired by her dealings with a serial killer during her life as a Bay Area crime reporter. As an award-winning crime reporter at newspapers in California, she flew over Big Sur in an FA-18 jet with the Blue Angels, raced a Dodge Viper at Laguna Seca and watched autopsies.
Belcamino has written and reported about many high-profile cases including the Laci Peterson murder and Chandra Levy's disappearance. She has appeared on Inside Edition and her work has appeared in the Miami Herald, San Jose Mercury News, and Chicago Tribune. Kristi now works part-time as a police reporter at the St. Paul Pioneer Press. She lives in Minneapolis with her husband and her two fierce daughters.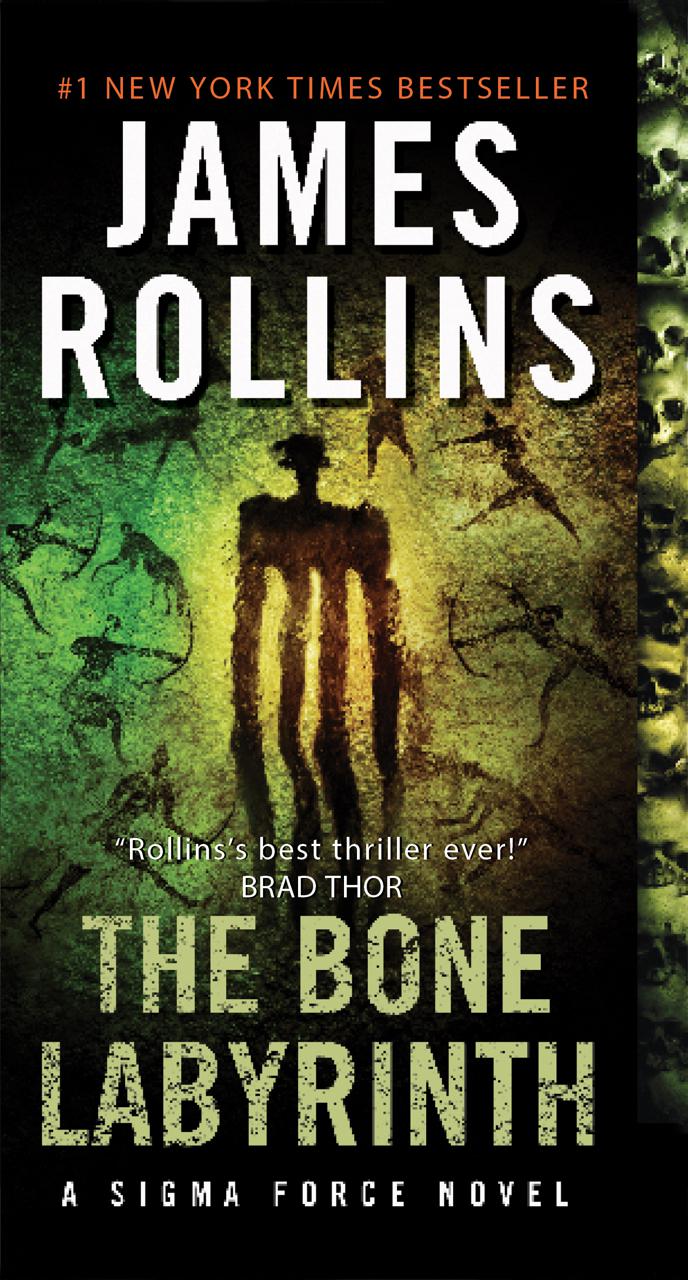 THE BONE LABYRINTH
In the remote mountains of Croatia, an archaeologist makes a strange discovery: a subterranean Catholic chapel, hidden for centuries, holds the bones of a Neanderthal woman. In the same cavern system, elaborate primitive paintings tell the story of an immense battle between tribes of Neanderthals and monstrous shadowy figures. Who is this mysterious enemy depicted in these ancient drawings and what do the paintings mean?
Before any answers could be made, the investigative team is attacked, while at the same time, a bloody assault is made upon a primate research center outside of Atlanta. How are these events connected? Who is behind these attacks? The search for the truth will take Commander Gray Pierce of Sigma Force 50,000 years into the past. As he and Sigma trace the evolution of human intelligence to its true source, they will be plunged into a cataclysmic battle for the future of humanity that stretches across the globe . . . and beyond.
With the fate of our future at stake, Sigma embarks on its most harrowing odyssey ever—a breathtaking quest that will take them from ancient tunnels in Ecuador that span the breadth of South America to a millennia-old necropolis holding the bones of our ancestors. Along the way, revelations involving the lost continent of Atlantis will reveal true mysteries tied to mankind's first steps on the moon. In the end, Gray Pierce and his team will face to their greatest threat: an ancient evil, resurrected by modern genetic science, strong enough to bring about the end of man's dominance on this planet.
Only this time, Sigma will falter—and the world we know will change forever.
About The Author:
James Rollins decided to become a writer as a boy immersed in the scientific adventures of Doc Savage, the wonders of Jules Verne and H.G. Wells, and pulps featuring The Shadow, The Spider, and The Avenger. He honed his storytelling skills early, spinning elaborate tales that often were at heart of pranks played on his brothers and sisters.
Yet although his talent emerged and grew, writing was not Jim's original profession. Before he would set heroes and villains on harrowing adventures, he embarked on a career in veterinary medicine, graduating from the University of Missouri and establishing a successful veterinary clinic in Sacramento, California. This hands-on knowledge of medicine and science helps shape the research and scientific speculation that set James Rollins books apart.
When Jim is not writing, touring, teaching seminars, or making presentations, he can be found spelunking, scuba diving, hiking, and/or traveling. Jim and his two- and four-legged family members live amid chew toys and paleontological treasures in Northern California.
To be entered in the drawing shoot an email over to Jon?@crimespreemag.com (remove the question mark) And put CONTEST in the subject line. Also please put your address in the body of the email.
We will pick the winners on December 25th