Tags
Related Posts
Share This
Latest from Kareem Abdul-Jabbar and L.J. Oliver are featured in this week's giveaway
This week, CrimeSpree Magazine, in conjunction with Friday Reads Facebook page, is offering you a chance to win copies of MYCROFT HOLMES by Kareem Abdul-Jabbar and THE HUMBUG MURDERS by L.J. Oliver
MYCROFT HOLMES
A new novel written by NBA All-Star Kareem Abdul-Jabbar!
Fresh out of Cambridge University, the young Mycroft Holmes is already making a name for himself in government, working for the Secretary of State for War. Yet this most British of civil servants has strong ties to the faraway island of Trinidad, the birthplace of his best friend, Cyrus Douglas, a man of African descent, and where his fiance´e Georgiana Sutton was raised.
Mycroft's comfortable existence is overturned when Douglas receives troubling reports from home. There are rumors of mysterious disappearances, strange footprints in the sand, and spirits enticing children to their deaths, their bodies found drained of blood. Upon hearing the news, Georgiana abruptly departs for Trinidad. Near panic, Mycroft convinces Douglas that they should follow her, drawing the two men into a web of dark secrets that grows more treacherous with each step they take…
Written by NBA superstar Kareem Abdul- Jabbar and screenwriter Anna Waterhouse, Mycroft Holmes reveals the untold story of Sherlock's older brother. This harrowing adventure changed his life, and set the stage for the man Mycroft would become: founder of the famous Diogenes Club and the hidden power behind the British government.
About The Author:
Kareem Abdul-Jabbar is the NBA's all-time leading scorer and a six-time NBA champion. He is also one of a handful of influential and respected black men in America who has a national platform as a regular contributing columnist for Time Magazine and The Washington Post, where he shares his thoughts on some of the most socially relevant and politically controversial topics facing our nation today. After 50 years as an athlete, activist, and New York Times best-selling author, he says he wants to offer his perspective on how we can work together to solve some of these issues.
His current projects are the HBO documentary film, Minority of One: The Life Story of Kareem Abdul-Jabbar released on November 3, 2015. His debut novel Mycroft Holmes — a mystery novel and the first of an action/mystery series based on Sherlock Holmes's savvy older brother — debuted in September, 2015.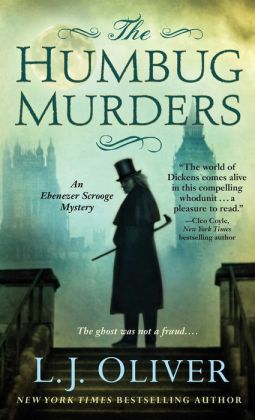 THE HUMBUG MURDERS
Ebenezer Scrooge from Charles Dickens's A Christmas Carol investigates a shocking murder—before he becomes the next victim—in this playful mystery in a new series from a New York Times bestselling author.
Scrooge considers himself a rational man with a keen sense of deductive reasoning developed from years of business dealings. But that changes one night when he's visited by the ghost of his former boss and friend, Fezziwig, who mysteriously warns him that three more will die, and ultimately Ebenezer himself—if he doesn't get to the bottom of a vast conspiracy.
When he wakes the next day, Scrooge discovers that not only is Fezziwig dead, but he's under arrest as all evidence points toward himself: Scrooge's calling card was found in the cold, dead hand of Fezziwig's body, and someone scribbled "HUMBUG" in blood on the floor nearby.
Now, Scrooge must race against the pocket watch to clear his name, protect his interests, and find out who killed his last true friend—before the "Humbug Killer" strikes again. Joining Scrooge in his adventures is a spunky sidekick named Adelaide, who matches his wits at every turn, plus the Artful Dodger, Fagin, Belle, Pickwick, and even Charles Dickens himself as a reporter dealing in the lurid details of London's alleyway crimes.
Full of action and wry humor, The Humbug Murders is a fun take on a classic character—Scrooge as you've never seen him before.
About The Author:
L.J. Oliver is the combined pen name of New York Times bestselling author Scott Ciencin and acclaimed author Elizabeth Wilson. Visit them on the web at ScroogeMysteries.com.
Ciencin wrote over ninety novels in the adult, YA, and children's genres. A lifelong British mystery fan and Dickens aficionado, he began his career in the film and TV industry and continued in the business as an international film festival blogger, social media content provider, video game consultant, and creative consultant. He died in 2014. Learn more at ScottCiencin.com.
Following a childhood in the snowy mountains of Scandinavia, Wilson traveled to her native England to study criminology and journalism. Inspired by her mother, a personal historian specializing in Victorian-era Britain, Wilson set about exploring the streets of London, where her family originally arrived from Ireland in 1833. She now lives in the United States with her American husband and two daughters, and focuses on her first love: story-telling.
To be entered in the drawing shoot an email over to Jon?@crimespreemag.com (remove the question mark) And put CONTEST in the subject line. Also please put your address in the body of the email.
We will pick the winners on December 18th