Tags
Related Posts
Share This
Lou Berney, Michael Kardos are featured in this week's giveaway
Crimespree magazine, in conjunction with Friday Reads Facebook page, is offering you a chance to win copies of BEFORE HE FINDS HER by Michael Kardos, and THE LONG AND FARAWAY GONE by Lou Berney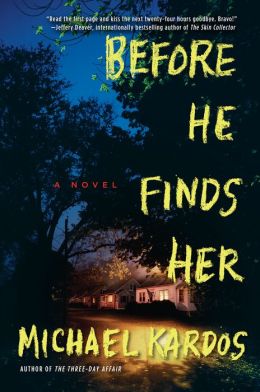 BEFORE HE FINDS HER by Michael Kardos
Everyone in the quiet Jersey Shore town of Silver Bay knows the story: on a Sunday evening in September 1991, Ramsey Miller threw a blowout block party, then murdered his beautiful wife and three-year-old daughter.
But everyone is wrong. The daughter got away. Now she is nearly eighteen and tired of living in secrecy. Under the name Melanie Denison, she has spent the last fifteen years in small-town West Virginia as part of the Witness Protection Program. She has never been allowed to travel, go to a school dance, or even have internet at home. Precautions must be taken at every turn, because Ramsey Miller was never caught and might still be looking for his daughter. Yet despite strict house rules, Melanie has entered into a relationship with a young teacher at the local high school and is now ten weeks pregnant. She doesn't want her child to live in hiding as she has had to. Defying her guardians and taking matters into her own hands, Melanie returns to Silver Bay in hopes of doing what the authorities have failed to do: find her father before he finds her. Weaving in Ramsey's story in the three days leading up to the brutal crime, Before He Finds Her is a stirring novel about love and faith and fear—and how the most important things can become terribly distorted when we cling to them too fiercely.
About the author:
Michael Kardos is the author of the novels Before He Finds Her (2015) and The Three-Day Affair, an Esquire best book of 2012, as well as the story collection One Last Good Time, which won the Mississippi Institute of Arts & Letters Award for fiction, and the textbook The Art and Craft of Fiction: A Writer's Guide. His short stories have appeared in The Southern Review, Crazyhorse, Harvard Review, and many other magazines and anthologies, have won a 2015 Pushcart Prize, and were cited several times as notable stories in Best American Short Stories. Michael grew up on the Jersey Shore, received a degree in music from Princeton University, and played the drums professionally for a number of years. He has an M.F.A. in fiction from The Ohio State University and a Ph.D. from the University of Missouri. He lives in Starkville, Mississippi, where he is an associate professor of English and co-director of the creative writing program at Mississippi State University. He was named by Library Journal as a Big Breakout Author for February 2015.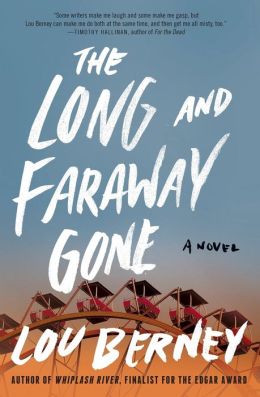 THE LONG AND FARAWAY GONE by Lou Berney
With the compelling narrative tension and psychological complexity of the works of Laura Lippman, Dennis Lehane, Kate Atkinson, and Michael Connelly, Edgar Award-nominee Lou Berney's The Long and Faraway Gone is a smart, fiercely compassionate crime story that explores the mysteries of memory and the impact of violence on survivors—and the lengths they will go to find the painful truth of the events that scarred their lives.
In the summer of 1986, two tragedies rocked Oklahoma City. Six movie-theater employees were killed in an armed robbery, while one inexplicably survived. Then, a teenage girl vanished from the annual State Fair. Neither crime was ever solved.
Twenty-five years later, the reverberations of those unsolved cases quietly echo through survivors' lives. A private investigator in Vegas, Wyatt's latest inquiry takes him back to a past he's tried to escape—and drags him deeper into the harrowing mystery of the movie house robbery that left six of his friends dead.
Like Wyatt, Julianna struggles with the past—with the day her beautiful older sister Genevieve disappeared. When Julianna discovers that one of the original suspects has resurfaced, she'll stop at nothing to find answers.
As fate brings these damaged souls together, their obsessive quests spark sexual currents neither can resist. But will their shared passion and obsession heal them, or push them closer to the edge? Even if they find the truth, will it help them understand what happened, that long and faraway gone summer? Will it set them free—or ultimately destroy them?
About the author:
Lou Berney is the author of three novels, THE LONG AND FARAWAY GONE, WHIPLASH RIVER, and GUTSHOT STRAIGHT, as well as a collection of short stories, THE ROAD TO BOBBY JOE. His short fiction has appeared in publications such as The New Yorker, Ploughshares, and the Pushcart Prize anthology, and he has written feature screenplays and created television pilots for, among others, Warner Brothers, Paramount, Focus Features, ABC, and Fox. He teaches in the Red Earth MFA program at Oklahoma City University.
 
To be entered in the drawing shoot an email over to Jon?@crimespreemag.com (remove the question mark) And put CONTEST in the subject line. Also please put your address in the body of the email.
We will pick the winners on February 13th.