Tags
Related Posts
Share This
Mark Billingham is featured in this week's Giveaway.
Hope everyone has had a great week. Crimespree magazine,  in conjunction with Friday Reads Facebook page,  is giving away copies of Mark Billingham's SLEEPYHEAD, SCAREDY CAT, and THE DYING HOURS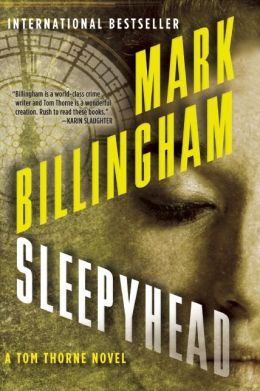 SLEEPYHEAD
The first Tom Thorne novel. It was adapted for television in 2010, starring David Morrissey as Tom Thorne.
His first three victims ended up dead. His fourth was not so fortunate…
Alison Willetts is unlucky to be alive. She has survived a stroke, deliberately induced by a skilful manipulation of pressure points on the head and neck. She can see, hear and feel and is aware of everything going on around her, but is completely unable to move or communicate. Her condition is called Locked-In Syndrome. In leaving Alison Willetts alive, the police believe the killer made his first mistake.
Then D.I. Tom Thorne discovers the horrifying truth; it isn't Alison who is the mistake, it's the three women already dead. "An appropriate margin of error" is how their killer dismisses them, and Thorne knows they are unlikely to be the last. For the killer is smart, and he's getting his kicks out of toying with Thorne as much as he is pursuing his sick fantasy. Thorne knows immediately he's not going to catch the killer with simple procedure. But with little more than gut instinct and circumstantial evidence to damn his chief suspect, anesthetist Jeremy Bishop, his pursuit of him is soon bordering on the unprofessional. Especially considering his involvement with Anne Coburn, Alison's doctor and Jeremy's close friend.
Thorne must find a man whose agenda is terrifyingly unique, and Alison, the one person who holds the key to the killer's identity, is unable to speak…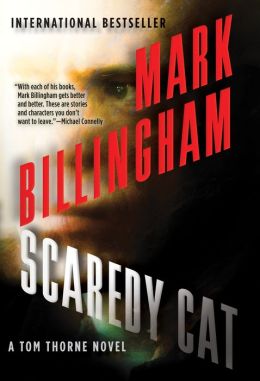 SCAREDY CAT
The second Tom Thorne novel. It was nominated for the CWA Gold Dagger and won the 2003 Sherlock Award.
Now, killing is a team sport.
It was a vicious, calculated murder. The killer selected his victim at London's Euston station, followed her home on the tube, strangled her to death in front of her child. At the same time, killed in the same way, a second body is discovered at the back of King's Cross station. It is a grisly coincidence that eerily echoes the murder of two other women, stabbed to death months before on the same day.
It is DI Tom Thorne who sees the link and comes to a horrifying conclusion. This is not a serial killer that the police are up against. This is two of them. Finding the body used to be the worst part of the job, but not any more. Now each time a body is found, Thorne must live with the knowledge that somewhere out there is a second victim, waiting to be discovered. But whilst the methods might be the same, the manner of the killings is strikingly different. Thorne comes to realise that he is hunting two very different killers. One is ruthless and in control, while his partner in crime is submissive, compliant, terrified.
Thorne must catch a man whose need to manipulate is as great as his need to kill, a man who will threaten those closest to Thorne himself, a man, who will show him that the ability to inspire terror, is the deadliest weapon of all…
THE DYING HOURS
The latest Tom Thorne thriller.
A fantastic, never-before-published Tom Thorne novel by England's crime king.
It's been twenty-five years since Tom Thorne last went to work wearing the "Queen's cloth" but now, having stepped out of line once too often, he's back in uniform. He's no longer a detective, and he hates it.
Still struggling to adjust, Thorne becomes convinced that a spate of suicides among the elderly in London are something more sinister. His concerns are dismissed by the Murder Squad he was once part of and he is forced to investigate alone.
Now, unable to trust anybody, Thorne risks losing those closest to him as well as endangering those being targeted by a killer unlike any he has hunted before. A man with nothing to lose and a growing list of victims. A man who appears to have the power to make people take their own lives.
About the author: Mark Billingham was born and brought up in Birmingham. Having worked for some years as an actor and more recently as a TV writer and stand-up comedian his first crime novel was published in 2001.
Sleepyhead was an instant bestseller in the UK. It has been sold widely throughout the world and was published in the USA in the summer of 2002.
The series of crime novels featuring London-based detective Tom Thorne continued with Scaredy Cat and was followed by Lazybones, The Burning Girl, Lifeless, Buried, Death Message, Bloodline, From The Dead, Good As Dead and the most recent, The Dying Hours. Mark is also the author of the standalone novels In The Dark and Rush Of Blood, as well as a series of children's thrillers – Triskellion – written under the pseudonym Will Peterson.
An acclaimed television series based on the Thorne novels was screened on Sky One in Autumn 2010, starring David Morrissey as Tom Thorne. Adaptations of both In The Dark and Rush Of Blood are currently in development at the BBC.
Mark lives in London with his wife and two children. He is currently writing his next novel.
To be entered in the drawing shoot an email over to Jon?@crimespreemag.com (remove the question mark) And put CONTEST in the subject line. Also please put your address in the body of the email
We will pick the winners on August 2nd.
When we do the drawing we will be sending an extra something for one lucky winner to be picked from the comments section of the Friday Reads face book page, so after you enter, go leave a comment!