Tags
Related Posts
Share This
REVIEW OF Mark Greaney's GUNMETAL GRAY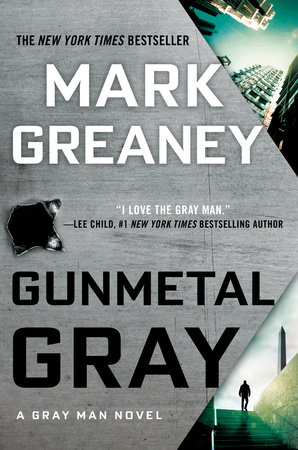 GUNMETAL GRAY
Book Six in the series
Mark Greaney
February 14th, 2017
Berkley Pub
GUNMETAL GRAY by Mark Greaney is an engrossing thriller. After reading this series Greaney will definitely become a favorite where people can't wait for the next installment. The main character, Courtland Gentry, known as the Gray Man, is a former CIA agent, an assassin, turned contractor who always takes readers on a great ride as he battles the bad guys.
The action begins on page one and never lets up. The CIA has hired Gentry to find Fan Jiang, a Chinese hacker and an information technology specialist, who is trying to defect to Taiwan after he escapes from the Chinese government. Geo-politics comes into play as both the Russians and Americans race to capture him for his knowledge of the Chinese systems. But also in the mix are Chinese agents who are attempting to assassinate Fan before he divulges any state secrets.
Against seemingly overwhelming odds Gentry must use his wits and moral code to complete the mission. The characters in this novel are very well developed. The Gray Man is a complex figure that allows readers to root for someone with integrity. He is a good person who must do some bad things to succeed. The female lead is Zoya Zakharova, the beautiful Russian foreign intelligence agent assigned to bring Fan Jiang to Russia. She's Gentry's one adversary who is his equal, a female "Gray Man," a kindred spirit. Readers will hope that she and Gentry are put together in future books because the interaction between them is superb.
As with all of Gray Man books, the excitement, tension, and action are never ending. There is never a dull moment.
Elise Cooper