Tags
Related Posts
Share This
MARKER MASTER by Ritter Ames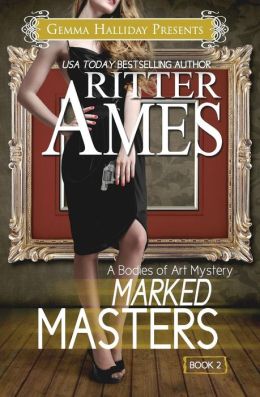 Marked Master
Ritter Ames
Gemma Halliday Publishing
March 2015
Laurel Beacham lives her life around fabulous works of art. But where there was a master piece, usually brings trouble. Her professional career being one of the world's art experts. Laurel wants to save every piece of art, and to make sure it still has meaning and to stay a master piece, in the hands of the rightful owners. Jack Hawk, who is a spy himself, seems to be around every corner Laurel comes a crossed, she also doesn't quite trust him. Laurel is the head of the London branch of the Beacham foundation. Her position leaves Laurel close to stolen art and forgeries. The paintings are forged and even the forged ones, are forgeries themselves. This lands Jack Hawk again where Laurel is questioning him being a friend or foe, Laurel isn't sure. Laurel's adventures are of traveling to great many destinations and countries people would like to see.
With a stolen nude painting of a senators' wife, there is sure to be trouble on the horizon. Jack goes missing in an airport bathroom, And Laurel has to save him again. How many people actually stole this painting? Can Laurel trust Jack? Will Laurel paint herself into a painting she can't get out of?
Ritter Ames with her great writing, and an brilliant story, she has created a master piece of her own. She leaves her readers doing their own research between the pages. Like Laurel, Ritter keeps the story with its rightful owner, the reader.
Marie Nicoll