Tags
Related Posts
Share This
MOVING TARGET by J.A. Jance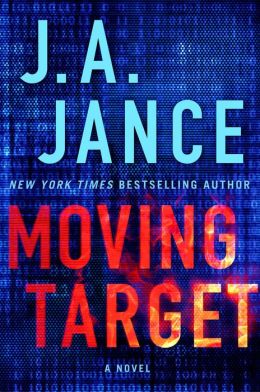 Publisher: Touchstone Books
Publication date: Feb 18th 2014
Best-Selling author J.A. Jance has written her 50th novel, Moving Target. It features the character Ali Reynolds and her supporting cast: fiancé and computer expert B. Simpson, longtime gay household assistant, Leland Brooks, and good friend, Taser carrying nun, Sister Anselm. It also introduces a powerful character, Lance Tucker, a talented teenage computer hacker.
This book involves two plotlines that take place in Arizona, Texas, and England. Although the plots are basically unrelated Jance is able to weave them together through Ali and B's relationship. The first plot explores Leland's background, why his parents supposedly disowned him for being gay, and a cold case that Ali helps to solve involving Leland's family. This plot is wrapped up mid-way through the book, which allows readers to concentrate on the very suspenseful plot that explores online research. This is where Jance introduces the character Lance Tucker, an incarcerated juvenile offender for hacking into the San Leandro School District's Computer system. While setting up Christmas decorations in the lockup rec room he is severely burned. Because B. Simpson's testimony helped to find Lance guilty he now feels bad and is obliged to get to the bottom of what really happened to Lance. The founder of the high-tech security company High Noon Enterprises, Simpson, elicits the help of Ali and Sister Anselm, and is determined to hire Lance for his GHOST program. It is a revolutionary computer software that allows users to surf any part of the web completely undetected.
Moving Target has a fast paced plot with very likeable and sympathetic characters. Through a riveting plot it explores the technological world while also allowing readers to get to know the human side behind the characters.
Elise Cooper