Tags
Related Posts
Share This
My Five Faces of Bouchercon
When I was first asked to write about my experience with Bouchercon 2013, my first thought was: "Oh, this could get complicated." Instead of a review or a critique of the convention, I decided to give a personal glimpse into it. As I thought about it, there were five different faces I found myself donning as a Bouchercon attendee.
Face 1: The Writer
Not every writer who applies to be on a panel gets selected. So I'm always grateful for the opportunity. This year, I was on a panel called "The Great Suburban Showdown: Crime doesn't just happen in NYC and LA." I'd never met any of the other writers on the panel, including the moderator. But we all seemed to jive well enough to get a few laughs and good questions from the full room of people. Being on a panel together can serve as quite the bonding experience. (The other panelsits were Betsy Bitner, Laura DiSilverio, Elizabeth Duncan, and Marianne Harden.) Meeting some of the fabulous readers of my books is always such an incredibly awesome experience—worth the travel woes and then some.
The other "author" event on my to-do list was a reception hosted by my publisher, Kensington Publishing, who set up a signing with all of its attending authors. They generously gave away our books and we happily signed and chatted with readers. Once again, the readers make this event. This connection between reader and writer is pure magic.
Face 2: The Learner. While I was at Bouchercon, I sat in on several sessions geared to authors. One was a panel on publicity and another was about electronic publishing. Both are facets to the business side of writing that I never seem to get enough information about. Along with these sit-down formal learning opportunities, I hung out with some knowledgeable writers and I tried to soak up as much wisdom from them as possible. Which brings me to my next "face."
Face 3: The Friend. My books, the Cumberland Creek Mysteries, have only been out for two years. I've only been associating with other mystery writers and some editors and publishers for about that amount of time. I am not prone to hyperbole. I've made some friendships that I'm sure I'll have for the rest of my life. Friends during conferences can really help provide a touchstone during what can be an overwhelming experience. I'm not mentioning names because I'm sure I'll forget someone. But Bouchercon brings them out—readers, writers, editors—all a friendly sort. It's a tough business—friends who understand can make a huge difference.
Face 4: The mentor. This year, I met several new authors and I found myself in the role as a kind of mentor. Don't get me wrong—I still have so much to learn. But I have almost three years of being a published mystery author under my belt, now, which is more than a debut author. So why shouldn't I be happy to share what I've learned? In the same spirit with which I was offered advice from writers with much more experience than me, I am only too happy to extend myself. It felt so good to be able to talk to new writers. Bouchercon brings writers together of all levels rubbing elbows and we all benefit from it.
Face 5: The Reader and Fan. Okay, maybe I am the biggest Louise Penny fan in the world. Maybe there's someone out there who loves her more, I don't know. But just this year, I met her at Malice Domestic and was photographed with her. And at Bouchercon, I rode the elevator with her—she shook my hand as we rode along. Ya can't beat riding an elevator with one of your all-time favorite mystery writers. 'Nuff said!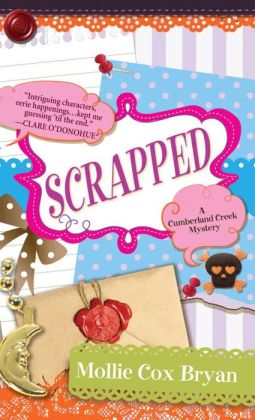 Whether you approach Bouchercon as a reader, writer, or something in between, chances are you'll find it a satisfying experience.
Mollie
Mollie Cox Bryan is the author of the Agatha-Nominated "Scrapbook of Secrets: A Cumberland Creek Mystery; Scrapped (Cumberland Creek #2), and the forthcoming Death of an Irish Diva (Cumberland Creek #3. She lives in the heart of Virginia's Shenandoah Valley with her husband and two daughters. Visit Mollie at molliecoxbryan.com.