Tags
Related Posts
Share This
Nate Kenyon is featured in this week's Giveaway.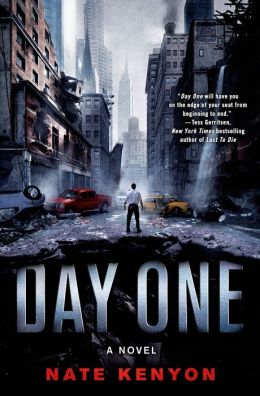 Hope everyone is having a great week.  Crimespree magazine,  in conjunction with Friday Reads Facebook page,  is giving away copies of Nate Kenyon's DAY ONE
DAY ONE by Nate Kenyon
Cloverfield meets The Terminator in this story of one man's escape from New York City as technology becomes sentient
Scandal-plagued hacker journalist John Hawke is hot on the trail of the explosive story that might save his career. James Weller, the former CEO of giant technology company, Eclipse, has founded a new start-up, and he's agreed to let Hawke do a profile on him. Hawke knows something very big is in the works at Eclipse–a major computing breakthrough–and he wants to use the profile as a foot in the door to find out more.
After he arrives in Weller's office in New York City, a seemingly normal day quickly turns into a nightmare as anything with an Internet connection begins to malfunction. Hawke receives a phone call from his frantic wife, and just before the phone goes dead, she indicates that someone is trying to break down the apartment door. Soon, Hawke and a small band of survivors are struggling for their very lives as they find themselves thrust into the middle of a war zone—with no obvious enemy in sight.
The bridges and tunnels have been destroyed. New York City is under attack from a malevolent entity that can be anywhere and can occupy anything with a computer chip. It is deadly. It is brilliant. And it wants to eradicate the population of New York. Somehow, Hawke must find a way back to New Jersey and his pregnant wife and young son. Their lives depend upon it…and so does the rest of the human race.
Nate Kenyon is the author of Bloodstone, a Bram Stoker Award finalist and winner of the P&E Horror Novel of the Year, The Reach, also a Bram Stoker Award finalist, The Bone Factory, Sparrow Rock, StarCraft: Ghost Spectres, and DiabloIII: The Order. He is a member of the Horror Writers Association and International Thriller Writers. He lives in the Boston area.
To be entered in the drawing shoot an email over to Jon?@crimespreemag.com (remove the question mark) And put CONTEST in the subject line. Also please put your address in the body of the email
We will pick the winners on August 30th.
When we do the drawing we will be sending an extra something for one lucky winner to be picked from the comments section of the Friday Reads face book page, so after you enter, go leave a comment!