Tags
Related Posts
Share This
NEVER SAW IT COMING by Linwood Barclay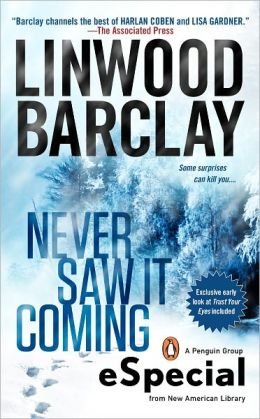 NEVER SAW IT COMING
Linwood Barclay
Orion Books (U.K.)
Penguin Ebooks
Aug 7,2012
Keisha Ceylon will tell you what you want to hear. As a fake psychic,
she uses her "vision" to keep her regular clients coming back for more.
A little palm reading, some "channeling" of the spirits to keep the
customers happy. But with a deadbeat boyfriend and a young son to
support, she also keeps her eyes open for more lucrative marks. When
Keisha sees Wendall Garfield and his daughter make an impassioned plea on the evening news for their wife and mother to come home, Keisha thinks she's hit pay dirt. A missing person case is harder to fake, but Keisha knows how to fish around for information until she has enough to hook them. All the family needs is a little hope, and Keisha can provide it. But when she approaches Wendall Garfield with a "vision" about his missing wife, she quickly realizes that she may have stumbled into a family with secrets they do not want revealed, and more trouble for Keisha than she ever could have predicted.
Barclay's narrative is engaging from page one. The story changes point of view from character to character, keeping the momentum of the plot moving forward at a break-neck pace. NEVER SAW IT COMING is a high-octane ride, with plenty of twists and turns to keep you guessing.
Erica Ruth Neubauer