Tags
Related Posts
Share This
NEW LEAGUE OF EXTRAORDINARY GENTLEMEN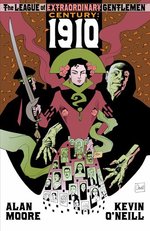 April 2009!

Alan Moore and Kevin O'Neil are at it again and the latest in the journey of this series is terrific. I've read this first issue and it was inspired. Interspersed with a soundtrack of sorts sung by a warf woman we see our heroes regrouped under Miss Murray. New characters are brought in and and older one visited. Loads of action, a serial killer and a cult are all part of a days work for this crew and in the hands of Moore these character flourish.
This is a don't miss book
Direct from press release:
CHAPTER ONE is set against a backdrop of London, 1910, twelve years after the failed Martian invasion and nine years since England put a man upon the moon. In the bowels of the British Museum, Carnacki the ghost-finder is plagued by visions of a shadowy occult order who are attempting to create something called a Moonchild, while on London's dockside the most notorious serial murderer of the previous century has returned to carry on his grisly trade. Working for Mycroft Holmes' British Intelligence alongside a rejuvenated Allan Quatermain, the reformed thief Anthony Raffles and the eternal warrior Orlando, Miss Murray is drawn into a brutal opera acted out upon the waterfront by players that include the furiously angry Pirate Jenny and the charismatic butcher known as Mac the Knife. This one is not to be missed!
This book will be the first of three deluxe, 80-page, full-color, perfect-bound graphic novellas, written by Alan Moore and illustrated by Kevin O'Neill — with lettering by Todd Klein, and colors by Ben Dimagmaliw. Each self-contained narrative takes place in three distinct eras, building to an apocalyptic conclusion occurring in our own twenty-first century. — 6 5/8″ x 10 1/8″
For details check out the TOP SHELF WEBSITE